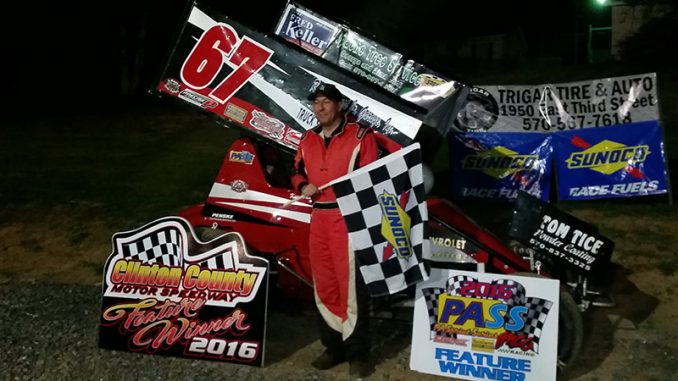 LOCK HAVEN, Pa. (June 10) – The third Pennsylvania Sprint Series event of the season at Clinton County Raceway produced the third different winner Friday night.
Ken Duke started on the pole for the 20-lap feature and held off the late race challenge of Scott Lutz for the checkers.
Lutz had started fourth but couldn't keep up with the pace Duke ran early on. A two-time track champion at Lock Haven, Duke had one close call late in the contest when he and Lutz got together going into turn one.
"I didn't see him there going into turn one and we kind of got together a little bit. I really did not mean to chop him, I don't like to race like that," Duke said. "We were in the right spot to start on the pole to get the win."
Lutz, who won on opening night, settled for second. Dale Schweikart, Reed Thompson and Ryan Lynn, who came back from a lap nine tangle, rounded out the top five.
Feature results – 1. Ken Duke; 2. Scott Lutz; 3. Dale Schweikart; 4. Reed Thompson; 5. Ryan Lynn; 6. Rob Felix; 7. Kyle Ganoe; 8. Cody Hackenberry; 9. Joe Davis; 10. Steve Kenawell; 11. Dave Guss Jr.; 12. Randy Sterling; 13. Tylor Cochran; 14. Neil Petock; 15. Brian Haney; 16. Daniel Roberts; 17. Tim Lash; 18. Jacob Gomola; 19. Rod Shelly; 20. Kyle Colwell; 21. Nathan Gramley; 22. Eric Mathiot.