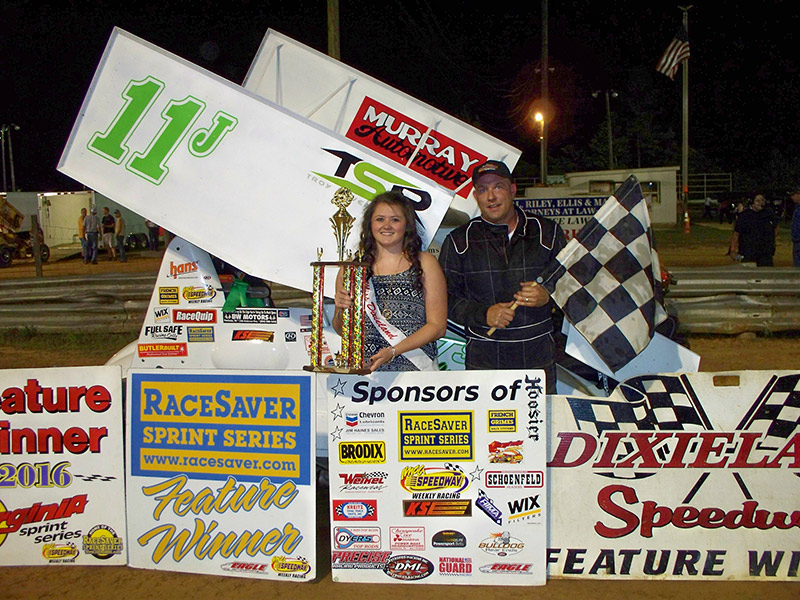 By Jim Haines
ELIZABETH CITY, N.C. (June 10) – Second-year driver J.D. Coats showed his heat race earlier in the evening was no fluke as he raced to his career first Virginia Sprint Series win in a Fast Friday Feature at Dixieland Speedway.
Coats and Bill Rice paced the IMCA EMI RaceSaver Sprint Car field to green before a full house of fans at the coastal Carolina speedway. Coats was out first with Rice up high but on lap three Mike Leraas made his way to second.
The pack from the back was starting to pressure the lead duo with Daren Bolac getting there first and getting to second on lap 15 as traffic came into play. Jerald Harris was on Leraas for third as Bolac was pressuring Coats, but it would be for naught as Coats stayed fast and smooth taking the win.
At the line it was Coats, Bolac, Leraas, Harris and Tom Humphries filling the top five positions.
Next week it's back to Shenandoah Speedway for a pavement show on Saturday, June 18.
Feature results – 1. J.D. Coats; 2. Daren Bolac; 3. Mike Leraas; 4. Jerald Harris; 5. Tom Humphries; 6. Troy Severin; 7. Brian Lawson; 8. Glenn Worrell; 9. Anthony Linkenhoker; 10. Tony Harris; 11. Josh Perreault; 12. Kevin Fletcher; 13. Bill Rice.