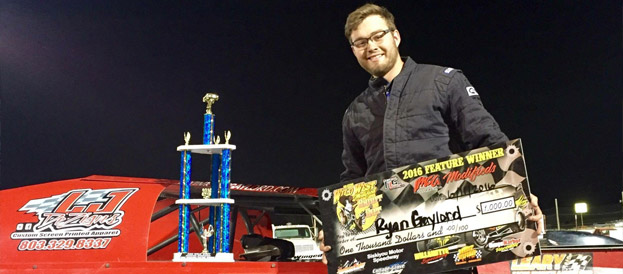 By Ben Deatherage
WHITE CITY, Ore. (June 11) – Ryan Gaylord came oh-so-close to winning the Wild West IMCA Modified Shoot Out feature last summer at Willamette Speedway, leading most of the way before coming up second in a photo finish to Alex Stanford.
He was in the picture again when that the 2016 tour opened Saturday at Southern Oregon Speed­way, this time in victory lane.
More than 40 Xtreme Motor Sports IMCA Modified entries filled up the pit area for an event that would entertain fans from start to finish.
Polesitter Collen Winebarger seized the initiative in the main event and took the lead on the open­ing circuit. Winebarger found himself in a battle with Gaylord around lap 20. Gaylord eventually secured the lead but wasn't quite out of the woods quite yet.
The Lakewood, Colo., traveler had his hands full in the last 15 laps with Californian Kellen Chad­wick. Chadwick and Gaylord went back and forth lap after lap in what was nothing but good, hard, clean racing.  Gaylord managed to keep him at bay long enough to cross the line first and win his first career Wild West Modified Shoot Out feature and earn a spot of the Fast Shafts All-Star Invita­tional ballot.
Chadwick was a respectable second followed by Winebarger in third. Defending tour champion Jesse Williamson placed fourth and the top five would be completed by Mark Carrell.
Wild West IMCA Modified Shoot Out travels to Siskiyou Motor Speedway in Yreka, Calif., on Sunday June 12.  It is the southernmost location of the 2016 schedule and the only stop in the Golden State. Gates open at 3 p.m. with racing scheduled to get underway around 5 p.m.
Feature results – 1. Ryan Gaylord; 2. Kellen Chadwick; 3. Collen Winebarger; 4. Jesse William­son; 5. Mark Carrell; 6. Alex Stanford; 7. Tripp Gaylord; 8. Lance Mari; 9. Randy Brown; 10. John Campos; 11. Jake Mayden; 12. Brian Poppa; 13. Kevin Roberts; 14. Mark Wauge; 15. Steven Sturdevant; 16. Rob Ireland; 17. C.J. Putnam; 18. Jeff Lovell; 19. Jerry Schram; 20. Grey Fer­rando; 21. Nick Trenchard; 22. Preston Luckman; 23. Matt Duste; 24. Danny Lauer.