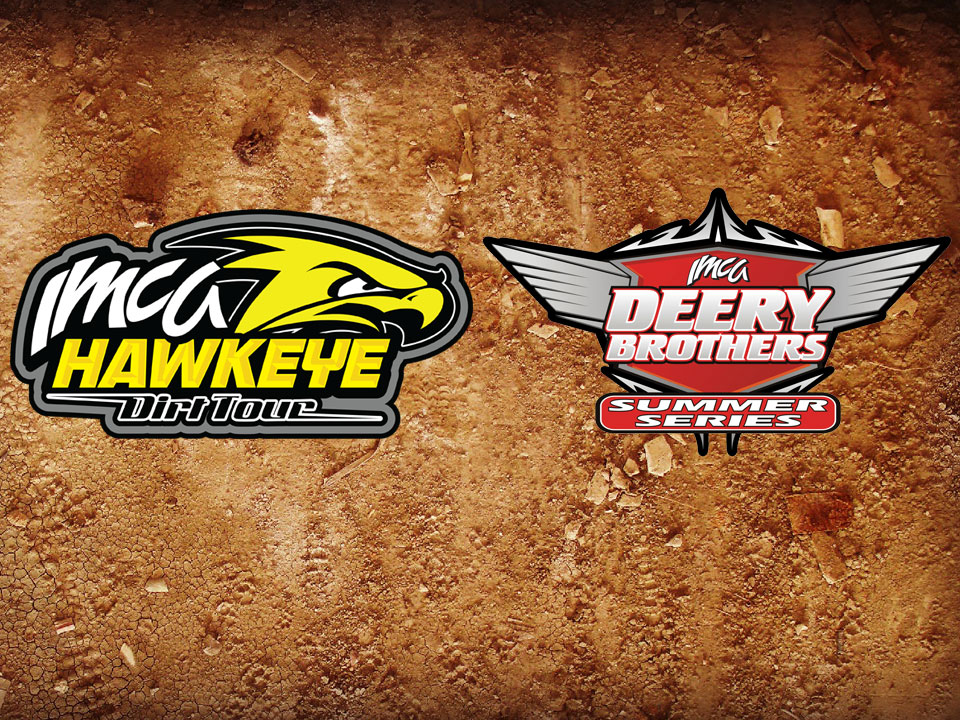 WEST LIBERTY, Iowa (June 10) – The Deery Brothers Summer Series and the Hawkeye Dirt Tour pack another 1-2 Tuesday night punch, this time on June 14 at West Liberty Raceway.
While the IMCA Late Model tour has made 13 previous visits to West Liberty, most recently when the 30th annual series opened on April 9, next Tuesday's event marks the first-ever visit there by the tour for Xtreme Motor Sports IMCA Modifieds.
The Deery feature pays $2,000 to win and minimum $300 to start while the Dirt Tour pays $1,000 to win and a minimum of $150 to take the main event green. The Modified feature is also a quali­fier for the 2016 Fast Shafts All-Star Invitational ballot.
Pit gates open at 5 p.m. and the grandstand opens at 5:30 p.m. Hot laps are at 6:30 p.m. with racing to follow.
Denny Eckrich of Tiffin was the Deery winner on opening night at West Liberty. While Curt Martin of Independence, Scott Fitzpatrick of Wheatland, Joel Callahan of Dubuque and Ray Guss Jr. of Milan, Ill., have followed him to victory lane in the four series events held since, it's seven-time tour champion Jeff Aikey currently leading the way in the points race.
Grundy Center's Joel Rust won the first two Hawkeye Dirt Tour events and paces the standings for that series. Brian Irvine of Oelwein took the checkers at the most recent HDT event, Thursday at Kossuth County Speedway.
More information about next Tuesday's race program is available by calling 563 744-3620 and at the www.simmonspromotionsinc.com website.
Deery Brothers Summer Series top 20 point standings – 1. Jeff Aikey, Cedar Falls, 224; 2. John Emerson, Waterloo, 214; 3. Ryan Dolan, Lisbon, 212; 4. Tyler Bruening, Decorah, 211; 5. Richie Gustin, Gilman, 205; 6. Matt Ryan, Davenport, 198; 7. Joel Callahan, Dubuque, 190; 8. Scott Fitzpatrick, Wheatland, 188; 9. Darrel DeFrance, Marshalltown, 184; 10. Andy Nezworski, Buffalo, 183; 11. Joe Zrostlik, Long Grove, 180; 12. Cayden Carter, Oskaloosa, 176; 13. Chad Holladay, Muscatine, 164; 14. Tyler Droste, Waterloo, 162; 15. Jason Rauen, Farley, 141; 16. Curt Schroeder, Newton, and Gary Webb, Blue Grass, both 134; 18. Rob Toland, Davenport, 133; 19. Ray Guss Jr., Milan, Ill., 129; 20. Denny Eckrich, Tiffin, 122.
Hawkeye Dirt Tour top 20 point standings – 1. Joel Rust, Grundy Center, 107; 2. Chris Abel­son, Sioux City, 104; 3. Brian Irvine, Oelwein, and Corey Dripps, Reinbeck, both 100; 5. Kyle Brown, State Center, 91; 6. Richie Gustin, Gilman, 81; 7. Tom Berry Jr., Boone, and Kelly Shryock, Fertile, both 74; 9. Mark Elliott, Webster City, 72; 10. Tim Ward, Harcourt, 69; 11. David Brown, Kellogg, 67; 12. Ryan Maitland, Waterloo, 61; 13. Mike Van Genderen, Newton, 60; 14. Joe Docekal, Dysart, Troy Cordes, Dunkerton, and Nick Roberts, LaCrosse, Wis., each 58; 17. Shane DeMey, Denison, 51; 18. Ronn Lauritzen, Jesup, 48; 19. Brandon Maitland, Waterloo, 40; 20. Todd Shute, Des Moines, 39.