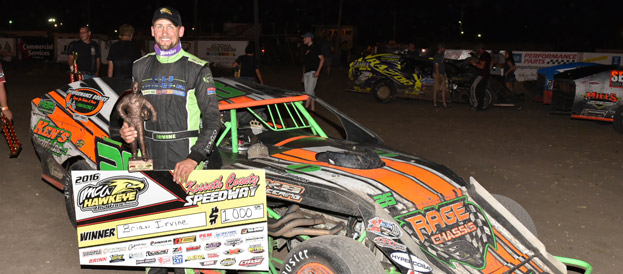 ALGONA, Iowa (June 9) – He didn't lead the most laps, just the most important ones.
Brian Irvine caught up with race-long leader Corey Dripps in lapped traffic, took away the front spot with a deft move to the inside on the 29th of 30 circuits and drove to the $1,000 checkers in Thursday's Hawkeye Dirt Tour main event at Kossuth County Speedway.
Traffic remained a factor as the evening's Xtreme Motor Sports IMCA Modified headline event ran green to checkered.
"Once I got to Corey, I saw a line of lapped cars ahead of him and knew I'd have to make an angle. I got my nose underneath him, which was about the only thing I could do in that situation," Irvine said. "The lapped cars helped, obviously. I've lost races leading late like that, I'd rather be second with two laps to go than leading in that situation."
Dripps had drawn the pole start and was chased across the stripe by Jeremy Mills on each of the first two laps. Irvine took over second the next time around, but fell back as Dripps pulled away from the pack.
Dripps was running with lapped cars by midway. Irvine began reeling in the leader and was just a car length behind and looking for his way to the front by lap 26.
The win was the first of Irvine's brief tour career. Mills, Chris Abelson and Tim Ward rounded out the top five. "B" qualifier Ryan Ruter got the best of Kansas long tow Clay Money in the battle for sixth.
Joel Rust had won the first two Hawkeye Dirt Tour events of the season, made the starting grid for the main event at Algona through the 'B' feature and finished 14th.
Irvine had run a very close second to Rust in the Tuesday HDT show at Marshalltown, also a 1-2 showing for Rage Chassis drivers.
"Tuesday night was tough. It was a lot better tonight," said Irvine, already on the ballot for the 2016 Fast Shafts All-Star Invitational.
Both the Hawkeye Dirt Tour and the Deery Brothers Summer Series are at West Liberty Raceway next Tuesday, June 14.
Feature results – 1. Brian Irvine, Oelwein; 2. Corey Dripps, Reinbeck; 3. Jeremy Mills, Marathon; 4. Chris Abelson, Sioux City; 5. Tim Ward, Harcourt; 6. Ryan Ruter, Kanawha; 7. Clay Money, Penokee, Kan.; 8. Richie Gustin, Gilman; 9. Jay Noteboom, Hinton; 10. Kyle Brown, State Center; 11. Jesse Hoeft, Forest City; 12. Tom Berry Jr., Boone; 13. Tad Reutzel, Burt; 14. Joel Rust, Grundy Center; 15. Rob Hughes, Humboldt; 16. Austin Wolf, Algona; 17. Kelly Shryock, Fertile; 18. Mark Elliott, Webster City; 19. Nick Roberts, LaCrosse, Wis.; 20. David Brown, Kellogg; 21. Cody Knecht, Whittemore; 22. Ryan Maitland, Waterloo; 23. Josh Ruby, Lakota; 24. Mike Van Genderen, Newton.
1st heat (top four) – 1. Reutzel; 2. Hughes; 3. Abelson; 4. Money; 5. Elliott; 6. Brandon Maitland, Waterloo; 7. Roberts; 8. Knecht; 9. Van Genderen.
2nd heat – 1. Dripps; 2. Hoeft; 3. Irvine; 4. Kyle Brown; 5. Wolf; 6. Ruter; 7. Gustin; 8. Shane DeMey, Denison; 9. Ruby.
3rd heat – 1. Berry; 2. Noteboom; 3. Ward; 4. Mills; 5. Rust; 6. David Brown; 7. Ryan Maitland; 8. Ben Kraus, Britt; 9. Shryock.
"B" feature (top 10) – 1. Elliott; 2. Ruter; 3. Rust; 4. Gustin; 5. Wolf; 6. Roberts; 7. Shryock; 8. David Brown; 9. Knecht; 10. Ruby; 11. Kraus; 12. DeMey; 13. Van Genderen; 14. Brandon Maitland; 15. Ryan Maitland.