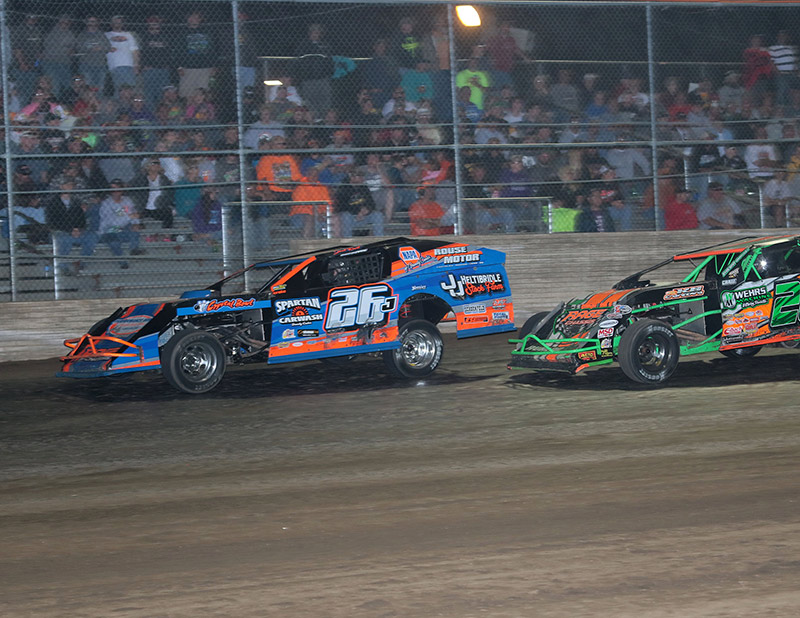 MARSHALLTOWN, Iowa (June 7) – After he went back to what he knew, Joel Rust went back to victory lane following a second straight Hawkeye Dirt Tour feature.
Rust became a rare repeat winner in the series for Xtreme Motor Sports IMCA Modifieds, following up his Memorial Day victory at Benton County Speedway with the $1,000 checkers Tuesday night at Marshalltown Speedway.
He became just the second driver in the series' 63-race history to win back-to-back features and accomplished the feat at his home track by less than a car length over Brian Irvine.
"We had run ninth in the weekly show Friday at Marshalltown. It wasn't what we wanted but we tried some things in preparation for Tuesday," explained Rust, who took Saturday and Sunday off. "Sometimes you do that and you find something. We didn't."
Irvine started inside Rust on the second row and led the first eight laps. Rust was scored first the last 22 times around the track but there was no giving up from Irvine, who pulled ahead on the white flag circuit.
"The track was a little different with the (Deery Series) Late Models there. I knew the track would slick off but it was still very racy," Rust said. "Marshalltown is kind of a momentum track and the middle is the better place to run the car."
"I knew Brian was there and he was trying to run the bottom," continued Rust. "The last lap, I went a little lower than I had been into (turn) one and I think it kind of hurt me. He had a good run in two. I ran the middle of three and four and was able to race out of four with a little more speed."
Defending series champion Kyle Brown, Jacob Murray and 'B" feature qualifier Richie Gustin rounded out the top five.
Brown had started 10th, Murray 12th and Gustin way back in 22nd.
The only other driver to win back-to-back Dirt Tour events is Jay Noteboom, who did so at Farley and Marshalltown in September of 2012. Rust is also the first driver to win twice in the same season since Darin Duffy accomplished the feat in 2013.
Feature results – 1. Joel Rust, Grundy Center; 2. Brian Irvine, Oelwein; 3. Kyle Brown, State Center; 4. Jacob Murray, Hartford; 5. Richie Gustin, Gilman; 6. Josh Most, Red Oak; 7. Scott Davis, Madrid; 8. Tim Ward, Harcourt; 9. Tom Berry Jr., Medford, Ore.; 10. Ronn Lauritzen, Jesup; 11. Chris Abelson, Sioux City; 12. Darin Duffy, Urbana; 13. Trent Jackson, Marshalltown; 14. Kurt Kile, Nichols; 15. Corey Dripps, Reinbeck; 16. Mike Van Genderen, Newton; 17. Troy Cordes, Dunkerton; 18. Josh Gilman, Earlham; 19. Joe Docekal, Dysart; 20. Mark Elliott, Webster City; 21. Matt Werner, Colona, Ill.; 22. Jimmy Gustin, Marshalltown; 23. Ricky Thornton Jr., Harcourt; 24. Kelly Shryock, Fertile.
1st heat (top three) – 1. Jackson; 2. Rust; 3. Werner; 4. Dripps; 5. Berry; 6. Gilman; 7. Cordes; 8. Duffy; 9. Tony Cox, Boone; 10. Kevin Hollingsworth, Des Moines.
2nd heat – 1. Most; 2. Lauritzen; 3. Jimmy Gustin; 4. Van Genderen; 5. Jenae Gustin, Marshalltown; 6. Kile; 7. Richie Gustin; 8. Thornton; 9. Derek Reimer, Marshalltown; 10. Docekal.
3rd heat – 1. Kyle Brown; 2. Irvine; 3. Davis; 4. David Brown, Kellogg; 5. Jason Snyder, Dunkerton; 6. Ryan Maitland, Waterloo; 7. Brandon Maitland, Waterloo; 8. Abelson; 9. Rod McDonald, Manchester; 10. Devon Havlik, Iowa Falls.
4th heat – 1. Murray; 2. Elliott; 3. Shryock; 4. Ward; 5. Racer Hulin, Laurel; 6. Scott Simatovich, State Center; 7. Nick Roberts, LaCrosse, Wis.; 8. Shane DeMey, Denison; 9. Tyler Madigan, Peosta.
1st "B" feature (top five) – 1. Abelson; 2. Dripps; 3. Berry; 4. Gilman; 5. Duffy; 6. David Brown; 7. Cordes; 8. Ryan Maitland; 9. Cox; 10. Brandon Maitland; 11. Havlik; 12. McDonald; 13. Snyder; 14. Hollingsworth.
2nd "B" feature – 1. Ward; 2. Thornton; 3. Van Genderen; 4. Kile; 5. Richie Gustin; 6. Hulin; 7. Jenae Gustin; 8. Simatovich; 9. DeMey; 10. Roberts; 11. Docekal; 12. Reimer; 13. Madigan.