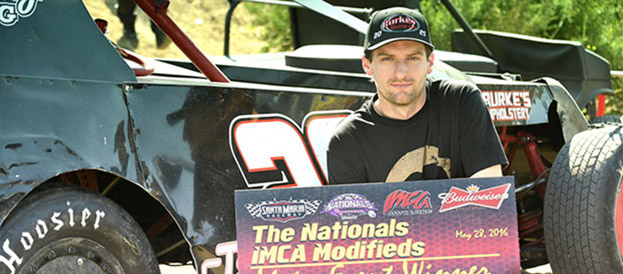 SANTA MARIA, Calif. (May 28-29) – Their 2-1/2 hour holiday weekend trips south on Highway 101 saw Salinas drivers Cody Burke and Bobby Hogge IV in victory lane at Santa Maria Raceway.
Burke topped the Saturday Budweiser Spring Nationals main event for Xtreme Motor Sports IMCA Modifieds while Hogge paced the Sunday show.
Both events paid $1,000 to win. The opening night checkers were the first of 2016 for Burke, who hoped the victory would help jump start an otherwise challenging early season, while Hogge scored IMCA win number seven on the year.
After drawing the outside pole start on Saturday, Burke made the most of the lower line and led all 25 laps. He was catching up with the back of the field when the only caution of the contest waved on lap 17, then pulled away from Randy Brown following the restart.
"I'd never won this race before. I think my best finishes were fourth and fifth last year," said Burke, new to the Fast Shafts All-Star Invitational ballot, "and I wasn't sure if I had the car to do it. We've been trying some new things and the track kind of came to how we've been setting the car up."
A regular at Santa Maria despite the distance from home, Burke has battled mechanical gremlins much of the season and looks to get back on track with that first W under his belt.
"It seems like if something could go wrong this year, it's happened," he said. "I really needed that win. It's been a rough year so far."
Brad Pounds, Kellen Chadwick and Hogge ran third through fifth, respectively.
Hogge brought his family along for the weekend and may add daughter Haleigh to his regular crew after she drew the number one pill for his Sunday start.
He matched Burke's opening night performance in leading all 25 circuits. Second starting Josh Vogt closed in as Hogge negotiated lapped cars but once clear he was able to rebuild that advantage.
"We'd come from 12th to fifth and didn't change much other than other than the tires from Saturday," Hogge said. "I was obviously happy with the starting spot and tried to establish the lead right away. I'd watched Josh in his heat and knew he'd be fast."
There were just two cautions in the main event and the frontrunners were in lapped traffic as the race wound down. Ricky Childress Jr., Pounds and Brett Bennett were next across the stripe.
"We used to race here more often in a late model. Now we come here once a year," said Hogge. "We usually have pretty good luck at Santa Maria. I wish it was closer to home. We were happy with the weekend for sure."
Levi Kiefer repeated as the Karl Chevrolet Northern SportMod winner on Sunday, ahead of Brylon Holder and Matt Hagio. Lee Jensen and Chris McKellar completed the top five.
May 28 Feature Results
Modifieds – 1. Cody Burke; 2. Randy Brown; 3. Brad Pounds; 4. Kellen Chadwick; 5. Bobby Hogge IV; 6. Logan Drake; 7. Ethan Dotson; 8. Cody Laney; 9. Ricky Childress Jr.; 10. Matt Crafton; 11. Josh Vogt; 12. Troy Morris Jr.; 13. Alex Stanford; 14. Kevin Irwin; 15. Roger Holder; 16. Robby Sawyer; 17. Aaron Rodarte; 18. Justin Crockett; 19. Carla Laney; 20. Paul Terrones; 21. Scott Pounds; 22. Austin Burke; 23. Chett Reeves; 24. Ryan Daves.
May 29 Feature Results
Modifieds – 1. Hogge; 2. Vogt; 3. Childress; 4. Brad Pounds; 5. Brett Bennett; 6. Clay Daly; 7. Drake; 8. Dotson; 9. Chadwick; 10. Crockett; 11. Brown; 12. John Piker; 13. Stanford; 14. Billy Wormsbecker; 15. Cody Burke; 16. Holder; 17. Scott Pounds; 18. Austin Burke; 19. Chris Crompe Jr.; 20. Sawyer; 21. Daylan Coffey; 22. Laney; 23. Irwin; 24. Danny Lauer.
Northern SportMods – 1. Levi Kiefer; 2. Brylon Holder; 3. Matt Hagio; 4. Lee Jensen; 5. Chris McKellar; 6. Dennis Simunovich; 7. Nick Spainhoward; 8. Austin Frye; 9. Jason Nation; 10. Gary Dutton; 11. Michael Black; 12. Garrett Jernagan; 13. Billy Simkins; 14. Anthony Guilani; 15. Brenda Kirby; 16. Brendon Frye; 17. Kirk Morgan; 18. Matthew Lewis; 19. Austin Manzella; 20. Al Johnson; 21. Shane DeVolder; 22. Austin Ruskauff; 23. Wayne Dotson; 24. Michael Johnson.