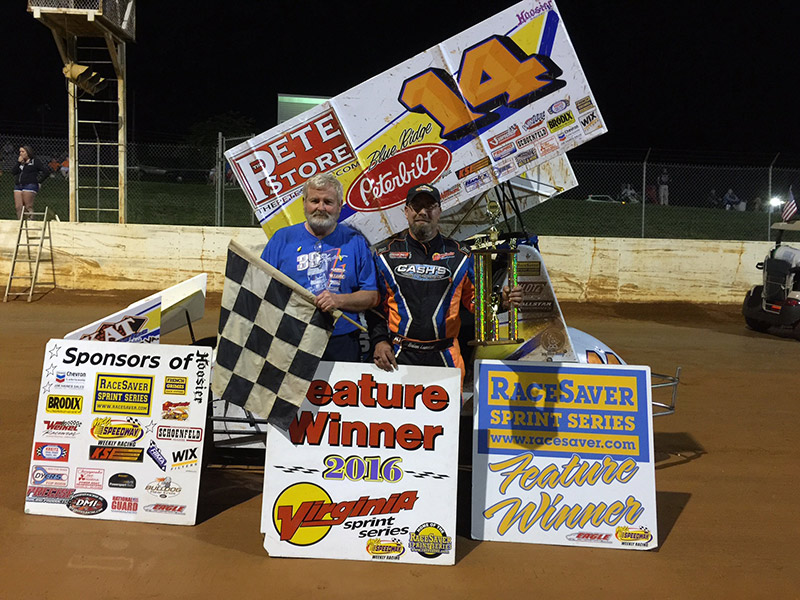 By Jim Haines
NATURAL BRIDGE, Va. (May 28) – Brian Lawson won for the first time this season when the Virginia Sprint Series made its second visit of 2016 to Natural Bridge Speedway.
After recording his first IMCA RaceSaver Sprint Car tour heat win, J.D. Coats joined Bill Rice in pacing the Saturday evening field to the feature green.
Rice took the early lead, riding his favorite high line. Daren Bolac was making ground up on Rice and on lap four he went to the front with Lawson close behind.
Lawson got by Bolac for the top spot on lap nine and Jerald Harris got into the picture, running second at halfway.
The front two were really going at it but Harris could only get close as Lawson went under the checkered flag for his first win of the season. Harris was second and Tom Humphries took third.
Feature results – 1. Brian Lawson; 2. Jerald Harris; 3. Tom Humphries; 4. Daren Bolac; 5. Bill Rice; 6. Anthony Linkenhoker; 7. J.D. Coats; 8.Glenn Worrell; 9. French Grimes; 10. Josh Perreault; 11. Ron Moyers.