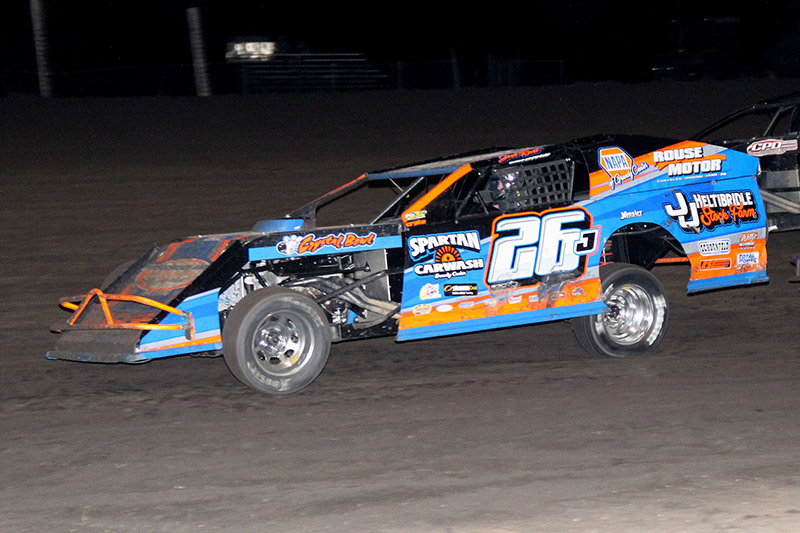 VINTON, Iowa (May 30) – Once he made the Memorial Day main event, Joel Rust figured he had the car to be a contender.
He figured right.
Rust qualified for Monday's Hawkeye Dirt Tour opener at Benton County Speedway by running second in his "B" feature, started 16th in the field of 28 and promptly raced to his career-first Xtreme Motor Sports IMCA Modified Series victory.
Rust passed fellow "B" qualifier Todd Shute with 13 circuits left in the 40-lapper and led to the $1,000 checkers.
"I haven't run a lot of features that long. I knew my car was good on the bottom and I got to fifth by midway," the new Fast Shafts All-Star Invitational ballot qualifier said. "I'd had success here in a SportMod but last night was the first night here with this car. It was cool to be able to win this race especially with the caliber of cars."
Forty-eight Modifieds, the most-ever for an HDT event at Vinton, were on hand for the holiday show.  Shute, Tony Snyder, Chris Abelson and Joe Docekal rounded out the top five finishers.
Scott Hogan led the first lap before Docekal drove by and led to midway, when defending tour champion Kyle Brown took over.
Brown had topped the $1,000 to win make-up feature from Sunday earlier in the program but his turn up front proved to be a short one after he got caught up with traffic and cut a tire.
Docekal got the lead back for five laps. Shute was scored first the next time around and then Rust led to the finish.
He'll take the point lead to his home track for the next Hawkeye Dirt Tour show, on June 7 at Marshalltown Speedway.
The Memorial Day program was interrupted briefly by rain. Other feature winners were Leah Wroten in the IMCA Sunoco Hobby Stocks, Tyler Soppe in the Karl Chevrolet Northern SportMods and Damon Murty, for the 200th time in his IMCA Sunoco Stock Car career.
Murty drew the pole start and was tapped and spun in front of a Mike Galli rollover early on. He battled Jeff Mueller before capturing the milestone win by two car lengths.
"It's a pretty big accomplishment," he acknowledged. "Our next goal is to get 300 wins. Hopefully we can do it quicker than getting the last 100 took."
Feature results – 1. Joel Rust, Grundy Center; 2. Todd Shute, Des Moines; 3. Tony Snyder, Readlyn; 4. Chris Abelson, Sioux City; 5. Joe Docekal, Dysart; 6. Corey Dripps, Reinbeck; 7. Troy Cordes, Dunkerton; 8. Kelly Shryock, Fertile; 9. Zach Less, Manchester; 10. Jerry Dedrick, Vinton; 11. David Brown, Kellogg; 12. Dakota Hayden, Wilton; 13. Mark Elliott, Webster City; 14. Ryan Maitland, Waterloo; 15. Jeff James, Stanton; 16. Patrick Flannagan, Cedar Rapids; 17. Nick Roberts, Des Moines; 18. Shane DeMey, Denison; 19. Kyle Brown, State Center; 20. Brian Irvine, Oelwein; 21. J.D. Auringer, Waterloo; 22. Scott Hogan, Vinton; 23. Mike Van Genderen, Newton; 24. Jeremiah Hurst, Dubuque; 25. J.J. Scott, Iowa City; 26. Vern Jackson, Waterloo; 27. Dennis LaVeine, Burlington; 28. Ronn Lauritzen, Jesup.
1st heat (top two) – 1. Flannagan; 2. Docekal; 3. Lauritzen; 4. Irvine; 5. LaVeine; 6. Abelson; 7. Devon Havlik, Iowa Falls; 8. Brandon Maitland, Waterloo; 9. Dugan Thye, Burlington; 10. Dennis Betzer, Central City.
2nd heat – 1. Kyle Brown; 2. Cordes; 3. Jackson; 4. Ed Thomas, Waterloo; 5. Scott; 6. Brennen Chipp, Waterloo; 7. Levi Smith, Donnellson; 8. Todd VanEaton, Orient; 9. Jason Snyder, Dunkerton; 10. Austin Bishop, Manchester.
3rd heat – 1. Elliott; 2. Tony Snyder; 3. Rust; 4. Kyle Montgomery, Tipton; 5. James; 6. Richie Gustin, Gilman; 7. Hayden; 8. Dedrick; 9. Roberts; 10. Brett Ladehoff, Marshalltown.
4th heat – 1. DeMey; 2. Hogan; 3. Shute; 4. Van Genderen; 5. Hurst; 6. Jeff Larson, Freeport, Ill.; 7. Jeff Waterman, Quincy, Ill.; 8. Racer Hulin, Laurel; 9. Steve Johnson, Camanche.
5th heat – 1. Auringer; 2. Less; 3. Dripps; 4. Shryock; 5. Tom Berry, Medford, Ore.; 6. Ryan Maitland; 7. Blake Woodruff, Galesburg, Ill.; 8. Josh Barta, Cedar Falls; 9. David Brown.
1st "B" feature (top five) – 1. Shute; 2. Lauritzen; 3. Abelson; 4. Shryock; 5. James; 6. Larson; 7. Dedrick; 8. Thomas; 9. Smith; 10. Woodruff; 11. Thye; 12. Johnson; 13. Bishop.
2nd "B" feature – 1. Dripps; 2. LaVeine; 3. Jackson; 4. Hurst; 5. Hayden; 6. Chipp; 7. Ryan Maitland; 8. Montgomery; 9. David Brown; 10. Hulin; 11. Brandon Maitland; 12. Jason Snyder; 13. Ladehoff.
3rd "B" feature – 1. Irvine; 2. Rust; 3. Van Genderen; 4. Roberts; 5. Scott; 6. Havlik; 7. Barta; 8. Betzer; 9. Berry; 10. Gustin; 11. Waterman; 12. VanEaton.