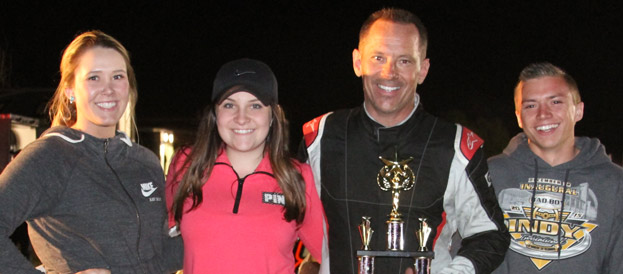 By Don Martin II
WHITE CITY, Ore. (May 28) – With a $1,500 top prize and a berth on the ballot for the Fast Shafts All-Star Invitational on the line, Mark Wauge impressed with his charge to the front of the pack for the Xtreme Motor Sports IMCA Modified victory at Southern Oregon Speedway's Roger Haudenshild Tribute Race.
Wauge started in the last row in a 30-lapper that ran with just one caution flag and a complete restart. He took the lead from long tow Darrell Hughes II on lap 20.  Once in front, Wauge was not to be denied as he pulled away for the win.
After a multi-car crash resulted in a complete restart, Brian Poppa shot into the lead on the open­ing lap. What proved to be the last caution of the contest flew on the next circuit.
Hughes pressured Poppa hard for the lead before using an inside pass on lap five to gain the lead. Wauge was already sixth by then and raced his way into the top four two laps later.
He caught Duane Cleveland and Poppa before an inside move in on the 20th lap gained Wauge the lead.  He set a blistering pace from that point that saw him lap several cars down the stretch.
Wauge was the winner ahead of Hughes – the Crack The Whip Challenge winner – Jesse Bailey, Poppa and Randy McDaniel.
Brothers Todd Cooper and Brian Cooper ran 1-2 in the $1,000 to win Karl Chevrolet Northern SportMod feature.
Patti Ryland and Todd Cooper swapped the lead before Cooper settled into the front spot with his brother running second.
Jorddon Braaten gained third and then Fred Ryland got by his wife for fourth.  The rest of the race was caution-free with Todd Cooper winning by most of a straightaway. Phillip Shelby rounded out the top five.
Extra money in the respective purses was made possible thanks to sponsorship from the Haud­enshild family and Dusty's Transmissions of Central Point.
Feature Results
Modifieds – 1. Mark Wauge; 2. Darrell Hughes II; 3. Jesse Bailey; 4. Brian Poppa; 5. Randy McDan­iel; 6. Duane Cleveland; 7. Mark Carrell; 8. Nick Trenchard; 9. Ryan McDaniel; 10. Albert Gill; 11. Scott Crumm; 12. Mike Evans; 13. Kevin Pendergrass; 14. Duane Orsburn; 15. Zach Fettinger; 16. B.J. Wild; 17. Kyle Casson; 18. Lloyd Speer; 19. Shane Mills; 20. Curt Coggins.
Northern SportMods – 1. Todd Cooper; 2. Brian Cooper; 3. Jorddon Braaten; 4. Fred Ryland; 5. Phillip Shelby; 6. Bob Nelson; 7. Patti Ryland; 8. Dwayne Melvin; 9. Jimmy Lipke; 10. Mike Medel; 11. Chris Frisbie; 12. A.J. Parker; 13. Randy Fernandes; 14. David Marble; 15. Tony Bartell; 16. Glen Severson; 17. Ken Frisbie; 18. David Henshaw.