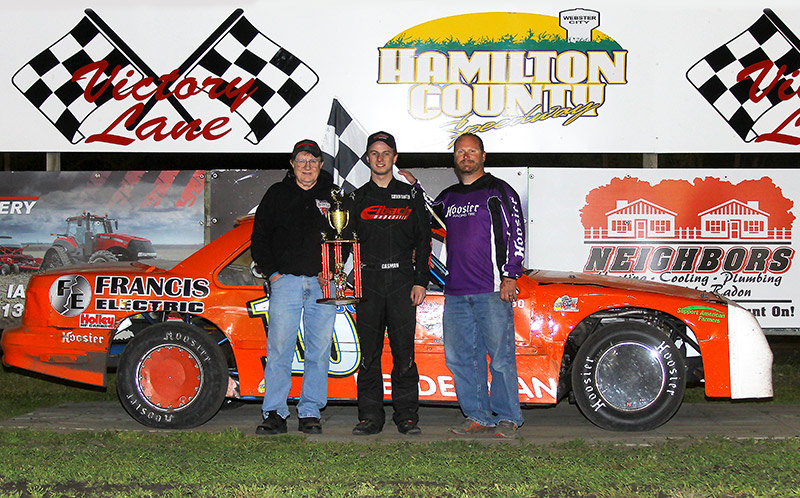 WEBSTER CITY, Iowa (May 17) – It might be tough to find a driver who's had a better start to his racing week than Cayden Carter.
The runner-up in Sunday's Deery Brothers Summer Series main event at Quad City Speedway, Carter rocketed from 12th starting to win the Central Iowa IMCA Sunoco Stock Car Showdown and $2,000 at Hamilton County Speedway Tuesday night.
Todd Inman, Kevin Opheim, Dan Mackenthun and Jay Schmidt were scored next in an all-star filled field.
Carter made the most of the higher line and passed pole starter Derek Green for the lead before midway.
He beat Inman to the checkers by all of a car length following a late yellow.
"Back in my SportMod days, there were times when we won six or seven races in a row, but this was definitely a good week," Carter said. "After finishing second in the Deery race on Sunday and to­night, it has already been a pretty good week for us."
Carter now has four wins and a second-place finish in five starts in a former Bobby Greiner car.
John Watson led all 30 laps of the $1,000 to win IMCA Sunoco Hobby Stock feature after starting outside the front row. The victory was his first of the season and career 67th in the division.
"It was a really good race," summarized Watson. "We had Jamie Songer behind us most of the first 15 laps. I kept looking at the leader board and saw the (number) 96 there so I knew nobody was going to get into me."
Andrew Borchardt, Songer, Bryce Sommerfeld and Myles Michehl rounded out the Hobby Stock top five.
Watson changed his right rear tire during the stop on the front straight at halfway. He's armed with a new Billy Moyer Victory Chassis, plus a new Afco shock package and open motor and looks to start racking up more W's.
"It felt good to get the win. I think we've had about nine second-place finishes so far," Watson said. "It seemed like every time we had a caution there was water on the track right where I was running, but everything worked out for us."
Feature Results
Stock Cars – 1. Cayden Carter; 2. Todd Inman; 3. Kevin Opheim; 4. Dan Mackenthun; 5. Jay Schmidt; 6. Dustin Larson; 7. Jake Masters; 8. Michael Jaennette; 9. Derek Green; 10. Lynn Panos; 11. Jason Minnehan; 12. Matt Ring; 13. Nathan Wood; 14. Chris Mills; 15. Todd Fisher; 16. Kellie Schmit; 17. John Campbell; 18. Andrew Knode; 19. Johnny Spaw; 20. Donavon Smith; 21. Damon Murty; 22. Steve Meyer; 23. Cody Frerichs; 24. Jon Braathun; 25. Randy Killen; 26. Devin Smith.
Hobby Stocks – 1. John Watson; 2. Andrew Borchardt; 3. Jamie Songer; 4. Bryce Sommerfeld; 5. Myles Michehl; 6. August Bach; 7. Weston Koop; 8. Chris Houden; 9. Matt Byrne; 10. Kevin Derry; 11. Tommy Beekman; 12. Chanse Hollatz; 13. Zac Smith; 14. Dakota Feickert; 15. Seth Janssen; 16. Dustin Tapp; 17. Craig Graham; 18. Ron Downing; 19. Danny Ayers; 20. Matt Mundt; 21. Ryan Boland; 22. Cody Gustoff; 23. Shawn Wirtz; 24. Brandon Pitts; 25. Troy Phillips; 26. Corey Roe.