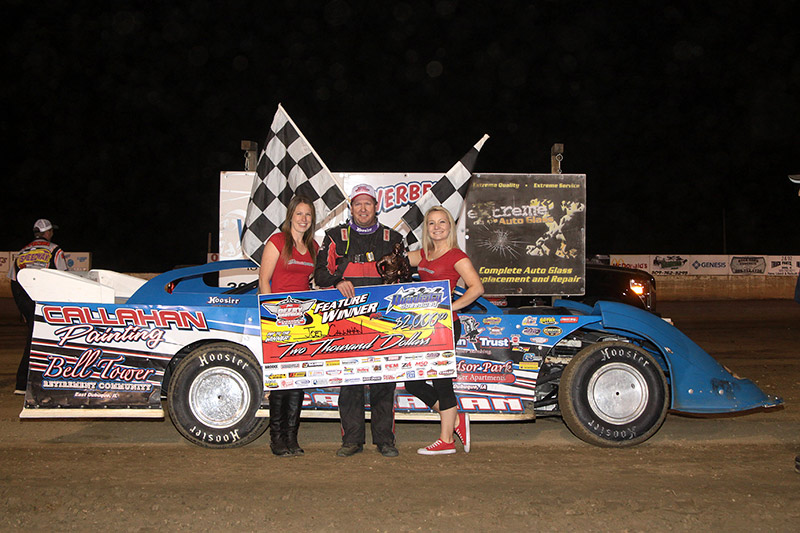 EAST MOLINE, Ill. (May 15) – What looked to be another night for a Deery Brothers Summer Series rookie to shine ended with veteran Joel Callahan in victory lane instead Sunday at Quad City Speedway.
First-year IMCA Late Model tour driver Cayden Carter led the first 32 times around the East Moline oval before Callahan caught up and led to the $2,000 checkers.
Carter ended in second while Tyler Droste, the winner at Quad City last July and 2015 series rookie of the year, took third.
"We can usually run the low side when we need to and it worked well for us tonight," Callahan said following his career fourth series victory, and first away from Farley Speedway. "There were a couple times at midway when I got alongside but couldn't get past. I had the advantage of running second but he (Carter) was tough."
Carter had started outside the front row and set sail from the top side. Callahan drew the fifth starting spot and stayed glued to the bottom.
The last 39 laps ran green and all 24 cars that started the main event finished. Once in front, Callahan never shook Carter and took the checkers by a couple car lengths.
"The car was really good in (turns) three and four. I had to do my best to maintain position in one and two," said Callahan. "Maybe I could pick off lapped traffic better than Cayden could."
Rounding out the top five were Ray Guss Jr. and Jeff Aikey, winner of the $250 Sunoco Race Fuels feature qualifier drawing.
Tire samples were taken for testing and Callahan's victory remains unofficial.
Winner of the Malvern Trust and Savings Bank non-qualifier Dash for Cash and $300 was Joe Zrostlik, who'd started last in the 11-car starting field.
The Wednesday, May 18 Deery date at Maquoketa, Iowa, Speedway will be rescheduled. Next up on the schedule for the 30th annual series is the Monday, May 30 show at Boone, Iowa, Speedway.
Pit gates open at 2 p.m. and the grandstand opens at 3 p.m. for the Memorial Day event. Hot laps are at 4 p.m. and racing starts at 5 p.m.
Feature results – 1. Joel Callahan, Dubuque, Iowa; 2. Cayden Carter, Oskaloosa, Iowa; 3. Tyler Droste, Waterloo, Iowa; 4. Ray Guss Jr., Milan; 5. Jeff Aikey, Cedar Falls, Iowa; 6. Jeremiah Hurst, Dubuque, Iowa; 7. Andy Nezworski, Buffalo, Iowa; 8. Matt Ryan, Davenport, Iowa; 9. John Emerson, Waterloo, Iowa; 10. Richie Gustin, Gilman, Iowa; 11. Jay Johnson, West Burlington, Iowa; 12. Chad Holladay, Muscatine, Iowa; 13. Scott Fitzpatrick, Wheatland, Iowa; 14. Darrel DeFrance, Marshalltown, Iowa; 15. Rob Toland, Davenport, Iowa; 16. Luke Goedert, Dubuque, Iowa; 17. Thad Wilson, Rock Island; 18. Tyler Bruening, Decorah, Iowa; 19. Ryan Dolan, Lisbon, Iowa; 20. Jon Poll, Delmar, Iowa; 21. Luke Merfeld, Dubuque, Iowa; 22. Ben Seemann, Waterloo, Iowa; 23. Gary Webb, Blue Grass, Iowa; 24. Chuck Hanna, Port Byron.
1st heat (top three) – 1. Poll; 2. Nezworski; 3. Hanna; 4. Ryan; 5. Stephan Kammerer, Blue Grass, Iowa; 6. Eric Sanders, Sherrard; 7. B.J. Jackson, Milan; 8. Eric Pollard, Peosta, Iowa.
2nd heat – 1. Holladay; 2. Carter; 3. Emerson; 4. Gustin; 5. Luke Merfeld; 6. Bruening; 7. Jeff Tharp, Sherrill, Iowa; 8. Shawn Mulvany, Moline.
3rd heat – 1. Callahan; 2. Goedert; 3. Fitzpatrick; 4. Jon Merfeld, Dubuque, Iowa; 5. Webb; 6. Jonathan Brauns, Muscatine, Iowa; 7. Wilson; 8. Jason Rauen, Farley, Iowa.
4th heat – 1. Guss; 2. Aikey; 3. Droste; 4. DeFrance; 5. Joe Zrostlik, Long Grove, Iowa; 6. Jay Chenoweth, Wapello, Iowa; 7. Dolan; 8. Todd Malmstrom, Silvis.
5th heat – 1. Hurst; 2. Johnson; 3. Toland; 4. Seemann; 5. Curt Schroeder, Newton, Iowa; 6. Ryan Claeys, Grand Mound; 7. Randy Havlik, Ankeny, Iowa.
1st "B" feature – 1. Ryan; 2. Luke Merfeld; 3. Seemann; 4. Jon Merfeld; 5. Brauns; 6. Sanders; 7. Dolan; 8. Rauen; 9. Tharp; 10. Pollard; 11. Claeys; 12. Zrostlik.
2nd "B" feature – 1. Gustin; 2. DeFrance; 3. Webb; 4. Bruening; 5. Wilson; 6. Kammerer; 7. Schroeder; 8. Malmstrom; 9. Chenoweth; 10. Jackson; 11. Mulvany; 12. Havlik.
Dash for Cash – 1. Zrostlik; 2. Rauen; 3. Jon Merfeld; 4. Chenoweth; 5. Schroeder; 6. Pollard; 7. Jackson; 8. Sanders; 9. Tharp; 10. Claeys; 11. Brauns; 12. Kammerer; 13. Malmstrom; 14. Mulvany; 15. Havlik.