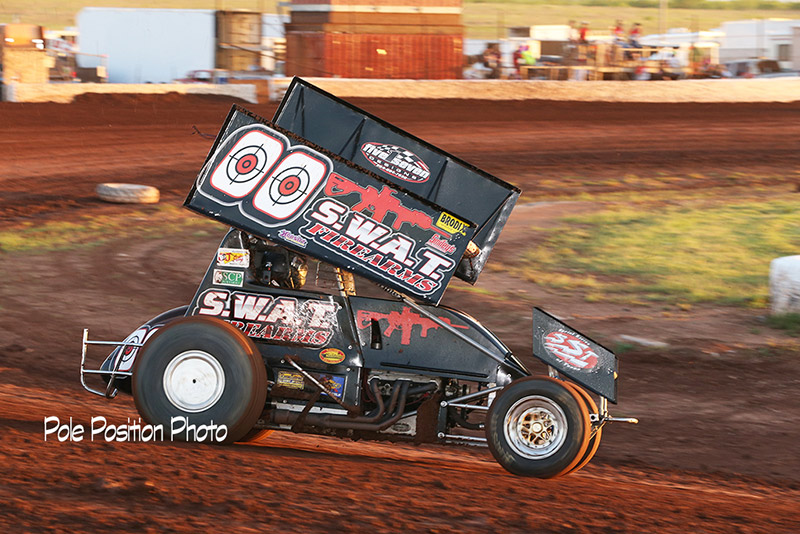 ABILENE, Texas (May 7) – Abilene Speedway continued to be very good to defending Sprint Se­ries of Texas champion Dustin Woods.
Woods led the last 19 of 20 circuits in winning Saturday's main event for touring IMCA EMI Rac­eSaver Sprint Cars.
"It's always fun to race at Abilene," said Woods, the fourth different winner in as many SST events so far this season. "I started outside the front row, which was a first at Abilene. The track changed from real fast to slick in just a handful of laps so it was a pretty nice win."
Cody Whitworth was scored first on the opening lap. Early cautions gave way to a long green flag run but none of his 23 IMCA EMI RaceSaver Sprint Car foes could lasso Woods.
Justin Melton, Woods' teammate Jason Howell, Whitworth and Kenny Elwood comprised the rest of the top five.
Feature results – 1. Dustin Woods; 2. Justin Melton; 3. Jason Howell; 4. Cody Whitworth; 5. Kenny Elwood; 6. Jeff Day; 7. Michelle Melton; 8. Reagan Reed; 9. Shawn Mize; 10. Chad Koch; 11. Kenny Venable; 12. J.D. Fry; 13. David Munden; 14. Russ Fletcher; 15. Chase Brewer; 16. Gary Floyd; 17. Matt Holt; 18. Johnny Miller; 19. Sterling Hoff; 20. Michael Day; 21. Bob Odom; 22. Chase Parson; 23. Steve Elliott; 24. Carl Large.