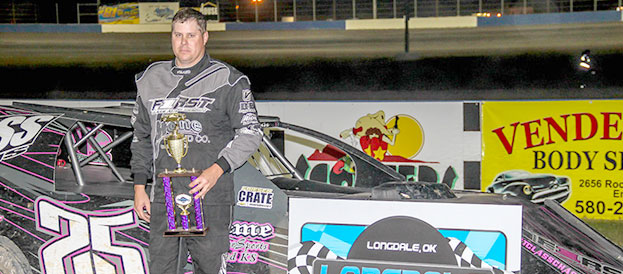 LONGDALE, Okla. (May 4) – Mike Petersilie raced to the biggest win of his career at Longdale Speedway's IMCA Night on Wednesday.
As a bonus, his daughters Lexus, Hailey and Kassy stayed up late to watch the event on IMCA.TV and won a Tweet Your Seat contest T-shirt.
Petersilie drew the pole for the Xtreme Motor Sports IMCA Modified main event and had to regain the front spot from Kevin Sustaire late in a contest that ran caution-free all 20 laps.
The $1,000 checkers, the top win money-wise of Petersilie's 17 seasons on the track, put him on the ballot for the 2016 Fast Shafts All-Star Invitational.
Sustaire, Clay Sellard, 11th starting Cole Traugott and Ken Schrader rounded out the top five. Wil­liam Gould started behind Petersilie and ended in sixth while Kenny Wallace was seventh.
"It was a neat accomplishment on a dry slick track," Petersilie said. "It feels good to be able to win a race like this. While it's easier to do from the pole, you still have to stay in front of that caliber of field."
The win was the second this season for Petersilie, also first to the checkers on April 22 at Salina, and came in a new 1st Class Classis by Xtreme Motor Sports ride.
"It was our second win in nine starts in that car and we've got some more top fives," he noted. "The season has been pretty good for us."
Kale Westover's IMCA SportMod victory was worth $500 and came in from of ninth starting Kip Hughes, 17th starting Jeff Autry, Michael Shenberger and 12th starting Darren Hacker.
IMCA Sunoco Stock Car feature winner Dale Richardson earned $400 for his efforts. Mark Smith, 11th starting Landon Maddox. Logan Macy and Hesston Shaw were next across the stripe.
Both Westover and Richardson won from outside row two starting spots.
Feature Results
Modifieds – 1. Mike Petersilie; 2. Kevin Sustaire; 3. Clay Sellard; 4. Cole Traugott; 5. Ken Schrader; 6. William Gould; 7. Kenny Wallace; 8. Jon Herring Jr.; 9. Hunter McDonald; 10. Tan­ner Black; 11. Kent Bright; 12. Randy Wilson; 13. Danny Womack; 14. Jason Hilliard; 15. Danton Odell; 16. Scott Edwards; 17. Thomas Hall; 18. Edward Bayouth; 19. Jessie Hoskins; 20. Troy Gemmill.
SportMods – 1. Kale Westover; 2. Kip Hughes; 3. Jeff Autry; 4. Michael Shenberger; 5. Darren Hacker; 6. Jeffrey Kaup; 7. Slade Roach; 8. Kaleb Roach; 9. Daylon Bergeron; 10. Courtney McCart­ney; 11. Jessie Hoskins; 12. Jimmie Wright; 13. Jay Arnold; 14. Cullen Hill; 15. Jeff McIn­tosh; 16. Claude Roach; 17. Kenny Wallace; 18. Bryan Root; 19. Michael Buzan; 20. Peyton McIn­tosh; 21. Brandon Kenny; 22. Mike Roach.
Stock Cars – 1. Dale Richardson; 2. Mark Smith; 3. Landon Maddox; 4. Logan Macy; 5. Hesston Shaw; 6. Travis Baird; 7. Lance Waddell; 8. Ryan Bohnstedt; 9. Gregory Gutt; 10. Paul Taylor; 11. Kenny Sorrels.