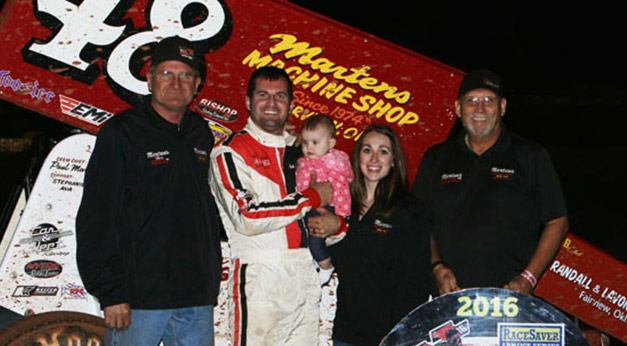 By David Smith Jr.
MEEKER, Okla. (April 23) – Jake Martens took the lead at the start and then held off a hard-charg­ing Joe Wood Jr. to capture his first Sprint Series of Oklahoma IMCA EMI RaceSaver Sprint Car victory of the season at Brill Motor Speedway on Saturday night.
Martens started on the pole for the 20-lap feature and quickly jumped out front as Andy Shouse and Sterling Hoff battled for second. Martens opened a half-stretch advantage before reaching slower cars on lap seven.
The fifth starting Wood had worked his way past Shouse for third on lap five and on lap eight passed Hoff.
The first and only caution fell on lap 12. Martens got the jump on Wood on the ensuing restart and opened a five car length lead.
Martens approached slower cars on lap 18, which allowed Wood to cut his deficit down to three car lengths. Heading down the backstretch on the final lap, Wood got a run on Martens coming out of turn four but the leader held on to take the two car length victory.
Shouse settled for third while Hoff and Blake Dacus rounded out the top five.
Feature results – 1. Jake Martens; 2. Joe Wood Jr.; 3. Andy Shouse; 4. Sterling Hoff; 5. Blake Dacus; 6. Chris Kelly; 7. Gary Owens; 8. Robert Vetter; 9. Shayla Waddell; 10. Cody Whitworth; 11. Chad Koch; 12. Gary Kelley; 13. Chad Bellefeuille; 14. Jerry Jumper; 15. Brandon Long; 16. Mark Rogers; 17. Brandon Jennings; 18. Blake Scott; 19. Lloyd Clevenger.