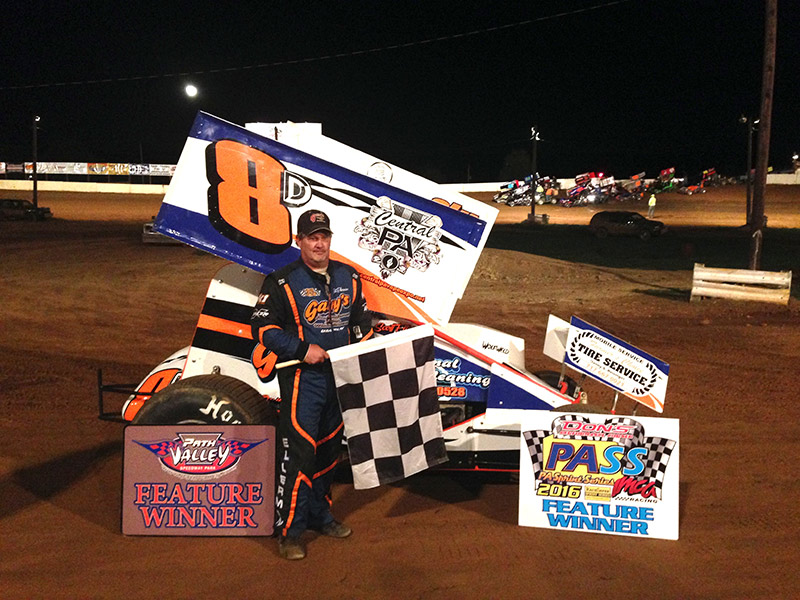 DRY RUN, Pa. (April 23) – Scott Ellerman picked up the Pennsylvania Sprint Series win at Path Valley Speedway Saturday night by holding off a late charge from Zach Newlin.
The defending IMCA EMI RaceSaver Sprint Car tour champion pulled close to the leader as he navigated lapped traffic but was unable to deny Ellerman his second win of the season.
He's now the second repeat winner of the year. Dale Schweikart had another top five finish with Darren Miller and Kyle Lloyd next across the stripe.
Feature results – 1. Scott Ellerman; 2. Zack Newlin; 3. Dale Schweikart; 4. Darren Miller; 5. Kyle Lloyd; 6. Jeff Taylor; 7. Drew Ritchey; 8. Scott Lutz; 9. Stephanie Dodson; 10. Cody Hackenberry; 11. Kyle Ganoe; 12. Andrew Hake; 13. Seth Kearchner; 14. Jack Thornton; 15. Brad Mellott; 16. Kirsten Hess; 17. Dave Grube; 18. Jim Kennedy; 19. Cale Reigle; 20. Quintin Hankla.