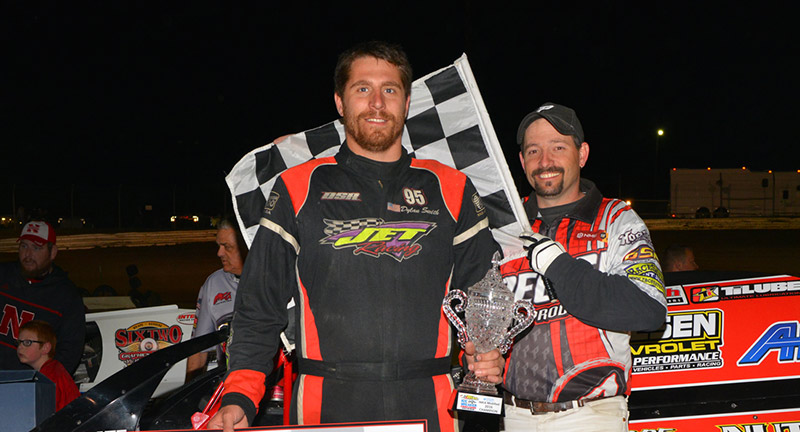 By Greg Soukup
EAGLE, Neb. (April 15-16) – Dylan Smith proved up to the challenge and earned $2,000 for his Xtreme Motor Sports IMCA Modified exploits at Eagle Raceway's season-opening Ice Breaker Challenge.
Smith took the lead on lap four of the Saturday finale and stayed in charge despite the caution coming out with two laps left.
Ricky Stephan got a jump on Kelly Shryock following the restart and moved up to second with Friday winner Jordan Grabouski taking over fourth on the final lap.
Grabouski had swapped the opening night lead with Stephan early on before settling into the front spot for good and taking the $1,000 checkers. Second was Scott Smith and Ryan Gaylord raced his way into the top three late in the contest,
Both Dylan Smith and Grabouski were already on the ballot for the Fast Shafts All-Star Invita­tional.
Lance Borgman topped both $500 to win Karl Chevrolet Northern SportMod features and earned a $1,000 Twice is Nice Challenge bonus for his efforts.
Other Friday winners were Roy Armstrong in the IMCA Sunoco Hobby Stocks and Ramsey Meyer in the Mach-1 Sport Compacts. Also winning Saturday were Trevor Grossenbacher in the IMCA EMI RaceSaver Sprint Cars and Mike Nichols in the IMCA Sunoco Stock Cars.
Borgman had a half a lap lead on Friday before the only caution of the race waved with five laps left. He went on to the win ahead of Justin Addison and Kyle Prauner.
Armstong passed Tyler Saathoff with seven to go to snag the Hobby Stock lead. The top four went unchanged until they came to the checkered flag when Damon Richards got sideways, his right side tires dug in and his racer jumped into the air, flipping but coming down on its tires. That allowed Jeff Ware to come home fourth. Armstrong, Saathoff and Mark McKinney made up the top three.
Meyer worked his way from fourth and passed R.J. Maas on the way to top Sport Compact hon­ors.
Shawn Harker and Trent Roth were fast in the waning laps of the Saturday SportMod show but neither could deny Borgman a second win and the Twice is Nice bonus. 
Sanctioned Stock Cars made their first appearance at Eagle in many years and did not disap­point.
Nichols got past Eric Bartels on lap six and then jumped all the way up to second the next time around as Gereau moved back into fourth. It took Nichols just two more laps to grab the lead from Har­ris and he drove to victory lane in his first visit to Eagle.
Bartels and Shawn Primrose made late charges to second and third, respectively.
Grossenbacher was in front when the first Sprint Car circuit was scored and stayed in front through­out.
A caution with two laps left erased his huge lead but there was no catching Grossenbacher, who used the lower line to his full advantage. Toby Chapman and Jason Danley were next across the stripe.
Grossenbacher's Sprint Series of Nebraska victory paid $1,000 while Nichols nabbed $500. Arm­strong's win paid $400, Meyer's $150.
April 15 Feature Results
Modifieds – 1. Jordan Grabouski; 2. Scott Smith; 3. Ryan Gaylord; 4. Ricky Stephan; 5. Bob Zoubek; 6. Nathan Landauer; 7. Anthony Roth; 8. Kelly Shryock; 9. Dylan Smith; 10. Chris Abel­son; 11. Shane Hiatt; 12. Roger Hadan; 13. Jamie Trautner; 14. Chad Andersen; 15. Tyler Iverson; 16. Jay Noteboom; 17. William Nusser; 18. Justin Wulf; 19. Rik Gropp; 20. Jer­emy  Chambers. 
Northern SportMods – 1. Lance Borgman; 2. Justin Addison; 3. Kyle Prauner; 4. Colby Langen­berg; 5. Mark Leiting; 6. Trent Roth; 7. Joe Feyen; 8. Nate Thompson; 9. Jeff Brunssen; 10. Gary Saathoff; 11. Josh Pfeifer; 12. Shawn Harker; 13. Adam Vrbka; 14. Jeremy Noonan; 15. Joe Schidler; 16. Scott Bivens; 17. Don Rinke; 18. Gunnar Pike; 19. Dion Kovar; 20. Brandon Span­jer.
Hobby Stocks – 1. Roy Armstrong; 2. Tyler Saathoff; 3. Mark McKinney; 4. Jeff Ware; 5. Da­mon Richards; 6. Justin Busboom; 7. Jesse VanLaningham; 8. Dave Riley; 9. Kenny Roberts; 10. David Carter; 11. Russ Specht; 12. Austin Brauner; 13. Sydney Yost; 14. Charlie Bartels; 15. Chad Fegley; 16. Rick Bradley; 17. Luke Nicholson; 18. Ryan Roschewski; 19. Tyler Jackson; 20. Cody Leifeld.
Sport Compacts – 1. Ramsey Meyer; 2. Kyle Owen; 3. Cole Krichau; 4. R.J. Maas; 5. Jer­emy Bohlen; 6. Scott Spellmeier; 7. Tom Powell; 8. Tyler Thompson; 9. Justin Olsen; 10. Travis Thelander; 11. Nick Lindblad; 12. Tim Horsham; 13. Zach Fosler; 14. Jim Buss; 15. Denny Berghahn Jr.; 16. Ryan Smith; 17. Fred Johnson; 18. Spencer Pavey III; 19. Brian Haller; 20. Melissa Etherton.
April 16 Feature Results 
Modifieds – 1. Dylan Smith; 2. Stephan; 3. Shryock; 4. Grabouski; 5. Abelson; 6. Gaylord; 7. Hiatt; 8. Noteboom; 9. Hadan; 10. Chad Andersen; 11. Josh Blumer; 12. Mike Petersilie; 13. Wulf; 14. Iverson; 15. Johnny Saathoff; 16. Zoubek; 17. Brandon Brinton; 18. Nusser; 19. Roth; 20. Adam Larson. 
Sprint Cars – 1. Trevor Grossenbacher; 2. Toby Chapman; 3. Jason Danley; 4. Tyler Drueke; 5. Clint Benson; 6. Zach Blurton; 7. Joey Danley; 8. Jason Martin; 9. Stu Snyder; 10. Adam Gullion; 11. Gene Ackland; 12. Matt Richards; 13. Terry Richards; 14. Shayle Bade; 15. Nick Bryan; 16. Blain Petersen; 17. Tim Hilfiker; 18. Nate Weiler; 19. Doug Lovegrove; 20. Mike Boston. 
Stock Cars – 1. Mike Nichols; 2. Eric Bartels; 3. Shawn Primrose; 4. Jeff Whiting; 5. Ryan Harris; 6. Todd Gereau; 7. Doug Adamy; 8. Mikey Dancer; 9. Eric Rempel; 10. Chad Bruns; 11. Tyler Phelps; 12. Jason Kreft; 13. Ron Pettitt; 14. Marty Steinbach; 15. Tony Ritterbush; 16. John Meyer; 17. Chris Palsrok; 18. Gary Laflin; 19. Shane Stutzman; 20. Greg Taylor. 
Northern SportMods – 1. Borgman; 2. Harker; 3. Roth; 4. Brunssen; 5. Leiting; 6. Saathoff; 7. Addison; 8. Pfeifer; 9. Thompson; 10. Feyen; 11. Matt Haase; 12. Noonan; 13. Pike; 14. Jason Harms; 15. Nathan Kobus; 16. Kovar; 17. Arie Schouten; 18. Chris Langdale; 19. Bivens; 20. Mary Lenz.