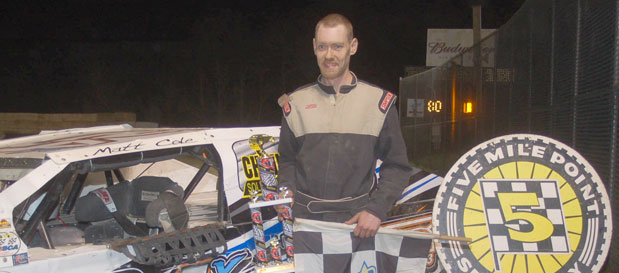 KIRKWOOD, N.Y. (April 16) – The two-time and defending track champion got another win he really wanted when the Atomicwraps.com Empire State Series opened Saturday at Five Mile Point Speedway.
Matt Cole caught leader Drue Perrault with five circuits left in the 25-lapper for touring Xtreme Motor Sports IMCA Modifieds, then led to the $500 checkers.
"This is our home track and we've wanted to get an Empire State Series win here for a while," Cole said. "It always seemed like there was something that took us out of the race but everything worked out really well for us this time."
Perrault ended a distant second. Three-time and defending champion Eddie Sites, Gary Roberts and James Cornell completed the top five.
After finishing second in his heat, Cole redrew the outside front row starting spot for the mail event. He fell to fourth right after the initial green, regrouped and then ran second most of the distance.
Frontrunners got into traffic but slower cars didn't become a factor. Cole used the lower line in passing Perrault on the way to his career second tour victory.
"The car ran great," said Cole, runner-up to Cornell the night before at I-88 Speedway. "It feels great to get this win. We couldn't ask for a much better way to start the season."
The series returns to Kirkwood for a Sunday, May 1 show.
Feature results – 1. Matt Cole; 2. Drue Perrault; 3. Eddie Sites; 4. Gary Roberts; 5. James Cornell; 6. Brad Sites; 7. Tyler Stoddard; 8. Keith Lamphere; 9. Beau Ballard; 10. Brian Steigerwald; 11. Mike Stoddard; 12. Robert Maynard; 13. J.J. Courcy; 14. Mike Butler; 15. Jessy Velez; 16. Will Ward; 17. Bill Ward; 18. Brad Smith; 19. Ray McClure; 20. Brendon Shepard.