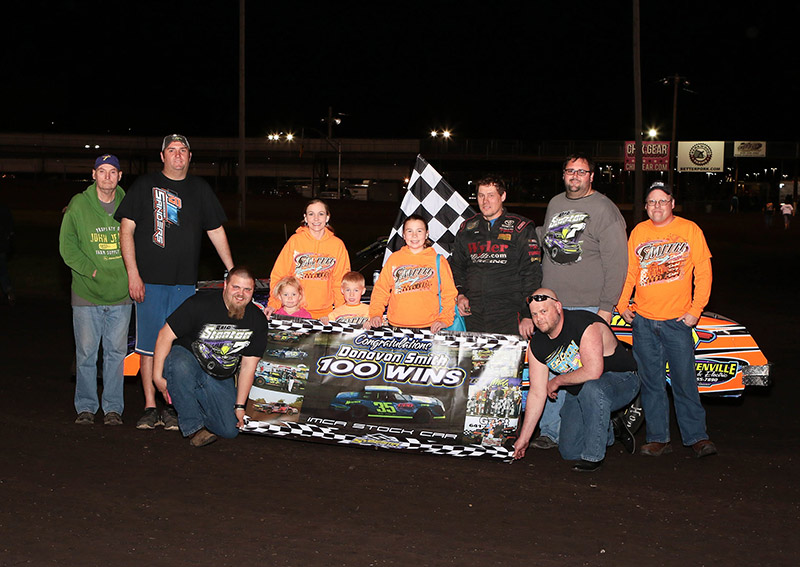 LAKE CITY, Iowa (April 16) – Another congratulatory banner will hang in the Smith Brothers' race shop, this one belonging to Donavon.
Smith won for the 100th time in his IMCA Sunoco Stock Car career Saturday at Boone Speedway. He's the 20th driver in division history, and the fourth in his own family, to reach the 100 win mark with IMCA.
"I'm glad we were able to get this done early in the season. The banner was really cool. I didn't know a thing about it," said Smith. "Winning 100 features isn't the kind of goal you set when you start racing. It becomes a goal once you get close. You try to win races and track championships and it all comes together."
Saturday's checkers were the second of 2016 for the Lake City, Iowa, driver. He's posted double-digit wins six times since moving to the Stock Car division in 2007.
Smith already had national and IMCA Speedway Motors Super Nationals fueled by Casey's championships, plus 81 feature wins to his credit in the Hobby Stocks, and has added 2009 and 2012 Super Nationals Stock Car titles to his resume as well.
"Every win is special but there's nothing like winning Super Nationals," he said. "To have done it twice in a Stock Car is just amazing."
"Being one of 20 Stock Car drivers with 100 wins is sweet, too," Smith added. "There are so many good drivers and I had to pass one of them (Kevin Opheim) at Boone to get it."
He hasn't decided how many more seasons he wants to race a Stock Car but Smith already has a pretty good idea how he wants to end his career.
"I keep saying this is my last car but then I get on a roll and decide I don't want to quit," he said. "What I'm planning to do is go back to a Hobby Stock and hopefully win 19 more times to make 100. Keith White and Curt Lund are the only drivers who have done that. They'd be good company."
Smith follows brothers David, Dustin and Devin into IMCA's 100-win fraternity, David in the Stocks and Dustin and Devin both in the Hobbies. Two more brothers, Doug in the Karl Chevrolet Northern SportMods and Daniel in the Hobby Stocks, complete Team Smith.
Doug started the season with 81 career SportMod wins.