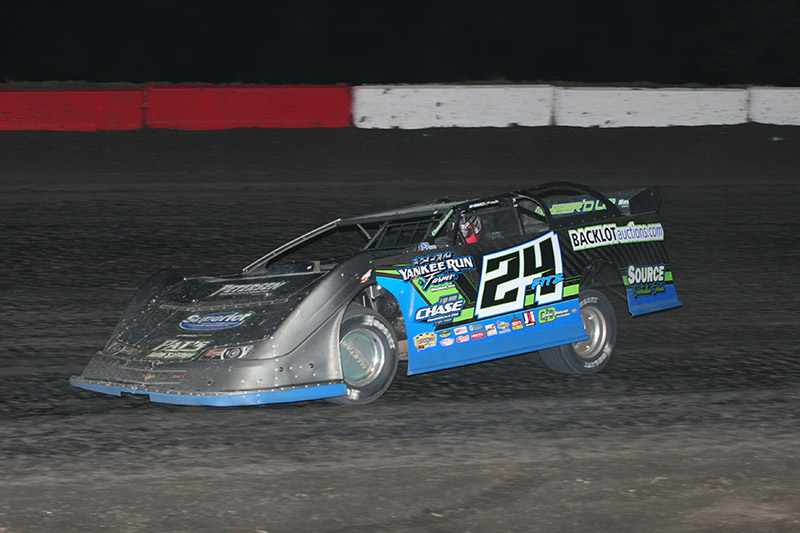 WEBSTER CITY, Iowa (April 16) – Losing position helped make Scott Fitzpatrick a first-time Deery Brothers Summer Series feature winner.
Fitzpatrick checked out on the rest of the IMCA Late Model field Saturday at Hamilton County Speed­way. He'd started outside Chad Holladay on the front row, fell behind Darrel DeFrance and Todd Cooney, then put himself in position to take charge after Holladay suffered mechanical is­sues.
"This was awesome," Fitzpatrick said. "(Getting) This win was haunting me and I finally got it done in true fashion. There were some of the best IMCA drivers here. This win is very humbling."
The $2,000 victory came in Fitzpatrick's 34th career Deery start and just his second at Webster City. He'd been runner-up twice, at Des Moines in 2014 and at West Liberty last year.
Jeff Aikey, Richie Gustin, Tyler Bruening and DeFrance completed the top five. Sixth was Cooney and seventh was hard charger John Emerson, who had started last in the field of 25.
Making his first visit to Webster City, Holladay impressed in winning his heat, drew the pole and led the first 14 of 40 laps.
Fitzpatrick drove by as Holladay slowed with a broken fan blade. He tried to get to the infield but was spun to bring out the yellow.
Another caution, for debris, came out on lap 17. Fitzpatrick made the most of the ensuing long green flag run to win handily over Aikey.
"After I fell back to fourth, I watched Darrel and Todd. They're legends at Hamilton County. Darrel was low and Todd was high and I saw how they attacked the track," said Fitzpatrick, quick to call Gheer'd Up co-owner Tyson Gheer after taking the checkers. "I knew the car was going to come to me and that if I got a good restart, I could win."
"I just had to stay patient," he added, citing a lesson learned from Justin Kay. "The restart came when I was running third and had Chad and Darrel ahead of me. I timed it perfectly and got to the bottom."
The fourth installment of the 30th annual Deery Brothers Summer Series is Sunday, May 1 at Quad City Speedway in East Moline.
Pit gates open at 3 p.m. and the grandstand opens at 3:30 p.m. for the $2,000 to win event. Hot laps are at 5 p.m. with racing to follow.
Box seating is $18. Other spectator admission is $15 for adults, $8 for kids ages 6-12 and free for five and under. Pit passes are $30.
Feature results – 1. Scott Fitzpatrick, Wheatland; 2. Jeff Aikey, Cedar Falls; 3. Richie Gustin, Gilman; 4. Tyler Bruening, Decorah; 5. Darrel DeFrance, Marshalltown; 6. Todd Cooney, Des Moines; 7. John Emerson, Waterloo; 8. Al Johnson, Cedar Falls; 9. Ryan Dolan, Lisbon; 10. Ja­son Rauen, Farley; 11. Randy Havlik, Ankeny; 12. Joel Callahan, Dubuque; 13. Cayden Carter, Oskaloosa; 14. Jason Hahne, Webster City; 15. Curt Schroeder, Newton; 16. Jeremy Grady, Story City; 17. Dalton Maassen, Avoca; 18. Ryan Griffith, Webster City; 19. Joe Zrostlik, Long Grove; 20. Gary Webb, Blue Grass; 21. Chad Holladay, Muscatine; 22. Andy Nezworski, Buffalo; 23. Matt Ryan, Davenport; 24. Rusty Patterson, Mason City; 25. Eric Pollard, Peosta.
1st heat – 1. Fitzpatrick; 2. DeFrance; 3. Cooney; 4. Dolan; 5. Maassen; 6. Carter; 7. Patterson; 8. Grady; 9. Emerson.
2nd heat – 1. Aikey; 2. Zrostlik; 3. Johnson; 4. Bruening; 5. Nezworski; 6. Griffith; 7. Ryan; 8. Rauen.
3rd heat – 1. Holladay; 2. Gustin; 3. Havlik; 4. Schroeder; 5. Hahne; 6. Callahan; 7. Pollard; 8. Webb.