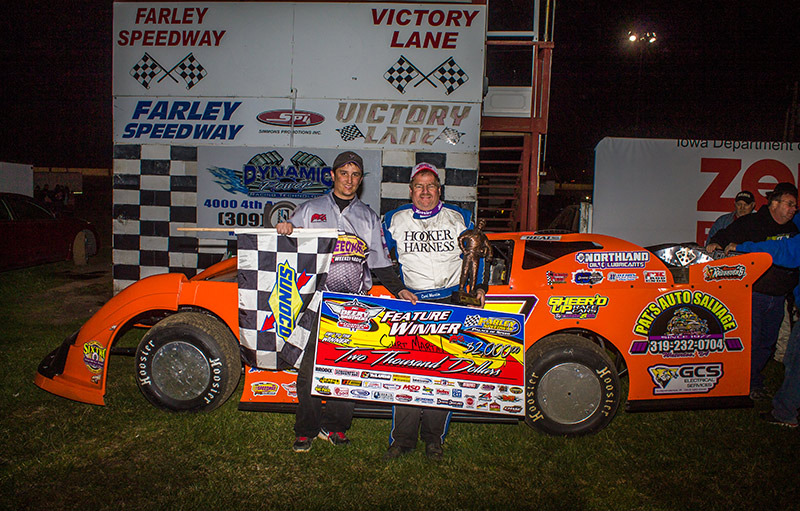 FARLEY, Iowa (April 15) – A hero from the early days of the Deery Brothers Summer Series turned backed the clock Friday at Farley Speedway.
Curt Martin led the last 35 of 50 laps in winning the IMCA Late Model tour feature and $2,000.  Forty-two Late Models were entered.
The 1990 and 1991 Deery champion had last won a series event in May of 2006 at the old Highway 3 Raceway in Allison.
The Farley checkers, Martin's tour career 26th, came in a car Doug Cue and Gene Budzine bought as a backup for Tyler Droste to run weekly at Independence Motor Speedway. They'd originally asked Martin about shaking down the car and a test drive was in the works for Saturday at Indee.
"I asked why not take it out Friday, too," said Martin. "This could be the oldest car and I could be the oldest driver (he's 52) on the track. It felt awesome to win tonight. It made me feel like – I should say 30 but I'll say like I was 40 ­– years old again. We had a lot of friends and family here so it was special to win."
Joe Zrostlik, winner of the $250 Sunoco Race Fuels feature qualifier drawing, bulleted from 13th starting to a Deery career-best second place finish, two car lengths off the pace at the stripe.
Rounding out the top five were Jason Rauen, Tyler Bruening and Ryan Dolan, who'd started 19th. Matt Ryan ran second much of the way before ending in sixth and 22nd starting John Emerson was seventh.
Jeremiah Hurst led the first 15 circuits before breaking. Martin took over from that point, holding Ryan and then Zrostlik at bay
Martin is now tied with Mark Burgtorf of Quincy, Ill., for third on the all-time series career wins list and dedicated Friday's victory to former race team partner Ron Hess, who died last month.
He'll run a partial Deery schedule this season, in addition to Saturdays at Independence.
Jon Poll paced the $300 to win Malvern Trust and Savings Bank non-qualifier Dash for Cash.
Chris Zogg was the Xtreme Motor Sports IMCA Modified winner at Farley.
Night two of the weekend doubleheader takes the 30th annual Deery Series to Hamilton County Speedway for a Saturday, April 16 show and another $2,000 to win main event.
Pit gates at Webster City open at 3 p.m. The grandstand opens at 4:30 p.m., hot laps are at 5:30 p.m. and racing starts at 6 p.m. Admission is $15 for adults, $10 for kids ages 6-12 and free for five and under.
Feature results – 1. Curt Martin, Independence; 2. Joe Zrostlik, Long Grove; 3. Jason Rauen, Farley; 4. Tyler Bruening, Decorah; 5. Ryan Dolan, Lisbon; 6. Matt Ryan, Davenport; 7. John Emerson, Waterloo; 8. Jeff Aikey, Cedar Falls; 9. Scott Fitzpatrick, Wheatland; 10. Andy Nezworski, Buffalo; 11. Darrel DeFrance, Marshalltown; 12. Dan Shelliam, Hazel Green, Wis.; 13. Jeremy Grady, Story City; 14. Rob Toland, Davenport; 15. Tyler Droste, Waterloo; 16. Ron Klein, Dubuque; 17. Chuck Hanna, Port Byron, Ill.; 18. Andy Eckrich, Oxford; 19. Joel Callahan, Dubuque; 20. Jeremiah Hurst, Dubuque; 21. Jon Merfeld, Dubuque; 22. Richie Gustin, Gilman; 23. Nick Marolf, Wilton; 24. Denny Eckrich, Tiffin.
1st heat (top three) – 1. Rauen; 2. Bruening; 3. Klein; 4. Shelliam; 5. DeFrance; 6. Curt Schroeder, Newton; 7. Kip Siems, Cedar Falls; 8. B.J. Jackson, Milan, Ill.; 9. Kyle Hinrichs, Swisher.
2nd heat – 1. Aikey; 2. Ryan; 3. Droste; 4. Merfeld; 5. Fitzpatrick; 6. Gary Webb, Blue Grass; 7. Emerson; 8. Hanna; 9. David Webster, Monroe, Wis.
3rd heat – 1. Martin; Grady; 3. Zrostlik; 4. Nezworski; 5. Toland; 6. Chad Holladay, Muscatine; 7. Greg Kastli, Waterloo; 8. Eric Pollard, Peosta.
4th heat – 1. Denny Eckrich; 2. Hurst; 3. Marolf; 4. Dolan; 5. Jon Poll, Delmar; 6. Marty Scheckel, Long Grove; 7. Wayne Hora, Anamosa; 8. Ross Pierce, Sherrill.
5th heat – 1. Gustin; 2. Andy Eckrich; 3. Callahan; 4. Todd Malmstrom, Silvis, Ill.; 5. Jeff Tharp, Sherrill; 6. Ben Seemann, Waterloo; 7. Becky Roth, Kieler, Wis.; 8. Cayden Carter, Oskaloosa.
1st "B" feature (top four) – 1. Shelliam; 2. Nezworski; 3. Fitzpatrick; 4. Emerson; 5. Poll; 6. Malmstrom; 7. Seemann; 8. Holladay; 9. Carter; 10. Kastli; 11. Pollard; 12. Hora; 13. Schroeder; 14. Webster; 15. Jackson.
2nd "B" feature – 1. Merfeld; 2. Dolan; 3. Toland; 4. DeFrance; 5. Webb; 6. Tharp; 7. Hanna; 8. Scheckel; 9. Siems; 10. Pierce; 11. Roth; 12. Hinrichs.
Hard charger – Hanna.
Dash for cash – 1. Poll; 2. Webb; 3. Tharp; 4. Holladay; 5. Carter; 6. Malmstrom; 7. Pierce; 8. Pollard; 9. Schroeder; 10. Seemann; 11. Siems; 12. Scheckel; 13. Hora; 14. Roth; 15. Kastli; 16. Webster; 17. Jackson; 18. Hinrichs.