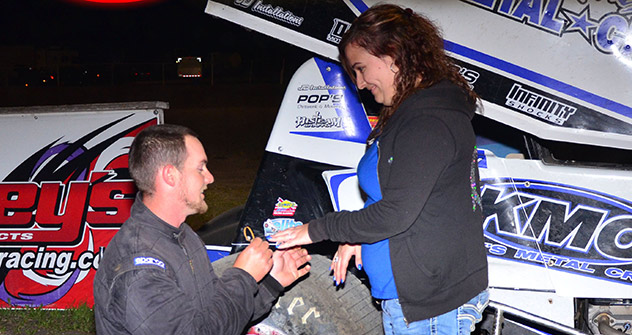 CRANDALL, Texas (April 8) – Michael Day became a double winner at Friday's Sprint Series of Texas event at RPM Speedway.
After being promoted to the top spot when the first car across the finish line came up light on the post-race scales, Day made good on a promise and proposed to girlfriend Terra Harris, getting down on one knee in victory lane and sealing the deal with a zip tie.
"When I started racing a Sprint Car two years ago, I promised to propose after I won my first feature and it happened this weekend," Day said. "She's been expecting this for about a year now."
Day raced limited modifieds for two seasons, then took a couple years off before getting into his father Jeff's back-up ride. He'd finished second to his dad a number of times before running with and finally passing him Friday at RPM.
A portion of his share of the purse has been designated for wedding expenses. The bride and groom to be haven't set a date yet but have started online ring shopping and anticipate exchanging I do's in the next 6-12 months.
"Terra comes from a stock car family and we met at the track six years ago," Day said. "We clicked and have been together ever since."