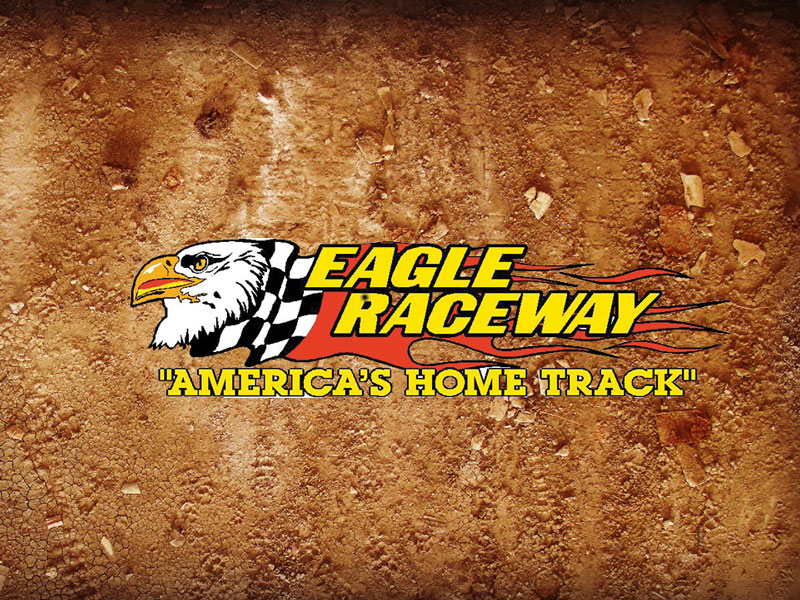 EAGLE, Neb. – The Twice is Nice Challenge is new to the season-opening Ice Breaker Challenge at Eagle Race­way April 15 and 16.
Xtreme Motor Sports IMCA Modifieds race for $1,000 to win on Friday and for $2,000 to win on Satur­day while Karl Chevrolet Northern SportMods run for $500 to win both nights. More than 230 driv­ers from Nebraska, Iowa, Kansas and Minnesota are already pre-entered for the event.
The driver who can win both nights in either division pockets a $1,000 Twice is Nice Challenge bonus.
Both Modified features are qualifying events for the 2016 Fast Shafts All-Star Invita­tional ballot. IMCA Sunoco Hobby Stocks chase a $400 top check while Mach-1 Sport Compacts run for $150 to win on Friday. The Saturday card also totes a $1,000 to win IMCA EMI RaceSaver Sprint Car feature and $500 to win IMCA Sunoco Stock Car feature.
IMCA Speedway Motors Weekly Racing National, re­gional and Allstar Performance state points will be awarded each night. Special series points will also be given for Saturday's Sprint Series of Nebraska event.
RACEceivers are required in all divisions.
There is no entry fee for drivers who register by today (Monday, April 11). Late fee is $25. Entries can be mailed to the track office at PO Box 17 in Bennington, Neb., 68007, or faxed to 402 238-3768.
Pit gates open at 4:30 p.m. and the grandstand opens at 6 p.m. on Friday. Hot laps are at 6:30 p.m. and racing starts at 7:30 p.m. Spectator admission is $12 for adults. On Saturday, gates open at 4 p.m. and the grandstand opens at 5 p.m. Hot laps are at 5:30 p.m. and racing is at 6:30 p.m. Adult admission to the grandstand is $15.
Pit passes are $25 while spectator admission is $5 for youth ages 6-12 and free for kids five and under both nights.
More information about the Ice Breaker Challenge, pre­sented by Auto Trans Matic, is available by call­ing 402 238-2595 and at the www.eagleraceway.com website.
Modified drivers now pre-entered are:
Tim Pickens, Bellevue; Jeff Schroyer, Elkhorn; Matt Richards, Lincoln; Norm Ziegenbein, Lincoln; Adam Larson, Ankeny, Iowa; Aaron Pella, Lincoln; Chevy Hadan, Bennington; Kevin Larkins, Green­wood; Dana Dankert, Columbus; Matt Boucher, Murdock; Bob Zoubek, Dorchester; and Bob Ruisinger, Bennet;
Benjamin Chukuske, Sherburn, Minn.; William Nusser, Larned, Kan.; Jay Noteboom, Hinton, Iowa; Chad Andersen, Fort Calhoun; Andy Eickhoff, Albion; Philip Byfield, Auburn; Nathan Lan­dauer, Davey; Doug Deterding, Lincoln; Jared Deterding, Lincoln; Jacob Anson, Albion; Jeremy Chambers, Parsons, Kan.; and Josh Blumer, Marysville, Kan.;
Shane Hiatt, Rising City; Pat Wheeler, Omaha; Shane Stutzman, Milford; Brandon Brinton, Ames, Iowa; Jamie Trautner, Felton, Minn.; Ricky Stephan, South Sioux City; Clint Homan, Bellevue; Micah Veleba, Sutton; Bob Zoubek, Dorchester; Jan Korth, Lincoln; Terry Berg Jr., Sioux City, Iowa; and Anthony Roth, Columbus;
Jeff Joldersma, McClelland, Iowa; Alan Schmitt, Omaha; Dustin Gray, Fremont; Pete Shoup, Lin­coln; Justin Wulf, Arlington; Ashley Schaaf, Lincoln; Johnny Saathoff, Beatrice; Tyler Iverson, Al­bion; Jim Mathieson, Sioux City, Iowa; Rik Gropp, Lincoln; and Justin Zeitner, Papillion.
Sprint Car pre-entries are in hand from:
Chase Weiler, Lincoln; Shayle Bade, Lincoln; Doug Lovegrove, Waverly; Brandon Horton, Omaha; Matt Richards, Lincoln; Bill Garrow, Lincoln; Dwight Carter, Lincoln; Nate Weiler, Omaha; Ja­son Danley, Lincoln; Ron Love, Lincoln; Toby Chapman, Panama; and Dalyn Cody, Minneap­olis, Minn.;
Tyler Drueke, Eagle; Joey Danley, Lincoln; Gene Ackland, Martell; Jason Becker, Seward; Terry Richards, Denton; Tim Hilfiker, Greenwood; Shon Pointer, Grand Island; Jason Rakes, Hastings; Tom Belsky, North Platte; Trevor Grossenbacher, Hickman; Rick Hansen, Omaha; Mike Boston, Lincoln; and Nick Bryan, Lincoln;
Richard Weers, Lincoln; T.J. Artz, Hickman; Boyd Peterson, Ithaca; Blain Petersen, Essex; Lee Bowes, Lincoln; Keith Dragoo, Lincoln; Roger Sluka, Lincoln; Joe Miller, Vail; Adam Gullion, Lin­coln; Ryan King, Bennet; Dan Satriano, Papillion; and Clint Benson, Papillion.
Pre-registered Stock Car drivers are:
Tyler Easterday, Lexington; Tony Ritterbush, Dunlap, Iowa; Shawn Primrose, Norfolk; Tyler Phelps, Beatrice; Brad Easterday, Lexington; Gary Laflin, Beatrice; Chad Bruns, Wakefield; Ron Pettitt, Norfolk; Terry Blessing Jr., Manhattan, Kan.; Jeff Whiting, Gothenburg; Dustin Newlin, Concor­dia, Kan.; Eric Rimple, Palmyra; Shane Stutzman, Milford; Jason Krest, Beatrice; and John Meyer, Odell;
Jake McCloud, Carter Lake, Iowa; Tyler Hiner, Columbus; Mikey Dancer, North Platte; Zach Zenter, Cedar Rapids; Ryan Harris, Homer; Greg Taylor, Sioux City, Iowa; Rudy Brunkhorst, Colum­bus; Mike Earll, Gothenburg; Darrin Adamy, David City; Doug Adamy, Columbus; Todd Gereau, Sioux City, Iowa; David Easterday, Riverdale; Eric Bartels, Plymouth; Dave Plowman, Omaha; and Chris Palsrok, Sibley, Iowa.
Early Northern SportMod entries are from:
Jeff Brunssen, LeMars, Iowa; Joey Haase, Norfolk; Chris Langdale, Beatrice; Joey Schaefer, Water­loo, Iowa; Don Rinke, Lincoln; Tommy Defreece, Cairo; Nate Thompson, Fremont; Steve Osmon, Raymond; Ken Eckhoff, Hooper; Jarid Jochum, Lincoln; Kyle Prauner, Norfolk; Shelly Andersen, Lincoln; Terry Callender, Lincoln; Jason Harms; David City; and Adam Vrbka, Eagle;
Troy Sanford, Lincoln; Tanner Winberg, Broken Bow; Jeremy Peckham, Lincoln; Jake Sachau, Denison, Iowa; Braydon Latture, Omaha; Trent Roth, Columbus; Mary Lenz, Elmwood; Dion Ko­var, Rising City; Derick Noonan, Lincoln; Nick Beckman, Lincoln; Gunnar Pike, South Bend; Benji Legg, Beatrice; Joe Feyen, Plattsmouth; and Josh Pfeifer, Spencer;
Shawn Harker, Nebraska City; Derek Hall, Lincoln; Brad Perkons, Waterloo; Josh Kennell, Hick­man; Matt Haase, Norfolk; Preston Gigax, Omaha; Mike Hansen, Weeping Water; Gary Saathoff, Beatrice; Arie Schouten, Blair; Hunter Weber, Council Bluffs, Iowa; Bryan Adams, Hamburg, Iowa; Joe Schidler, Omaha; Mike Scheinost, Ceresco; Scott Bivens, Ceresco; and Sean Manning, Ben­nington.
Hobby Stock drivers submitting early entries were:
Matt Beckner, Lincoln; Chantel Bade, Lincoln; Brian Langdale, Beatrice; David Carter, Fremont; Chris Klein, Adams; Roy Armstrong, Beatrice; Charlie Bartels, Lincoln; Austin Brauner, Platte Cen­ter; Chad Fegley, Lincoln; Tim LaPointe, Lincoln; and Sydney Yost, Nebraska City.
James Sisk, Council Bluffs, Iowa; Mark McKinney, Omaha; Shelby Barnard, Beatrice; Cody Leifeld, Bennet; Brint Lemke, Lincoln; Jason Kohl, Missouri Valley, Iowa; Brian Lemke, Lincoln; Tim Kozak, Lincoln; Shawn Slezak, Milligan; Casey Moyer, Auburn; and Luke Nicholson, Omaha;
Kevin Zeitner, LaVista; Justin Busboom, Lincoln; Damon Richards, David City; Kenny Roberts, Lincoln; Jake Waldron, Beatrice; Jesse VanLaningham, Beatrice; Jeff Ware, Columbus; Rick Brad­ley, Council Bluffs; Don Hall Jr., Lincoln; Mike Hansen, Weeping Water; Hayden Dreier, Lin­coln; and Ben Becher, Lincoln.
Sport Compacts already registered include:
Bill Whalen, Riverside, Iowa; Brian Haller, Lincoln; Tim Horsham, Raymond; Trent Medley, Lin­coln; Larry Cronin, Lincoln; Melissa Cronin, Lincoln; Sarah Cronin, Lincoln; Jeremy Bohlen, Perci­val, Iowa; Kyle Owen, Nebraska City; Jim Buss, Blue Hill; Justin Callendar, Lincoln; Ryan Smith, Beatrice; Breanna Hartshorn, Lincoln; Justin Olson, Lincoln; and Melissa Etherton, Lincoln.
Zach Fosler, Eagle; Tom Powell, Hickman; Evan Hrabik, Bellevue; Dillon Richards, Beatrice; Tommy Etherton, Lincoln; A.J. Johnson, Lincoln; Nick Lindblad, Beatrice; Thomas Miracle, Ne­braska City; Matt Moyer, Gretna; Cole Krichau, Lincoln; Spencer Pavey III, Sterling; Brian Cronin, Lincoln; Rick Hollandsworth, Milford; and Jeremy Byfield, Auburn;
Kyle Grobeck, Omaha; Amanda Rhiley, Bennington; Sarah Hollandsworth, Milford; Randy Rush, Atlantic, Iowa; Luke Nicholson, Omaha; Travis Thelander, Blue Hill; Tyler Masek, Raymond; Fred Johnson, Lincoln; Ray Harrington, Lincoln; Jordan Masek, Valpraiso; Matthew Draeger, Bennet; Michelle Nicholson, Omaha; Scott Spellmeier, Beatrice; Kasha Hall, Lincoln; and Jamie Riser, Bennet.