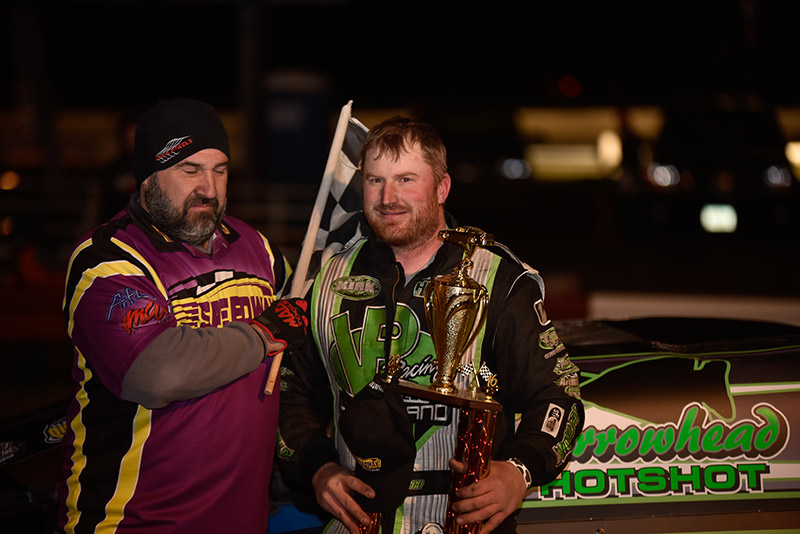 By Bob Coney
JEFFERSON, S.D. (April 8-9) – Mike Hansen returned to his old stomping grounds to score the $1,000 Xtreme Motor Sports IMCA Modified checkers at Raceway Park South Dakota Spring Nation­als.
The North Dakota transplant led the last 16 circuits in Saturday's 20-lap finale, earning a spot on the Fast Shafts All-Star Invitational ballot along with the big check.
"We had a trailer full during and after the races," said Hansen, who'd been a Raceway Park regu­lar for most of eight seasons and won in front of a large contingent of family and friends in his re­turn to Jefferson. "It was a good time."
Ricky Stephan jumped out front at the drop of the green flag and led the first four circuits before Hansen moved into the top spot, switching to the low line in the first set of turns to make the pass, then going back to the higher line and running in front to the finish.
While Stephan stayed in tow, Jeff Larson charged through the field only to come up short at the finish as the race ended with a long green flag session.
Stephan, Larson, Jim Cole and Jim Thies finished in that order behind Hansen, who was not chal­lenged.
Nine different drivers prevailed in as many Spring Nationals IMCA features, so double down bo­nuses of $500 went unclaimed in the Stock, Northern SportMod, Hobby Stock and Sport Compact clas­ses.
IMCA Sunoco Stock Car feature winners during the season-opening special were Bo Lundquist and Jason Ward while Karl Chevrolet Northern SportMod checkers flew for Nelson Vollbrecht and Todd Boulware.
Dave Riley and Derek Husted captured IMCA Sunoco Hobby Stock honors while Ramsey Meyer and Cody Thompson were Mach-1 Sport Compact winners.
More than 100 cars checked into the pits for night number two of the WinnaVegas Casino Resort South Dakota Sprint Nationals.
Friday's Stock Car feature saw the top three runners tangle in the opening laps, opening the door for Lundquist to take control. Darin Roepke dominated early in the SportMod feature before Voll­brecht moved to the point.
The Hobby Stocks were decided in a green, white, checkered finish with Riley leading Shannon Anderson and Jon Androy to the green. Anderson lost the handle on the final lap, moving Androy to second while Riley took the flag-to-flag win.
The Sport Compact feature came down to a two-car duel with Meyer losing at the line by mere feet but picking up the win when the first car under the flag failed post-race tech.
Lundquist led in the early going but the majority of Saturday's Stock Car main was all Jason Ward, who pulled away for a final green, white, checkered victory.
The SportMods had another classic shootout between the trio of Boulware, Karl Brewer and Rusty Montagne. Brewer led early until Boulware made his move around the outside with eleven laps remaining.
Boulware held that lead to the checkers after a final restart with eight laps remaining, while Mon­tagne slipped by Brewer in the final laps for the runner up spot.
Husted took charge from the start of the Hobby Stock feature, shooting out to a four-car length lead following a restart with three laps to go. Tony Fetterman completed his charge through the field to finish second, followed by Kevin Bruck.
After 12 laps of door-to-door action with Meyer, multi-time track champion Thompson came out on top of the Sport Compact feature.
Raceway Park hosts its IMCA Speedway Motors Weekly Racing season opener this Sunday, April 17, with action in five divisions. The first green flag will drop at 6:30 p.m.
April 8 Feature Results
Stock Cars ­­– 1. Bo Lundquist; 2. Chris Mills; 3. Casey Jones; 4. Shawn Primrose; 5. Jason Ward; 6. Aaron Guillaume; 7. Travis Barker; 8. Aaron Cain; 9. Carl Monroe; 10. Zach Ankrum; 11. Shawn Johnson; 12. Max Hoffer; 13. Elijah Zevenbergen; 14. Greg Taylor; 15. Tony Ritterbush; 16. Dillon Johnson; 17. Jeremie Gibbs.
Northern SportMods – 1. Nelson Vollbrecht; 2. Darin Roepke; 3. Jesse Skalicky; 4. Kirk Beatty; 5. Mike Jensen; 6. Erik Laudenschlager; 7. Karl Brewer; 8. Daniel Woodle; 9. Alan Vanden Brink; 10. Danny Myrvold; 11. Nicholas Peters; 12. Rusty Montagne; 13. Jeff Girard; 14. Tony Rialson; 15. Todd Boulware. 
Hobby Stocks ­– 1. Dave Riley; 2. Jon Androy; 3. Aaron Shearn; 4. Tony Fetterman; 5. Zach Bales; 6. Kelly Jacobson; 7. Steven Pierce; 8. Cory Adams; 9. Lenny Tucker; 10. Shannon Ander­son; 11. August Bach; 12. Andy Hoffman; 13. Derek Husted; 14. Nic Cain; 15. Dana Brandt; 16. Nick Brady; 17. Robert Ritterbush; 18. Kevin Bruck.
Sport Compacts ­– 1. Ramsey Meyer; 2. Tyler Thompson; 3. Andrew Vogt; 4. Cody Thompson; 5. Jake Newsom; 6. Luke Jackson; 7. Don Tank; 8. Tracy Raml; 9. Jeremy Boulware; 10. Bubba Brown; 11. Phillip McKee; 12.Travis Johnson; 13. Cullen Gossage; 14. Randy Bush; 15. Shelby Boettcher.
April 9 Feature Results 
Modifieds – 1. Mike Hansen; 2. Ricky Stephan; 3. Jeff Larson; 4. Jim Cole; 5. Jim Thies; 6. Bob Moore; 7. Chad Ten Napel; 8. Jason Schneiders; 9. Sean Barragan; 10. Bob Fleshman; 11. Terry Berg; 12. Dan Loggins; 13. Steve Reynolds; 14. Jay Noteboom. 
Stock Cars – 1. Ward; 2. Lundquist; 3. Cain; 4. Ryan Harris; 5. Bruns; 6. Hoffer; 7. Taylor; 8. Ritter­bush; 9. Mills; 10. Guillaume; 11. Barker; 12. Shawn Johnson; 13. Monroe; 14. Gibbs. 
Northern SportMods – 1. Boulware; 2. Montagne; 3. Brewer; 4. Vollbrecht; 5. Beatty; 6. Joey Haase; 7. Roepke; 8. Rialson; 9. Skalicky; 10. Tim Rupp; 11. Jensen; 12. Myrvold; 13. Peters; 14. Girard; 15. Austin Price; 16. Laudenschlager; 17. Woodle; 18. Derek Smith; 19. Matt Haase. 
Hobby Stocks – 1. Husted; 2. Fetterman; 3. Bruck; 4. Shearn; 5. Androy; 6. Riley; 7. Bales; 8. Pierce; 9. Adams; 10. Brandt; 11. Tucker; 12. Hoffman; 13. Miller; 14. Phillips; 15. Cain; 16. Gilbert­son; 17. Jacobson; 18. Dillon Johnson; 19. Ritterbush. 
Sport Compacts – 1. Cody Thompson; 2. Andrew Harris; 3. Tyler Thompson; 4. Meyer; 5. Tank; 6. Scott Spellmeier; 7. Caine Mahlberg; 8. Brown; 9. Robert Pottratz10. Boulware; 11. Newsom; 12. Boettcher; 13. Joe Blake; 14. Nate Coopman; 15. Jackson; 16. Johnson; 17. Vogt; 18. McKee.