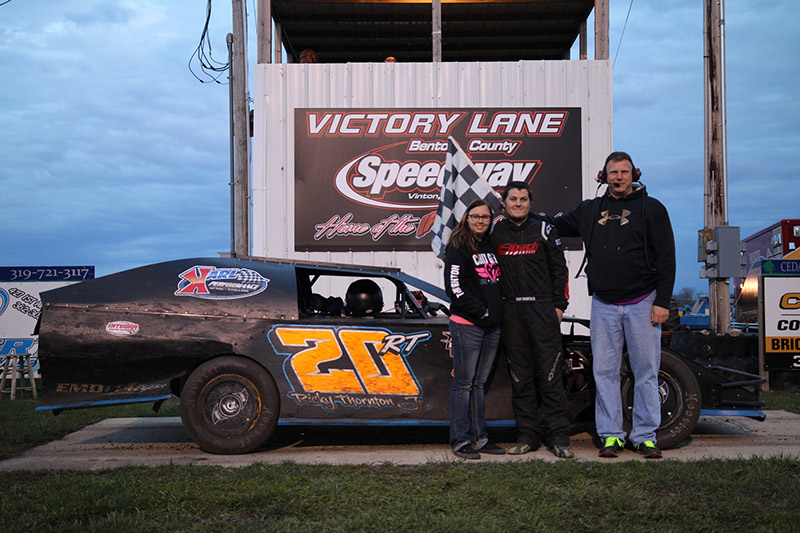 VINTON, Iowa (April 10) – His first-ever visit to Benton County Speedway ended with Ricky Thornton Jr.'s second $1,000 Xtreme Motor Sports IMCA Modified Frostbuster feature win in as many nights.
Thornton followed the Saturday checkers at Boone Speedway with the Sunday night victory in a star-filled field at Vinton. He led the last 21 of 25 laps, outrunning Kyle Brown – himself a two-time Frostbuster winner – in the race to the checkers.
"It feels awesome to be able to win here," Thornton said before the victory lane photos were snapped. "Tim Ward was here for the Frostbuster last year and gave us an idea what gear to run."
"We loosened the car up and changed gears after the heat race tonight," the Chandler, Ariz., driver continued. "We set the car up to run up top and it worked for us."
Brown had won the first two Frostbuster features, at Southern Iowa Speedway and Friday at Marshalltown Speedway. He'd made a late challenge on the inside but Thornton was faster on the backstretch and won by four car lengths.
"We knew we had a good car and that even making the events would be tough," Brown said. "In a way, a fifth and a second are disappointing but in the scheme of things we are off to a pretty good start."
Thornton's win was his 11th this season and IMCA Modified career 89th.
J.D. Auringer started 11th and finished third. Kelly Shryock and David Brown rounded out the top five. Vern Jackson started 20th and ended in sixth.
Jake McBirnie won the Karl Chevrolet Northern SportMod feature from the last starting spot, passing Johnathon Logue on the final circuit. Damon Murty led flag-to-flag in earning IMCA Sunoco Stock Car career win number 197 and Nathan Ballard got the best of his IMCA Sunoco Hobby Stock foes.
Late to staging, McBirnie was up to fourth midway through the Northern SportMod 16-lapper and was up to second with four to go. He won with a last-lap pass for the second night in a row, having accomplished the feat at Boone as well.
Logue and Tony Olson had traded the lead six times between eight and 13. Logue, Joey Schaefer, Sam Wieben and Olson finished second through fifth, respectively.
Murty led every lap of the Stock Car feature. Second was Norman Chesmore and Jared Daggett was third.
After a caution on the initial start, Ballard gained the lead on the fourth circuit of a Hobby Stock feature that ended with 15 green flag laps. August Bach was a distant second, followed by Leah Wroten, Adam Petrezelka and Benji Irvine.
Feature Results
Modifieds – 1. Ricky Thornton Jr., Chandler, Ariz.; 2. Kyle Brown, State Center; 3. J.D. Auringer, Waterloo; 4. Kelly Shryock, Fertile; 5. David Brown, Kellogg; 6. Vern Jackson, Waterloo; 7. Tim Ward, Chandler, Ariz.; 8. Scott Hogan, Vinton; 9. Ryan Maitland, Waterloo; 10. Brennen Chipp, Waterloo; 11. Brandon Maitland, Waterloo; 12. Jerry Dedrick, Vinton; 13. Patrick Flannagan, Cedar Rapids; 14. Dennis LaVeine, West Burlington; 15. Colby Heishman, Brooklyn; 16. Richie Gustin, Gilman; 17. Ben Chapman, Clarence; 18. Tom Berry Jr., Medford, Ore.; 19. Nick Roberts, Des Moines; 20. Ronn Lauritzen, Jesup; 21. Troy Cordes, Dunkerton; 22. Jason Snyder, Dunkerton; 23. Bill Roberts, Burlington; 24. Mike Mueller, Rosendale, Wis.
Stock Cars – 1. Damon Murty, Chelsea; 2. Norman Chesmore, Rowley; 3. Jared Daggett, Marshalltown; 4. Bob Ahrendsen, Cedar Rapids; 5. Mitchell Evens, Independence; 6. Scooter Dulin, Cedar Rapids; 7. Lynn Panos, Calmar; 8. Jay Schmidt, Tama.
Northern SportMods – 1. Jake McBirnie, Boone; 2. Johnathon Logue, Boone; 3. Joey Schaefer, Waterloo; 4. Sam Wieben, Dysart; 5. Tony Olson, Cedar Rapids; 6. Kyle Olson, Cedar Rapids; 7. Zach McKinnon, Hatley, Wis.; 8. Adam Armstrong, Beatrice, Neb.; 9. Mitch Manternach, Earlville; 10. Curt Hilmer, Dysart; 11. Brandon Spanjer, Crete, Neb.; 12. Jamie Ritter, Keystone; 13. Mike Mitchell, Cedar Rapids; 14. Cory Pestotnik, Boone; 15. Erick Knutsen, Cedar Rapids; 16. Danny Dvorak, Vinton; 17. Brandon Tharp, Center Point; 18. Ryan King, Montour; 19. Dakoda Sellers, Waverly; 20. Lee Rouse, Atkins; 21. Dan Drury, Eldora.
Hobby Stocks – 1. Nathan Ballard, Marengo; 2. August Bach, Newton; 3. Leah Wroten, Independence; 4. Adam Petrzelka, Norway; 5. Benji Irvine, Stanley; 6. Zach Swanson, Waterloo; 7. Clint Nelson, Baxter; 8. Justin Wacha, Vinton; 9. Daniel Wauters, Iowa City; 10. John Watson, Des Moines; 11. Shawn Kuennen, Hazleton; 12. Brandon Pitts, Ames; 13. Nathan Forey, Waterloo; 14. Derek Thran, Grundy Center; 15. Kyle Dulin, Brandon; 16. Tim Harther, Atkins; 17. Dale Kite, Keystone.