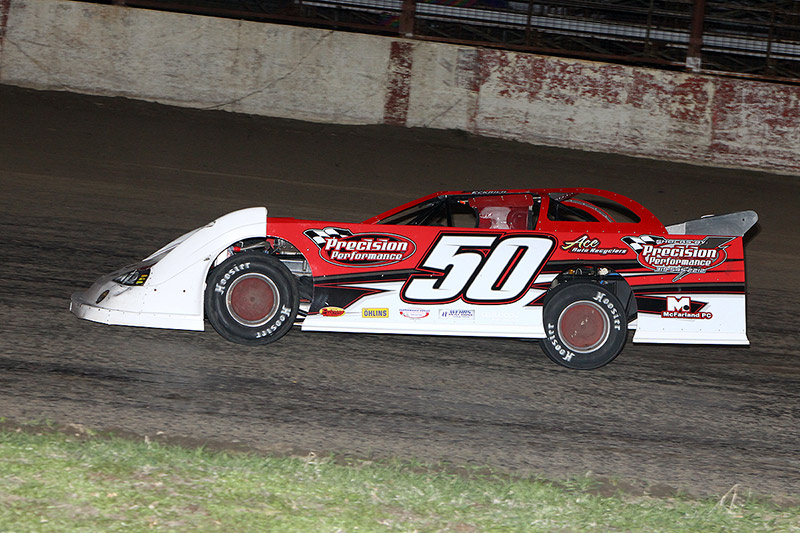 WEST LIBERTY, Iowa (April 9) ­– Once he got back into the lead, there was no catching Denny Eckrich in Saturday's opening night Deery Brothers Summer Series feature at West Liberty Raceway.
Eckrich started the IMCA Late Model tour 40-lapper from the pole but fell back as far as third early on. He passed Jeff Aikey for the lead following a lap 14 restart and checked out on the rest of the field from that point.
The win paid $2,000 and was the Deery career fourth for Eckrich. Aikey, two-time defending series champion Justin Kay, Richie Gustin and Matt Ryan completed the top five in the lidlifter for the 30th annual series.
Eckrich set the fast pace before the caution flew for a multi-car tangle on lap six, then gave way to Aikey and Kay.
Kay tried the low line in his unsuccessful bid to pass Aikey; Eckrich made a higher line work when he drove by for the lead coming to the stand at the end of the 17th circuit.
He pulled away from that point and again following the final caution with eight laps left. Gustin, who'd won his 'B' feature and started 13th, made a late drive into the top four.
Corey Zeitner won the first-ever Malvern Trust and Savings Bank non-qualifier Dash for Cash and $300; winner of the $250 Sunoco Race Fuels feature qualifier drawing was Gustin.
Eckrich had also won the tour opener in 2013.
Next weekend's doubleheader takes the Deery Series to Farley Speedway on Friday, April 15 and to Hamilton County Speedway on Saturday, April 16.
Both main events pay $2,000 to win.
Feature results – 1. Denny Eckrich, Tiffin; 2. Jeff Aikey, Cedar Falls; 3. Justin Kay, Wheatland; 4. Richie Gustin, Gilman; 5. Matt Ryan, Davenport; 6. Tyler Bruening, Decorah; 7. Ryan Dolan, Lisbon; 8. Kevin Kile, West Liberty; 9. John Emerson, Waterloo; 10. Jon Merfeld, Dubuque; 11. Jonathan Brauns, Muscatine; 12. Chad Holladay, Muscatine; 13. Ron Boyse, Kalona; 14. Jay Johnson, West Burlington; 15. Kyle Hinrichs, Swisher; 16. Andy Nezworski, Buffalo; 17. Nick Marolf, Wilton; 18. Andy Eckrich, Oxford; 19. Ray Guss Jr., Milan, Ill.; 20. Joe Zrostlik, Long Grove; 21. Brunson Behning, Davenport; 22. Rob Toland, Davenport; 23. Tyler Droste, Waterloo; 24. Scott Fitzpatrick, Wheatland.
1st heat (top three) – 1. Kay; 2. Aikey; 3. Behning; 4. Gustin; 5. Merfeld; 6. Hinrichs; 7. Darrel DeFrance, Marshalltown; 8. Jeremiah Hurst, Dubuque; 9. Ryan Claeys, Morrison, Ill.
2nd heat – 1. Denny Eckrich; 2. Ryan; 3. Droste; 4. Zrostlik; 5. Guss; 6. Corey Zeitner, Omaha, Neb.; 7. Jeremy Grady, Story City; 8. Gary Webb, Blue Grass; 9. Curt Schroeder, Newton.
3rd heat – 1. Marolf; 2. Dolan; 3. Kile; 4. Andy Eckrich; 5. Boyse; 6. Cayden Carter, Oskaloosa; 7. Holladay; 8. Joel Callahan, Dubuque; 9. Jon Poll, Delmar.
4th heat – 1. Johnson; 2. Toland; 3. Fitzpatrick; 4. Emerson; 5. Bruening; 6. Brauns; 7. Nezworski; 8. Eric Pollard, Peosta; 9. Kip Siems, Cedar Falls.
1st "B feature (top six) – 1. Gustin; 2. Boyse; 3. Andy Eckrich; 4. Merfeld; 5. Hinrichs; 6. Holladay; 7. Carter; 8. Callahan; 9. Hurst; 10. DeFrance; 11. Poll; 12. Claeys.
2nd "B" feature – 1. Bruening; 2. Guss; 3. Emerson; 4. Zrostlik; 5. Nezworski; 6. Brauns; 7. Zeitner; 8. Grady; 9. Webb; 10. Schroeder; 11. Pollard; 12. Siems.
Dash for cash – 1. Zeitner; 2. Carter; 3. Callahan; 4. Webb; 5. DeFrance; 6. Pollard; 7. Siems; 8. Schroeder; 9. Grady; 10. Hurst; 11. Poll; 12. Claeys.