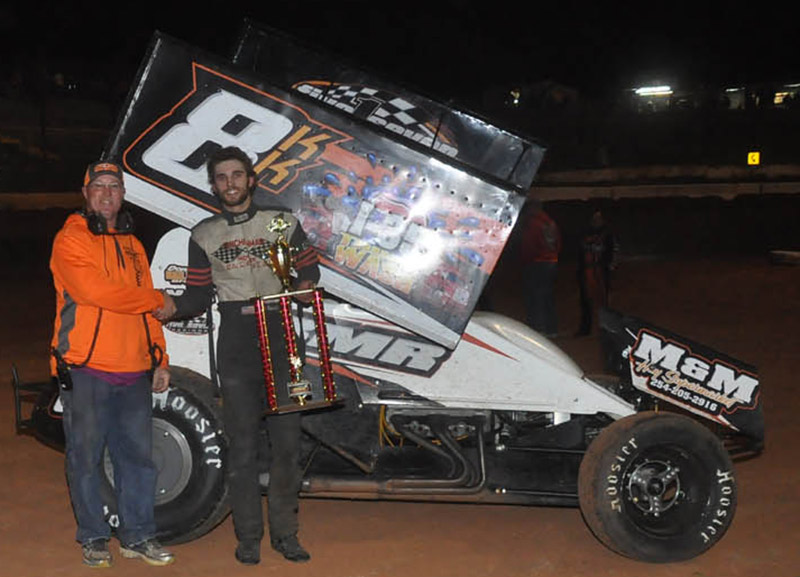 WILLIS, Texas (April 2) – A former mini sprint racer took home the maximum share of the purse from Saturday's Nolan Wren Memorial.
Tyler Russell held off Jeb Sessums for the $1,000 checkers at Gator Motorplex. The Southern United Sprints victory was the career first in any class at Willis for Russell.
"This was definitely the biggest win I've ever had," the third-year IMCA EMI RaceSaver Sprint Car pilot said. "It was an exciting race to win. It was such a great feeling. I was definitely overwhelmed."
Early leader Kent Lewis Sr., Matt Migl and Trey Schmidt rounded out the top five.
Russell started outside row one in the 20-lap main event and headed pursuit of Lewis, chasing the leader into lapped traffic before midway. After trading paint with Sessums, Russell brought him along when passing Lewis for the point.
Frontrunners caught up with the back of the field following a lap eight restart. Sessums peeked inside with two laps left but couldn't complete the pass and had to settle for second.
The fifth annual event saw more than 140 cars in the very full pit area and 900-plus fans in the grandstand.
Feature results – 1. Tyler Russell; 2. Jeb Sessums; 3. Kent Lewis Sr.; 4. Matt Migl; 5. Trey Schmidt; 6. Johnny Brown; 7. Ty Johnson; 8. Beau Smith; 9. Daniel King; 10. Kent Lewis Jr.; 11. Mark Harris; 12. Theresa Waller; 13. Josh Hawkins; 14. Weldon Buford; 15. Rachel Craddock; 16. Asa Williamson; 17. Regan Hawkins; 18. Josh McCord; 19. Bobby Middleton; 20. Steven Crockett.