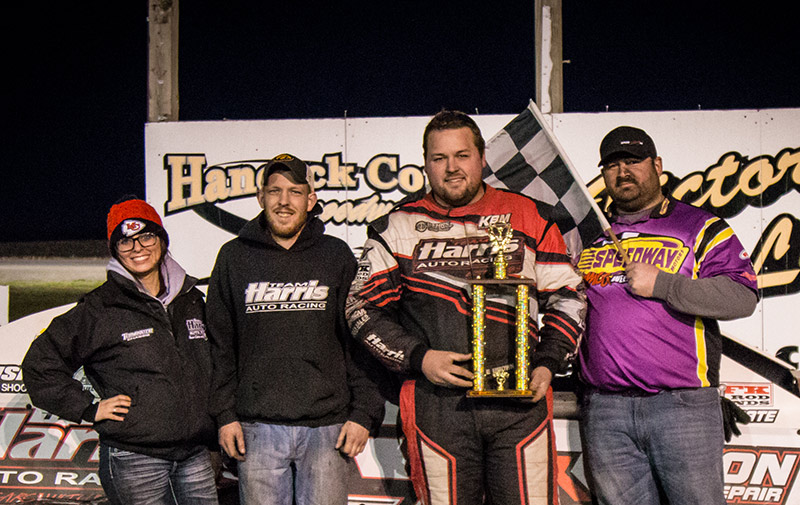 BRITT, Iowa (April 3) – The caution flag that waved late in Sunday's Frost Buster for Xtreme Motor Sports IMCA Modifieds feature at Hancock County Speedway actually came out at the right time for leader Kyle Brown.
Brown had pretty much checked out and was catching up with traffic running the same line before the yellow appeared with five circuits left in the 20-lapper.
He stayed in front following the ensuing restart to take the $1,000 win a couple car lengths ahead of Kelly Shryock. Completing the top five were Jay Noteboom, Adam Larson and Tim Ward. Early leader Trent Loverude was sixth.
"I was kind of glad we had that yellow. We were coming up on a group of cars in my line and I was trying to figure out how to get by them," Brown said. "It can be easier for the second place car to pass you when you're trying to get past lapped traffic."
Brown had started third and passed Loverude for the lead by the sixth lap. Following an early cau­tion, the race stayed green and Brown sped away on a track that stayed slick around the bot­tom.
The $1,000 checkers were the second for Brown, already on the Fast Shafts All-Star Invitational ballot, in five days.
"We've had a pretty good start. We ran second at Donnellson (on March 26) and won at Os­kaloosa (on March 30)," he said. "We started the season at Beatrice Spring Nationals and ran fifth the second night, which was just as good as a win in my book with 100-some Modifieds there."
Dan Mackenthun was the $750 IMCA Sunoco Stock Car winner. Five hundred dollar feature winn­ers were Cody Nielsen in the IMCA Sunoco Hobby Stocks and George Nordman in the Karl Chevro­let Northern SportMods, respectively, while Cody Thompson took home $250 along with the Mach-1 Sport Compact trophy.
Feature Results
Modifieds – 1. Kyle Brown, State Center; 2. Kelly Shryock, Fertile; 3. Jay Noteboom, Hinton; 4. Adam Larson, Ankeny; 5. Tim Ward, Chandler, Ariz.; 6. Trent Loverude, New Ulm, Minn.; 7. Aa­ron Benson, Clear Lake; 8. Tad Reutzel, Burt; 9. Josh Ruby, Lakota; 10. David Brown, Kellogg; 11. Mat Hollerich, Good Thunder, Minn.; 12. J.J. Wise, Klemme; 13. Chase Ellingson, Iowa Falls; 14. Logan Brown, Clear Lake; 15. Todd Stinehart, Waseca, Minn.; 16. Austin Wolf, Algona; 17. Gatlin Leytham, Ames; 18. Cody Knecht, Whittemore; 19. Dustin Smith, Lake City; 20. Shawn Ritter, Keystone; 21. Colt Mather, Keswick; 22. Jesse Hoeft, Forest City; 23. Jeff James, Stanton; 24. Mark Noble, Blooming Prairie, Minn.; 25. Dan Menk, Franklin, Minn.; 26. Troy Swearingen, Forest City; 27. Tom Berry Jr., Medford, Ore.
Stock Cars – 1. Dan Mackenthun, Hamburg, Minn.; 2. David Smith, Lake City; 3. Devin Smith, Lake City; 4. Derek Green, Granada, Minn.; 5. Chad Palmer, Renwick; 6. Tyler Pickett, Boxholm; 7. Matt Shauer, Arlington, Minn.; 8. Jake Nelson, Williston, N.D.; 9. Jesse Olson, Mayer, Minn.; 10. Chris Palsrok, Sibley; 11. Blake Cole, Nashua; 12. Matt Speckman, Sleepy Eye, Minn.; 13. Chris Loewenhagen, Menasha, Wis.; 14. David Wickman, Emmetsburg; 15. Bryce Carey, Nashua; 16. Joey Penning, Algona; 17. Kevin Opheim, Mason City; 18. Heath Tulp, Britt; 19. Dan Hanselman, Algona; 20. Justin Nehring, Storm Lake; 21. Calvin Lange, Humboldt; 22. Cody Fre­richs, Bristow; 23. Nick Johansen, Tyler, Minn.; 24. Luke Sathoff, Jackson, Minn.; 25. Brian Mahlstedt, Ionia; 26. Curt Balmer, Baxter; 27. Craig Carlson, Madrid.
Hobby Stocks – 1. Cody Nielsen, Spencer; 2. Trevor Holm, Chandler, Minn.; 3. Weston Koop, Rockwell; 4. Austin Hauswirth, Laurens; 5. Andrew Borchardt, Plymouth; 6. Bryce Sommerfeld, Fort Dodge; 7. Austin Jahnz, Lewisville, Minn.; 8. Chris Hovden, Cresco; 9. Zac Smith, Mason City; 10. Neil Franzen, Sumner; 11. Blaine Hanson, Klemme; 12. Keith Burg, Adel; 13. Bryant John­son, Graettinger; 14. Adam Laubenthal, Spencer; 15. Jacob Kofoot, Bode; 16. Cody Hubbell, Rolfe; 17. Cory Gansen, Clear Lake; 18. Tony Smidt, Britt; 19. Matt Olson, Morton, Minn.; 20. Scott Dobel, Manly; 21. Jay Sidles, Emmetsburg; 22. Aaron Rudolph, Grand Junction; 23. Drew Barglof, Sioux Rapids; 24. Daniel Smith, Lake City; 25. Raymond Fees, Des Moines.
Northern SportMods – 1. George Nordman, Mason City; 2. Joey Schaefer, Waterloo; 3. Jared Boumeester, Waseca, Minn.; 4. Nate Whitehurst, Mason City; 5. Josh Appel, Mason City; 6. Randy Roberts, Boone; 7. Levi Chipp, Latimer; 8. Jeremy Grantham, Allison; 9. Nick Meyer, Whitte­more; 10. Jerid Ratzke, Williams; 11. Kyle Germundson, Mason City; 12. Nate Chodur, Lake Mills; 13. Colby Fett, Algona; 14. Mathew Hanson, Klemme; 15. Autum Anderson, Mason City; 16. Jeremiah LaDue, Trenton, N.D.; 17. Kris Zuhlsdorf, Danube, Minn.; 18. Alec Fett, Thomp­son; 19. George Gilliland, Lehigh; 20. Dan Melton, Rhinelander, Wis.; 21. Andrew Inman, Mason City; 22. Matt Looft, Swea City; 23. Shane Swanson, Forest City; 24. Dan Drury, Eldora
Sport Compacts – 1. Cody Thompson, Sioux City; 2. Nate Coopman, Mankato, Minn.; 3. Andrew Har­ris, Dakota City, Neb.; 4. Tyler Thompson, Sioux City; 5. Ryan Bryant, Mason City; 6. Bubba Brown, Jackson, Minn.; 7. Jack Burns, Algona; 8. Joe Bunkofske, Armstrong; 9. Oliver Monson, Clear Lake.