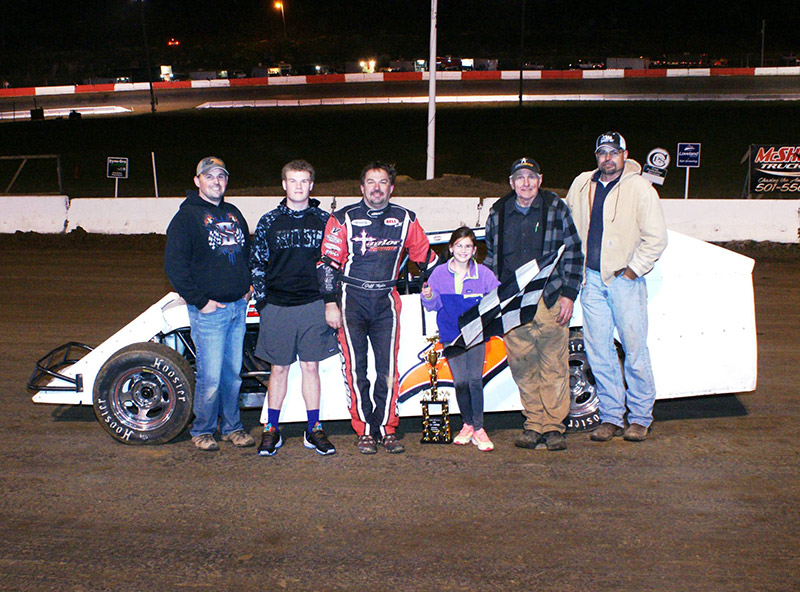 BATESVILLE, Ark. (March 25-26) – Another early-season special at Batesville Motor Speedway brought out the best in Jeff Taylor.
Taylor swept $1,000 to win Xtreme Motor Sports IMCA Modified main events on Friday and Saturday during the Arkansas Spring Nationals lidlifter.
He'd brought the broom to Batesville as recently as 2014, winning all three season-starting special main events that spring as well.
"I was really comfortable with my car," said Taylor, coming off an IMCA career-best 14 feature wins in 2015 and already on the ballot for the upcoming Fast Shafts All-Star Invitational. "I've been racing here since 1996. I don't know how many laps I've got here but I learned from the best. My car could do anything this weekend."
Taylor started Friday's 30-lapper from inside the second row and led most of the way, holding off Tyler Droste after getting into lapped traffic.
Droste got a look inside Taylor once but wasn't able to get by and settled for second. Richie Tosh, Robby Arnold and Brint Hartwick completed the top five.
Arnold, Tosh, Hartwick and Droste finished in that order behind Taylor in the Saturday main event pared to 25 laps after a multi-car incident.
Taylor had started fifth and passed brother Peyton for the front spot on lap 11.
Feature Results
March 25 – 1. Jeff Taylor; 2. Tyler Droste; 3. Richie Tosh; 4. Robby Arnold; 5. Brint Hartwick; 6. Clay Norris; 7. Mark Norris; 8. Brandon Smith; 9. Bennett Johnson; 10. Daryl Hay; 11. Rick Engles; 12. Chris Junkersfeld; 13. Peyton Taylor; 14. Mike Bowers; 15. Drew Armstrong; 16. Tyson Franks; 17. Timothy Culp; 18. Buck Reid; 19. Kris Lloyd; 20. Heath Grizzle; 21. Travis Mosley; 22. Jeremy Tharp; 23. Mikey Bell; 24. Brian Ritchie.
March 26 – 1. Jeff Taylor; 2. Arnold; 3. Tosh; 4. Hartwick; 5. Droste; 6. Mosley; 7. Mark Norris; 8. Bowers; 9. Armstrong; 10. Clay Norris; 11. Engles; 12. Brandon Smith; 13. Johnson; 14. Bell; 15. Hay; 16. Tyler Newcom; 17. Lloyd; 18. Gage Raines; 19. Blake Smith; 20. Junkersfeld; 21. Tommy Burkhead; 22. Ritchie; 23. Chadd Avery; 24. Peyton Taylor; 25. Daniel Roe.