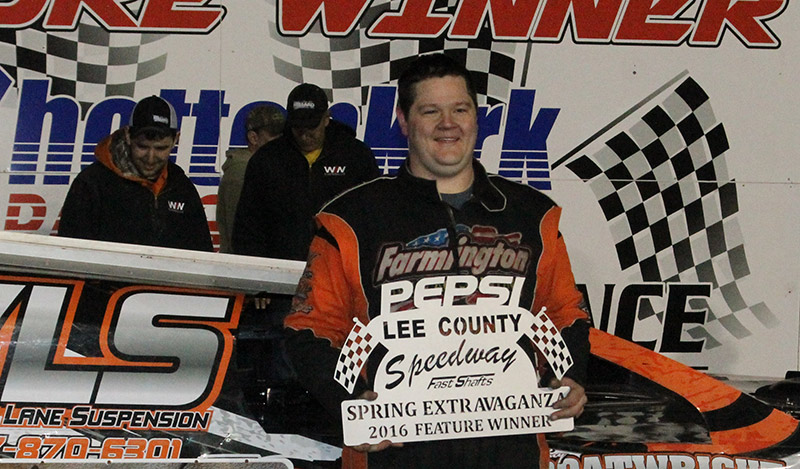 DONNELLSON, Iowa (March 26) – The first IMCA sanctioned event in Iowa this season ended with Josh Foster in victory lane for the first time in three years.
Foster battled with Hunter Marriott, then held off Kyle Brown in winning Saturday's Xtreme Motor Sports IMCA Modified feature at Lee County Speedway's Spring Extravaganza.
The $1,000 win put Foster on the ballot for the Fast Shafts All-Star Invitational. Cayden Carter and Kelly Shryock rounded out the top five.
"We raced weekly at Lee County back in the day and won four track championships (between 2006 and 2011). I live about 2-1/2 hours away now so it's harder to get back there now. This was our first time back since 2013," said Foster. "I really wanted to get back to Donnellson this year. We have a lot of laps at Lee County, and a lot of family, friends and sponsors there."
Foster started sixth and was in the lead 14 laps into the 20-lapper. He tussled with Marriott the next three times around the track.
"We went back and forth with sliders. He'd get the lead and we'd regroup and go after him," Foster said. "We probably swapped the lead two or three times. It was a fun race."
Brown caught Marriott for second late in the contest.
Foster had traveled to Beatrice Speedway, using Spring Nationals for a two-day test and tune and finishing 12th in the second night's show. His "here and there" race plans for the rest of 2016 include occasional weekly shows and specials, the next of them being opening night of Frostbuster Week Wednesday at Southern Iowa Speedway.
Cayden Carter and Carter VanDenBerg were also $1,000 feature winners Saturday, Carter from ninth starting in the IMCA Sunoco Stock Car feature and VanDenBerg from outside the front row in the Karl Chevrolet Northern SportMod main.
"Yellows worked out to my favor," said Carter, who took the lead following a restart with three circuits left in the 20-lapper. "I ran pretty much where everybody else wasn't to get to the front."
He ran side-by-side with Greg Gill before taking the close checkers. Gill and Damon Murty completed the top three.
VanDenBerg led start to finish in a 20-lap Northern SportMod contest that ran green to checkered, using the high line most of the way and lapping up to the 12th place car.
Brandon Lennox was the closest challenger, finishing second and a couple car lengths back. Austin Becerra took third place money.
Brandon Lennox was the runner-up and Austin Becerra ran third in the Northern SportMod show.
Pole starter Shannon Anderson led Nick Ulin and Eric Stanton in the race to the $500 IMCA Sunoco Hobby Stock checkers.
Brad Chandler raced from 12th starting to win the Mach-1 Sport Compact feature and $300. Jason Breuklander was second and third was Luke Benischek.
Weather and track conditions forced cancellation of Friday's Spring Extravaganza program at Donnellson.
Feature Results
Modifieds – 1. Josh Foster; 2. Kyle Brown; 3. Hunter Marriott; 4. Cayden Carter; 5. Kelly Shryock; 6. Richie Gustin; 7. Johnny Walker; 8. R.C. Whitwell; 9. Nick Roberts; 10. Jeff James; 11. Brandon Rothzen; 12. Ryan Maitland; 13. Jesse Hoeft; 14. Todd VanEaton; 15. Kurt Kile; 16. Blake Woodruff; 17. Jeff Waterman; 18. David Brown; 19. Brandon Brinton; 20. Kory Meyer; 21. Tim Hamburg; 22. Scott Hogan; 23. Ray Guss Jr.; 24. Jardin Fuller.
Stock Cars – 1. Cayden Carter; 2. Greg Gill; 3. Damon Murty; 4. Derrick Agee; 5. John Oliver Jr.; 6. Abe Huls; 7. Jeremy Pundt; 8. Derrick Rohe; 9. Jason See; 10. Shane Paris; 11. Jake Wenig; 12. Terry Dulin; 13. Dane Fenton; 14. Jeff Mueller; 15. Jordan Gerling; 16. Cody Clark; 17. Brian Hoener; 18. Donovan Nunnikoven.
Northern SportMods – 1. Carter VanDenBerg; 2. Brandon Lennox; 3. Austin Becerra; 4. Brett Lowry; 5. Sam Wieben; 6. Austin Luellen; 7. Clint Luellen; 8. Jim Gillenwater; 9. Josh Appel; 10. Tony Olson; 11. Austin Heacock; 12. Dan Drury; 13. Joey Gower; 14. Sean Wyett; 15. Brayton Carter; 16. Ryan King; 17. Craig Garner; 18. Kevin Goben; 19. James Lynch; 20. Dan Keltner; 21. John Oliver Jr.; 22. Erick Knutsen; 23. Ross Neal; 24, Tyler Soppe.
Hobby Stocks – 1. Shannon Anderson; 2. Nick Ulin; 3. Eric Stanton; 4. August Bach; 5. Brandon Symmonds; 6. Bryce Sommerfeld; 7. Tyson Overton; 8. Dusty Filloon; 9. Calvin Dhondt; 10. John Irwin; 11. Chris Hovden; 12. Dustin Griffiths.
Sport Compacts – 1. Brad Chandler; 2. Jason Breuklander; 3. Luke Benischek; 4. Josh Barnes; 5. Jake Benischek; 6. Brandon Lambert; 7. Brandon Setser; 8. Ron Kibbe; 9. Kimberly Abbott; 10. Levi Heath; 11. Dustin Forbes; 12. Brandon Reu; 13. Daniel Campbell; 14. Darin Weisinger Jr.; 15. Bryerson Tharp; 16. Billy Cain; 17. Bryan Vannausdle; 18. Randy Magnuson; 19. Chuck Fullenkamp; 20. Ryan Bryant; 21. Darin Smith; 22. Wayne Chamblee; 23. Eric Eye; 24. Renny McCarty.