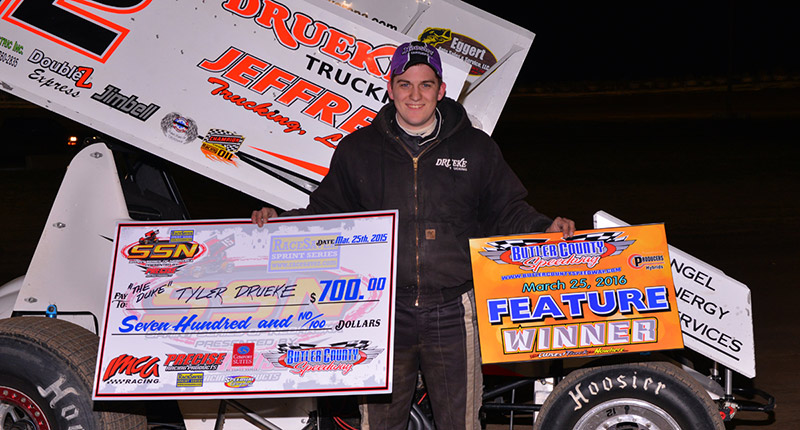 By Greg Soukup
RISING CITY, Neb. (March 25) ­– The winner of last season's Sprint Series of Nebraska finale now has an IMCA EMI RaceSaver Sprint Car tour streak of two straight checkers.
Tyler Drueke held off Joey Danley to top the 2016 SSN opener Friday at Butler County Speed­way. The victory paid $700.
After restarting third following a caution with seven circuits to go in the 25-lapper, Drueke passed Danley on the top side in the first set of turns, then drove by Jason Martin for the lead on the ex­treme lower line.
The white flag was out when Danley got back alongside but Drueke took advantage of a lapped car in the final turn and won the dash to the finish line.
Doug Lovegrove and then Terry Richards were the early leaders. Martin got the lead on lap nine but Clint Benson and Boyd Petersen looped it in turn three. 
Martin grabbed the lead again on the restart.
Drueke moved to third the next time around.
 Danley cracked the top four on the ensuing restart. Drueke advanced to second and ran there before giving way to Danley five laps later.
Another caution set up the seven-lap contest.
Martin, Richards and Benson completed the top five. Sixth was defending series champion Adam Gullion.
Drueke had ended the 2015 SSN campaign by winning the September show at I-80 Speedway.
Feature results ­– 1. Tyler Drueke, Eagle; 2. Joey Danley, Lincoln; 3. Jason Martin, Lincoln; 4. Terry Richards, Denton; 5. Clint Benson, Papillion; 6. Adam Gullion, Lincoln; 7. Jason Danley, Lincoln; 8. Mike Johnston, Des Moines, Iowa; 9. Doug Lovegrove, Waverly; 10. Zach Blurton, Quinter, Kan.; 11. Shayle Bade, Lincoln; 12. Nathan Weiler, Omaha; 13. Toby Chapman, Pan­ama; 14. Roger Sluka, Lincoln; 15. Nick Bryan, Lincoln; 16. Ryan King, Bennet; 17. Blain Pe­tersen, Essex, Iowa; 18. Rick Hansen, Omaha; 19. Boyd Peterson, Ithaca; 20. Keith Dragoo, Lin­coln; 21. Chase Weiler, Lincoln; 22. Justin Hanson, Platte Center.