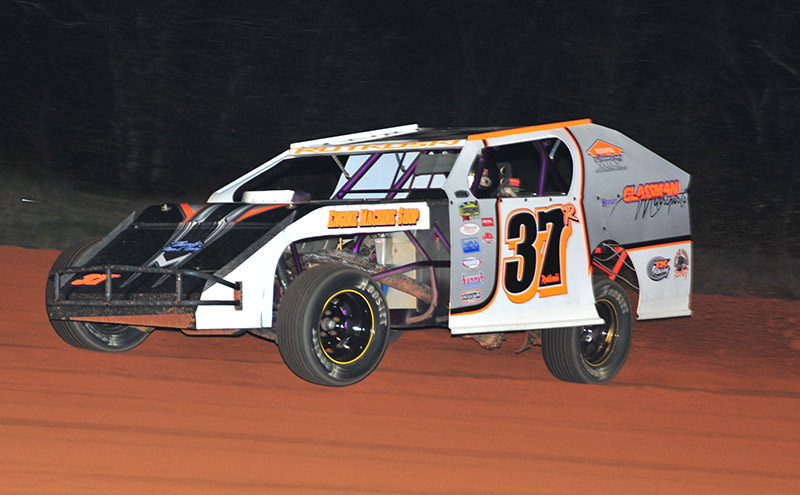 MILTON, Fla. (March 19) ­– When the high side didn't work, Kyle Rutkoski followed the lower line to the winner's circle in the Bay Area Emerald Coast Tour opener at Southern Raceway.
Rutkoski led the final five circuits in Saturday's Xtreme Motor Sports IMCA Modified feature at Milton. He'd won three of the last five tour events last year, all at the fast Florida oval.
"I had tried to make the high side work early, then went to the lower line," said Rutkoski, who passed defending series champion Jason Barnhill for the front spot following the second of the race's two cautions. "I told my dad afterwards if I didn't win I'd be disappointed. When you put in as much work on your car as we do, you feel like you should win."
Barnhill and Josh Goodwin went back and forth before Barnhill settled in up front and looked to check out.
The first yellow erased Barnhill's big advantage and Rutkoski made his pass for the lead after the second caution came out, with Barnhill exiting the track shortly afterwards.
Thumper Grice ran a close second and Jamie Brooks was third at the end of the 20-lapper.
Feature results – 1. Kyle Rutkoski; 2. Thumper Grice; 3. Jamie Brooks; 4. Russ Harris; 5. Michael Rogers; 6. Duane Lewis; 7. Jason Barnhill; 8. Pebo Rogers; 9. Josh Goodwin; 10. Scott Sessions; 11. Jason Lockwood.