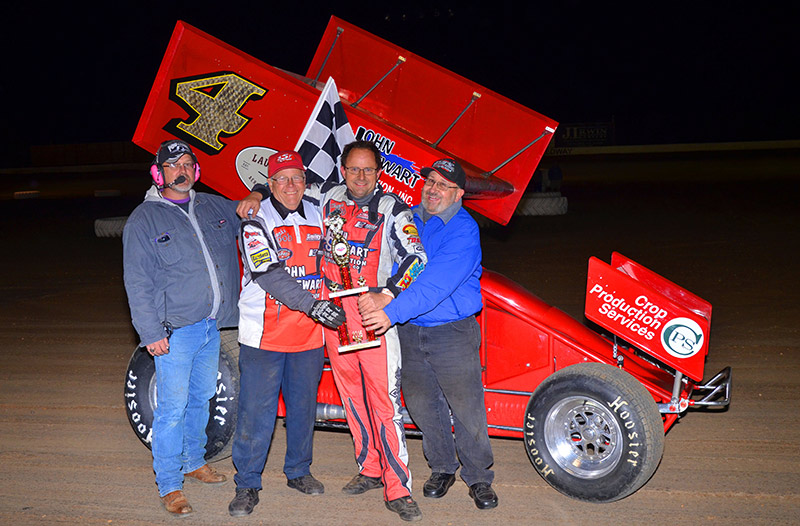 PAIGE, Texas (March 19) ­– Added attention to little details helped pay off for Jerry Hammock in the Saturday night Sprint Series of Texas opener at Cotton Bowl Speedway.
Hammock led start to finish of the 20-lapper for IMCA EMI RaceSaver Sprint Cars at Paige and had an advantage of close to half a straightaway over Jeff Day at the checkers.
"We ran the bottom. The track was hard and slick and never built a cushion. The sweet spot was right around the bottom," said Hammock, who'd started outside the front row. "It seemed like every time we caught lapped traffic somebody would spin and there was a caution, so lapped cars weren't a problem."
Jason Howell, two-time and defending champion Dustin Woods and Johnny Miller completed the top five. Hard charger Kenny Elwood gained the last transfer spot after starting last in his "B" and ended in 10th.
Hammock was a three-time SST winner and finished second in the points race last season. He'd won previously at Cotton Bowl in 2014.
"We're excited about this season. We've kind of restyled our car," Hammock said. "We went back to our favorite color red (the car was black last year) and found some little-bitty things to make the car better that I think are going to pay off."
Feature results – 1. Jerry Hammock; 2. Jeff Day; 3. Jason Howell; 4. Dustin Woods; 5. Johnny Miller; 6. Michael Day; 7. John Ricketts; 8. Beau Smith; 9. Rodney Henderson; 10. Kenny Elwood; 11. Larry Howery; 12. Reagan Reed; 13. Chase Parson; 14. Gary Kelley; 15. Gary Floyd; 16. Brandon Moeller; 17. Johnny Brown; 18. Chris Huckeba; 19. Trevor Reed; 20. Steven Elliott.