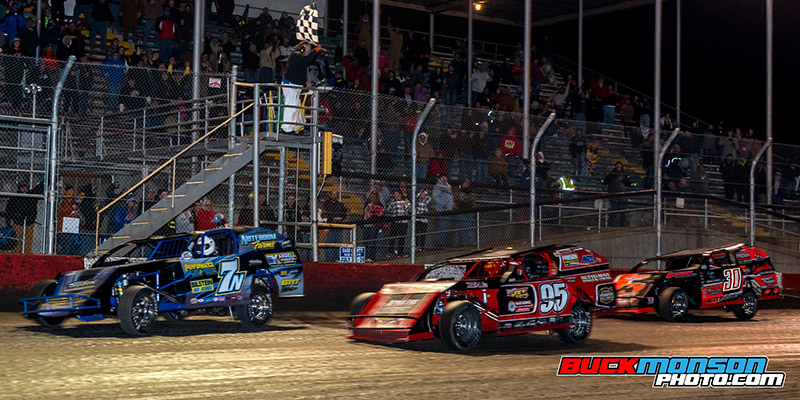 BEATRICE, Neb. (March 12) – The guy who had the best seat in the house pointed out that the Saturday night Xtreme Motor Sports IMCA Modified main event at Beatrice Speedway's record-setting Spring Nationals had to be fun for the fans, too.
A record 347 cars, from 16 states and Canada, competed at the 23rd annual special and Jay Noteboom got the best of fellow hard chargers Dylan Smith and Terry Phillips in a three-wide Modified battle on Saturday that went to the wire following a late caution.
Noteboom, who'd started 15th, was less than a car length ahead of the 13th starting Smith at the finish. Friday winner Phillips started 23rd and ended in third. Jacob Murray found the fastest lines as well, advancing 16 spots to end in fourth.
"The track was pretty racy everywhere. I went high on turn one and was able to get a pretty good run up there," Noteboom said following his first IMCA win of the season, and career 154th victory in the sanctioned division. "On the last lap I went to the top, we went three wide in turn three and I edged ahead of Dylan at the line."
"It was a pretty good race. It's always nice to win at Beatrice, " added Noteboom also a Spring Nationals winner in 2012. "It was pretty intense there at the end. All three of us wanted to win. It was a pretty good show for the crowd."
The $2,000 checkers put him on the ballot for the Fast Shafts All-Star Invitational. Kyle Brown completed the top five.
After running second to Derek Green in their heat race, Dustin Larson drew the pole start for the IMCA Sunoco Stock Car main event and led Green to the $500 checkers.
Third was Angel Munoz while Cory Dumpert made his way from 19th starting to fourth and 21st starting Elijah Zevenbergen was fifth.
Roy Armstrong started outside the front row and took the $400 IMCA Sunoco Hobby Stock win ahead of Brendon Stigge and Chad Borgman, who'd started 17th and 19th, respectively.
Completing the top five were Mark Saathoff and Tyler Saathoff.
Justin Addison also won from outside for one with a couple hard chargers close behind, in the Karl Chevrolet Northern SportMod main, and earned $500.
Kyle Prauner rocketed from 25th starting to second and Lance Borgman ended in third, 19 spots better than where he started from. Fourth was Friday winner Greg Metz and Nick Meyer took fifth.
Ninth-starting Scott Spellmeier won the Mach-1 Sport Compact feature in front of 15th starting Cody Thompson and 21st starting Dillon Richards.
Ramsey Meyer was fourth and Tyler Thompson took fifth. Spellmeier took home a check for $200.
Feature Results
Modifieds – 1. Jay Noteboom, Hinton, Iowa; 2. Dylan Smith, Osceola; 3. Terry Phillips, Springfield, Mo.; 4. Jacob Hurray, Hartford, Iowa; 5. Kyle Brown, State Center, Iowa; 6. Hunter Marriott, Brookfield, Mo.; 7. Jeff James, Stanton; 8. Eddie Belec, Arvada, Colo.; 9. John Hansen, Brush, Colo.; 10. Curt Lund, Redwood Falls, Minn.; 11. Anthony Roth, Columbus; 12. Josh Foster, Newton, Iowa; 13. Daviod Murray Jr., Oberlin, Kan.; 14. Chris Bragg, Springtown, Texas; 15. Jordan Grabouski, Beatrice; 16. Kyle Olberding, Seneca, Kan.; 17. Jason Snyder, Dunkerton, Iowa; 18. Jeffrey Larson, Lakefield, Minn.; 19. Mike Van Genderen, Newton, Iowa; 20. Mike Mullen, Suamico, Wis.; 21. Brandon Monson, Denison, Iowa; 22. Chris Abelson, Sioux City, Iowa; 23. Aaron Krohn, Slayton, Minn.; 24. R.C. Whitwell, Tucson, Ariz.
Heat winners were Krohn, Hansen, Bragg, Mullen, Grabouski, Foster, Brown, Lund, Snyder, Whitwell, Belec and Murray. "B" feature winners were Monson, Smith, Noteboom, Olberding, Larson and Marriott. 
Stock Cars – 1. Dustin Larson, Worthington, Minn.; 2. Derek Green, Granada, Minn.; 3. Angel Munoz, Lamar, Colo.; 4. Cory Dumpert, York; 5. Elijah Zevenbergen, Ocheyedan, Iowa; 6. Shane Stutzman, Milford; 7. Kyle Vanover, Beatrice; 8. Jason See, Albia, Iowa; 9. Jason Rogers, Selden, Kan.; 10. Todd Reitzler, Grinnell, Iowa; 11. Kevin Opheim, Mason City, Iowa; 12. Chad Bruns, Wayne, Neb.; 13. Casey Woken, Norton, Kan.; 14. John Oliver Jr., Danville, Iowa; 15. Gary Laflin, Beatrice; 16. Bob Fuegmann, Minot, N.D.; 17. Rob Stenvold, Minot, N.D.; 18. Shawn Primrose, Norfolk; 19. Tyler Phelps, Beatrice; 20. Eric Bartels, Plymouth; 21. Austin Carter, Jamestown, Kan.; 22. Clay Mercer, Corning, Iowa; 23. Jay Schmidt, Tama, Iowa; 24. Damon Murty, Chelsea, Iowa.
Heat winners were Rogers, Green, Munoz, Mercer, See and Primrose. "B" feature winners were Dumpert, Murty and Zevenbergen.
Hobby Stocks – 1. Roy Armstrong, Beatrice; 2. Brendon Stigge, Fairbury; 3. Chad Borgman, Beatrice; 4. Mark Saathoff, Beatrice; 5. Tyler Saathoff, Hickman; 6. Benji Irvine, Oelwein, Iowa; 7. Tyrel Smith, Goodland, Kan.; 8. Dillon Thompson, Hastings; 9. Shawn Slezak, Milligan; 10. Garrett Eilander, Newton, Iowa; 11. Shay Simoneau, Damar, Kan.; 12. Ryan Roschewski, Beatrice; 13. Brady Bencken, Oakley, Kan.; 14. Nate DeSive, Oneill; 15. Shawn Kuennen, Hazlaton, Iowa; 16. Parker Larson, Granada, Minn.; 17. Taylor Huss, Reynolds; 18. Rick Bradley, Council Bluffs, Iowa; 19. Eric Chab, Blue Springs; 20. John Watson, Des Moines, Iowa; 21. Cody Nielsen, Spencer, Iowa; 22. Justin Wacha, Vinton, Iowa; 23. Jeff Watts, Beatrice; 24. Jacob Olmstead, Overton.
Heat winners were Watson, DeSive, Mark Saathoff, Eilander, Tyler Saathoff and Armstrong. "B" feature winners were Borgman, Olmstead and Wacha.
Northern SportMods – 1. Justin Addison, Norfolk; 2. Kyle Prauner, Norfolk; 3. Lance Borgman, Beatrice; 4. Greg Metz, Washington, Kan.; 5. Nick Meyer, Whittemore, Iowa; 6. Karl Brewer, Vermillion, S.D.; 7. Shawn Cooney, Des Moines, Iowa; 8. Joey Haase, Norfolk; 9. Daniel Gottschalk, Ellis, Kan.; 10. Erik Laudenschlager, Surrey, N.D.; 11. Ben Schultze, Algona, Iowa; 12. Darin Roepke, Lemars; 13. Brandon Spanjer, Crete; 14. Lee Horky, Fairbury; 15. Brandon Toftee, Webster City, Iowa; 16. Adam Armstrong, Beatrice; 17. Rick Rohr, Pickrell; 18. Austin Heacock, Peosta, Iowa; 19. Danny Myrvold, Westbrook, Minn.; 20. Scott Bivens, Waverly; 21. Tom Schneider, Chilton, Wis.; 22. Brian Konz, LeMars, Iowa; 23. Stan Tomlinson, Turtle Lake, N.D.; 24. Nelson Vollbrecht, Stanton; 25. Clinton Luellen, Minburn, Iowa.
Heat winners were Tomlinson, Meyer, Cooney, Brewer, Addison, Toftee, Laudenshlager and Metz. "B" feature winners were Spanjer, Gottschalk, Schultze and Vollbrecht.
Sport Compacts – 1. Scott Spellmeier, Beatrice; 2. Cody Thompson, Sioux City, Iowa; 3. Dillon Richards, Beatrice; 4. Ramsey Meyer, Pierce; 5. Tyler Thompson, Sioux City, Iowa; 6. Denny Berghahn Jr., Plattsmouth; 7. Larry Cronin, Lincoln; 8. Cole Krichau, Lincoln; 9. Justin Olsen, Lincoln; 10. Brooke Fluckiger, Columbus; 11. David Norquest, York; 12. R.J. Maas, Wilber; 13. Curtis Miller, Lewis, Iowa; 14. Ryan Smith, Beatrice; 15. Nick Lindblad, Beatrice; 16. Joe Bunkofske, Armstrong, Iowa; 17. Brandon Setser, Davenport, Iowa; 18. Bryson Fralin, Beatrice; 19. Shawn Hein, Beatrice; 20. Luke Jackson, South Sioux City; 21. Spencer Pavey III, Sterling; 22. Kaytee DeVries, Spencer, Iowa; 23. Devon Davidson, Oneill; 24. Brad Chandler, Cedar Rapids, Iowa.
Heat winners were Tyler Thompson, Hein, Meyer and Davidson. "B" feature winners were Berghahn and Cronin.