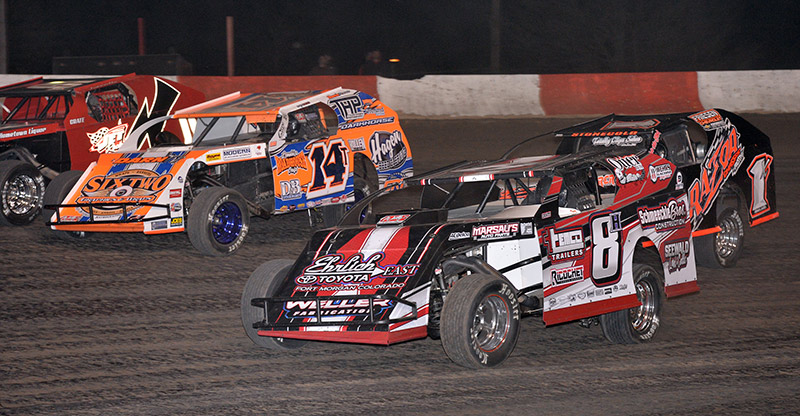 BEATRICE, Neb. (March 11) – Record-breaking might not be descriptive enough for opening night of the 23rd annual Spring Nationals at Beatrice Speedway.
The traditional season-opening special saw 313 cars in four IMCA divisions in action Friday, 39 more than last year. The new mark is guaranteed to go even higher with the addition of Mach-1 Sport Compacts to the Saturday program.
By division, opening night at Beatrice featured 118 Xtreme Motor Sports IMCA Modifieds, 85 Karl Chevrolet Northern SportMods, 57 IMCA Sunoco Hobby Stocks and 53 IMCA Sunoco Stock Cars.
Friday feature winners were Terry Phillips in the Modifieds, Kyle Vanover in the Stock Cars, Greg Metz in the Northern SportMods and Cody Nielsen in the Hobby Stocks.
Phillips' $2,000 checkers put him on the ballot for the Fast Shafts All-Star Invitational. Vanover and Metz each earned $500, Nielsen $400.
Opening night competitors came from 16 states and Canada. Car Count records for Spring Nationals have now been set three of the past five years.
Modifieds – 1. Terry Phillips, Springfield, Mo.; 2. Jesse Sobbing, Malvern, Iowa; 3. Justin Zeitner, LaVista; 4. Hunter Marriott, Brookfield, Mo.; 5. Mike Mashl, DePere, Wis.; 6. Mike Wedelstadt, Fremont, Wis.; 7. Brian Mullen, Seymour, Wis.; 8. Jordy Nelson, Marysville, Kan.; 9. Tyler Frye, Belleville, Kan.; 10. Shane Hiatt, Rising City; 11. Dominic Ursetta, Arvada, Colo.;12. Jeff James, Stanton, Iowa; 13. Kelly Shryock, Fertile, Iowa; 14. Kyle Brown, State Center; 15. Steven Bowers Jr., Topeka, Kan.; 16. Jesse Hoeft, Forest City, Iowa; 17. Jeffrey Larson, Lakefield, Minn.; 18. Dylan Smith, Osceola; 19. Ronn Lauritzen, Jesup, Iowa; 20. Chris Abelson, Sioux City, Iowa; 21. Jason Krohn, Slayton, Minn.; 22. Mike Mullen, Suamico, Wis.; 23. Jordan Grabouski, Beatrice; 24. Johnny Saathoff, Beatrice.
Heat winners were Sobbing, Phillips, Brown, Hiatt, Abelson, Mashl, Grabouski, Mike Mullen, Krohn, Hoeft, Zeitner and Wedelstadt. "B" winners were Brian Mullen, Marriott, Frye, Saathoff, James and Larson. 
Stock Cars – 1. Kyle Vanover, Beatrice; 2. Casey Woken, Norton, Kan.; 3. Derek Green, Granada, Minn.; 4. Dan Mackenthun, Hamburg, Minn.; 5. Randy Brands, Boyden; 6. Elijah Zevenbergen, Ocheyedan, Iowa;7. Tyler Phelps, Beatrice; 8. Cory Dumpert, York; 9. Dustin Larson, Worthington, Minn.; 10. Brendon LaBatte, Weyburn, Sask.; 11. Angel Munoz, Lamar, Colo.; 12. Devin Kuehne, Reading, Minn.; 13. John Oliver Jr., Danville, Iowa; 14. Bob Fuegmann, Minot, N.D.; 15. Chad Palmer, Renwick, Iowa; 16. Scot Granzella, Salina, Kan.; 17. Jay Schmidt, Tama, Iowa;18. Jake Ludeking, Decorah; 19. Bryan Rigsby, Topeka, Kan.; 20. Randy Killen, Des Moines, Iowa; 21. Ron Stenvold, Minot, N.D.; 22. Justin Merriman, Onaga, Kan.; 23. Jason See, Albia, Iowa; 24. Dustin Schmidt, Fairbury, Neb.
Heat winners were Brands, Merriman, Rigsby, See, LaBatte and Vanover. "B" feature winners were Zevenbergen, Palmer and Larson.
Northern SportMods – 1. Greg Metz, Washington, Kan.; 2. Adam Armstrong, Beatrice; 3. Lance Borgman, Beatrice; 4. Clint Luellen, Minburn, Iowa; 5. Austin Luellen, Minburn, Iowa; 6. Carter VanDenBerg, Oskaloosa, Iowa; 7. Kyle Prauner, Norfolk; 8. Colby Langenberg, Norfolk; 9. Nelson Vollbrecht, Stanton; 10. Daniel Gottschalk, Ellis, Kan.; 11. Darin Roepke, LeMars, Iowa; 12. Rocky Caudle, Ellsworth, Iowa; 13. Jesse Skalicky, Fargo, N.D.; 14. Shawn Cooney, Des Moines, Iowa; 15. Zach McKinnon, Antigo, Wis.; 16. Gary Saathoff, Beatrice; 17. Chris Langdale, Beatrice; 18. Karl Brewer, Vermillion, S.D.;19. Chase Rudolf, Norwalk, Iowa; 20. Tony Rialson, Cottonwood, Minn.; 21. Kirk Beatty, Sioux City, Iowa; 22. Rick Rohr, Pickrell, Neb.; 23. Scott Bivens, Waverly; 24. Brenden Damon, Great Bend, Kan.
Heat winners were McKinnon, Metz, Caudle, Austin Luellen, Damon, Roepke, VanDenBerg and Clint Luellen. "B" feature winners were Langdale, Armstrong, Bivens and Prauner.
Hobby Stocks – 1. Cody Nielsen, Spencer, Iowa; 2. John Watson, Des Moines, Iowa; 3. Roy Armstrong, Beatrice; 4. Jacob Olmstead, Overton; 5. Garrett Eilander, Newton, Iowa; 6. Tyler Saathoff, Hickman; 7. Justin Busboom, Lincoln; 8. Brady Bencken, Oakley, Kan.; 9. Chad Borgman, Beatrice; 10. Shawn Slezak, Milligan; 11. Mark Saathoff, Beatrice; 12. Dillon Thompson, Hastings; 13. Benji Irvine, Oelwein, Iowa; 14. Dustin Filloon, Tama; 15. David Carter, Fremont; 16. Ryan Roschewski, Beatrice; 17. Chad Lonneman, Adrian, Minn.; 18. Shawn Kuennen, Hazleton; 19. Dave Riley, Sioux City, Iowa; 20. Tim Sidles, Emmetsburg, Iowa; 21. Brendon Stigge, Fairbury; 22. Tyler Davis, Fairbury; 23. Tyrel Smith, Goodland, Kan.; 24. Eric Chab, Blue Springs.
Heat winners were Lonneman, Chab, Thompson, Borgman, Stigge and Slezak. "B" feature winners were Irvine, Busboom and Armstrong.