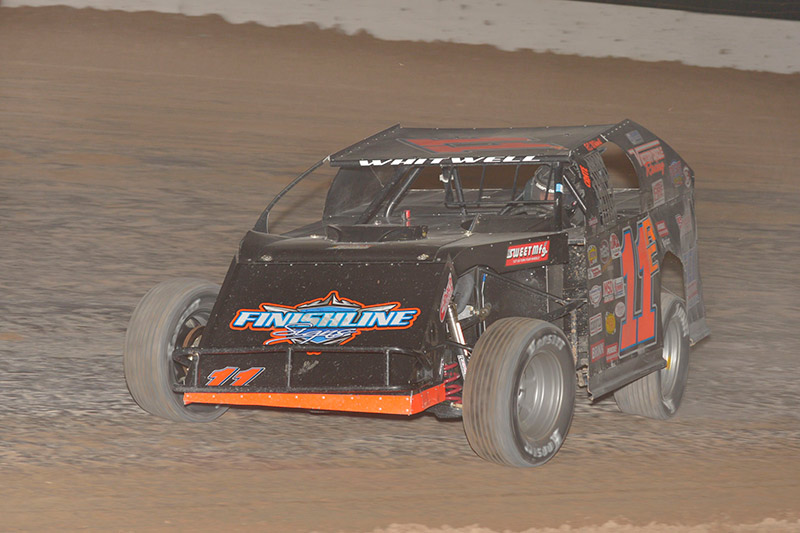 LAS VEGAS, Nev. (March 3) – R.C. Whitwell continued one Las Vegas Motor Speedway tradition Thursday night.
He'll look to improve on another Friday.
For the third straight year, Whitwell was Xtreme Motor Sports IMCA Modified winner on opening night of the midweek special at the half-mile Dirt Track. He was the night two runner-up there in 2014 and 2015, a trend he hopes to reverse with another $750 checkers.
The victory was his first in 10 starts this season.
"I'd already won five or six features by this time last year so it felt pretty good to finally get this one," said Whitwell, who started on the pole and led all 25 laps. "We got into lapped traffic but I was able to zip through without any problems."
Cody Laney and Bobby Hogge IV also drove Bill Henderson-owned cars and finished second and third, respectively. Laney ran out of time to reel in Whitwell and ended some seven car lengths off the pace.
Colt Mather and Ethan Dotson completed the top five.
Thirty-nine drivers signed in and eight states were represented in the main event.
Another $750 top prize, plus IMCA Speedway Motors Weekly Racing National, Larry Shaw Racing Western Region and Allstar Performance State points, are at stake on Friday.
Modified heat races start at approximately 9:25 p.m. Friday.
Feature results – 1. R.C. Whitwell, Tucson, Ariz.; 2. Cody Laney, Torrance, Calif.; 3. Bobby Hogge IV, Salinas, Calif.; 4. Colt Mather, Keswick, Iowa; 5. Ethan Dotson, Bakersfield, Calif.; 6. Logan Drake, San Luis Obispo, Calif.; 7. Paul Stone, Winton, Calif.; 8. Justen Yeager, Green River, Wyo.; 9. Josh Vogt, Santa Maria, Calif.; 10. Casey Delp, Rock Springs, Wyo.; 11. Robert Sanders, Bakersfield, Calif.; 12. Steve Simpson Jr., Kingman, Ariz.; 13. Phil Penney, Percival, Iowa; 14. Bobby Horton, Yuma, Ariz.; 15. Jim Perkins, Williams, Ariz.; 16. Randy McDaniel, Olivehurst, Calif.; 17. Jake Donnelly, Rigby, Idaho; 18. Jessie Hoskins, Longdale, Okla.; 19. Charles Davis Jr., Buckeye, Ariz.; 20. Rick Durica, Las Vegas; 21. Kevin Irwin, Bakersfield, Calif.; 22. Kenny Wallace, Concord, N.C.; 23. Clay Daly, Watsonville, Calif.