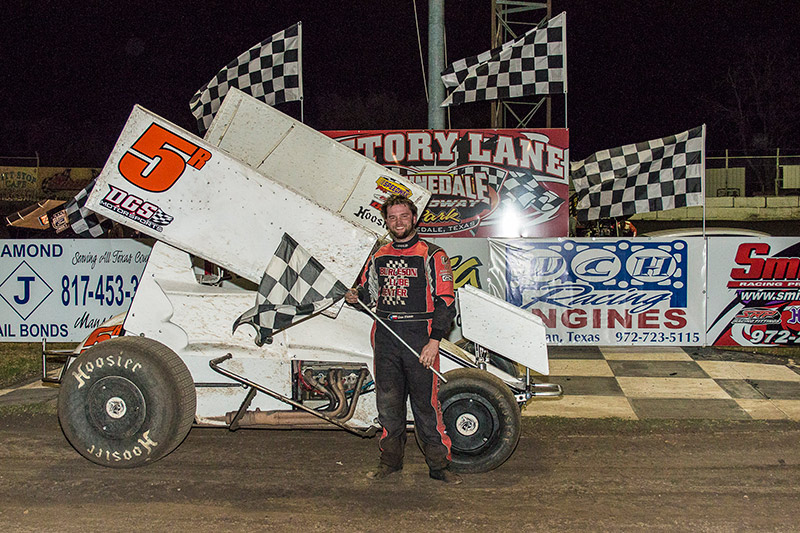 KENNEDALE, Texas (Feb. 27-28) – John Ricketts was the winged winner while Jay Bransom made two trips to victory lane on opening night of Kennedale Speedway Park's Spring Kick-Off.
Ricketts used the fast lower line to pass George White for the lead in Saturday's IMCA EMI Rac­eSaver Sprint Car headliner. Logan Payne eked ahead briefly before Ricketts fought back for the $1,000 victory.
Bransom was a perfect 4-for-4 on the night, winning both his heat races and the Xtreme Motor Sports IMCA Modified and IMCA Sunoco Stock Car features.
The fifth-starting Ricketts worked his way to the front just after midway in the Sprint Car 20-lap­per. Payne chased him to the checkers, followed by Kyle Jones, White and Marcus Thomas.
"I couldn't have asked for any better start to the season than this," Ricketts said. "I found good bite on the low side and was able to drive past him (White). Lapped traffic also helped."
"There was an issue later going into three when I got held up by another car and Logan got ahead of me," he added, "but I was able to get back around him by the time we got to the start-finish line."
He'll chase another national championship as a regular in both the Sprint Series of Texas and the Elite Non-Wing Series, with starts as his schedule permits at KSP, Devil's Bowl Speedway and RPM Speedway in Crandall.
Bransom won from ninth starting in the Modified feature and from 11th in the Stock Car main.
His Modified victory came handily ahead of John Gober and Anthony Roth. After working out electri­cal problems that limited him to just a couple practice laps on Friday, he won in his first night out in a new Terminator ride.
"I'd won Modified, SportMod and Stock Car features on the same night before," said Bransom, "but this is the first time in a while that I've won two features on the same night."
Modified runner-up was John Gober and Anthony Roth was third. Darryl Campbell was second and Damon Hammond third in the Stock Car main.
Completing the list of Saturday winners was Dustin Sprouse in the Scoggin-Dickey Parts Center Southern SportMod feature. Nick Clinkenbeard and Jeffrey Abbey rounded out the top three.
Sunday winners were William Gould in the Modifieds, Kirk Martin in the Stocks and Abbey in the Southern SportMods.
Chris Bragg was the runner-up and Eric Tomlinson took third in the Modified main. Westin Abbey and Ryan Powers chased Martin across the stripe and Jon White Jr. and Greg Frazer completed the SportMod top three.
Feb. 27 Feature Results
Sprint Cars – 1. John Ricketts; 2. Logan Payne; 3. Kyle Jones; 4. George White; 5. Marcus Thomas; 6. Colby Estes; 7. Chad Wilson; 8. Robert Vetter; 9. Payton Williams; 10. Lucas Scherb; 11. Bryan Debrick; 12. Shane Gloeckler; 13. Tony Dowd; 14. Corby Scherb; 15. Chase Parson; 16. Tommy Hall; 17. Claud Estes; 18. Nicholas Littlejohn; 19. Mark Klis Jr.; 20. Tucker Doughty; 21. Logan Scherb; 22. Jarrett Lucito; 23. Blake Baccus; 24. Michelle Melton; 25. Justin Melton.
Modifieds – 1. Jay Bransom; 2. John Gober; 3. Anthony Roth; 4. Kevin Green; 5. Eric Tomlinson; 6. Darryl Campbell; 7. Chris Bragg; 8. William Gould; 9. Kevin Sustaire; 10. Chad Melton; 11. Matt Guillaume; 12. Michael Ables; 13. Brandon Hood; 14. George White; 15. Damon Hammond; 16. Robert McKenney; 17. Justin McCoy; 18. Tommy Williams; 19. Joe Spillman; 20. Tom Earl III; 21. Da­vid Cook; 22. Mark Patterson; 23. Jeremy Montgomery.
Stock Cars – 1. Jay Bransom; 2. Darryl Campbell; 3. Damon Hammond; 4. Kirk Martin; 5. Steven Orebaugh; 6. Ryan Powers; 7. Eric Jones; 8. Justin Roberts; 9. Joe O'Bryan; 10. Westin Abbey; 11. Randy Killen; 12. Roman Garcia; 13. Billy Wade; 14. Todd Ludwick; 15. Michael Villanueva Sr.; 16. Ryan Zilka; 17. Thomas Hall Sr.; 18. Tobie Talk; 19. Jason Riddle; 20. Michael Villanueva Jr.; 21. Zach Spillman; 22. Tom Killen; 23. April Phillips; 24. Craig Moss; 25. Colton Obregon; 26. Drew Garcia.
Southern SportMods – 1. Dustin Sprouse; 2. Nick Clinkenbeard; 3. Jeffrey Abbey; 4. Bo Day; 5. Michael Newhard; 6. Cory Williams; 7. T.J. Green; 8. Frank Lackey; 9. James Skinner; 10. James McCreery; 11. Jake Upchurch; 12. Rickey Haney; 13. Chris Florio; 14. Albert McCall; 15. Ronnie Welborn; 16. Taylor Florio; 17. Walter Hamilton; 18. Justin Nabors; 19. Jeff Honea; 20. Randall Zilka; 21. Greg Frazer; 22. Bobby Ortega; 23. Jon White Jr.; 24. Austin Godding.
Feb. 28 Feature Results
Modifieds – 1. Gould; 2. Bragg; 3. Tomlinson; 4. Gober; 5. Sustaire; 6. Guillaume; 7. Bransom; 8. McCoy; 9. Mitch McMillin; 10. Earl; 11. Jeff Hoegh; 12. White; 13. Spillman; 14. Ables; 15. Camp­bell; 16. Patterson; 17. Hammond; 18. Jimmy Dixon; 19. Erik Miles; 20. Burt Wilten; 21. Dane Buring­ton; 22. Green; 23. Austin Carter; 24. Hood; 25. Williams; 26. Roth; 27. Marvin Skinner; 28. Montgomery; 29. Martin.
Stock Cars – 1. Martin; 2. Abbey; 3. Powers; 4. Bransom; 5. Randy Killen; 6. Jones; 7. Orebaugh; 8. Justin McCullough; 9. Garcia; 10. Tom Killen; 11. Hall; 12. Talk; 13. Ludwick; 14. O'Bryan; 15. Phillips; 16. Spillman; 17. Zilka; 18. Wade; 19. Michael Villanueva Jr.; 20. Ham­mond; 21. Campbell; 22. Obregon; 23. Michael Villanueva Sr.
Southern SportMods – 1. Abbey; 2. White; 3. Frazer; 4. Green; 5. Cory Williams; 6. Nabors; 7. Jason Ilich; 8. Welborn; 9. Zilka; 10. Jeremy Carter; 11. Lackey; 12. Gooding; 13. Haney; 14. Bret Young; 15. Eddie Leitner; 16. Clinkenbeard; 17. Upchurch; 18. Jacob Pirkle; 19. Brandon Wil­liams; 20. Joey Stephens; 21. Greg Ralls; 22. Larry Adams; 23. Wesley Cummings.