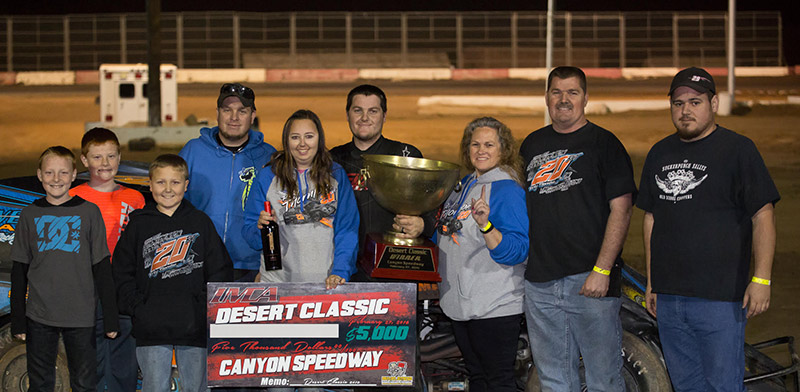 By Lonnie Wheatley
PEORIA, Ariz. (Feb. 27) – Another Arizona Differential Desert Classic victory put another $5,000 in Ricky Thornton Jr.'s travel account Saturday night.
Thornton was first when all 40 laps of the main event for Xtreme Motor Sports IMCA Modifieds were scored at Canyon Speedway Park.
Ryan Ruter was briefly in front following a lap 29 restart but Thornton regained the lead, worked his way through heavy lapped traffic and beat Ruter to the checkers by most of eight car lengths.
"I didn't get a good restart but luckily I was able to drive by him out of (turn) two," Thornton said. "I knew he wouldn't be able to keep momentum going down the back straightaway."
Also the winner of Friday's second Twin Twenty qualifying feature, jumped into the lead at the outset of the Saturday show. The first of just two yellows in that contest came on lap 22 and Thornton answered with his fastest lap time on the following circuit.
Tim Ward, Ryan Gaylord and Cody Laney, winner of the first Friday qualifier, rounded out the top five in the 28th annual special. Just three months and 20 days separated Thornton's Desert Clas­sic victories at Peoria.
"Last November I ran the bottom in one and two and the top in three and four," he noted. "This year it was all around the top."
"This $5,000 will definitely help pay for the trip coming up," Thornton added.
Already a nine-time winner this season, the Fast Shafts All-Star Invitational candidate will con­tinue his quest for career win number 100 in the division while racing in the Midwest most of the season. Thornton's schedule includes all four nights of the upcoming Frostbuster Series.
Feature results – 1. Ricky Thornton Jr.; 2. Ryan Ruter; 3. Tim Ward; 4. Ryan Gaylord; 5. Cody Laney; 6. R.C. Whitwell; 7. Mike Jergens; 8. Lance Mari; 9. Hunter Marriott; 10. Chaz Baca Jr.; 11. Alex Stanford; 12. Brian Schultz; 13. Zane DeVilbiss; 14. Jason Noll; 15. Mike Wedelstadt; 16. Zack Madrid; 17. Mike Strobl; 18. Steve Stultz; 19. Garrett Funk; 20. Jeff Stafford; 21. Garth Du­shanek; 22. Robert Kettner; 23. Guy Norton; 24. Bubba Stafford.