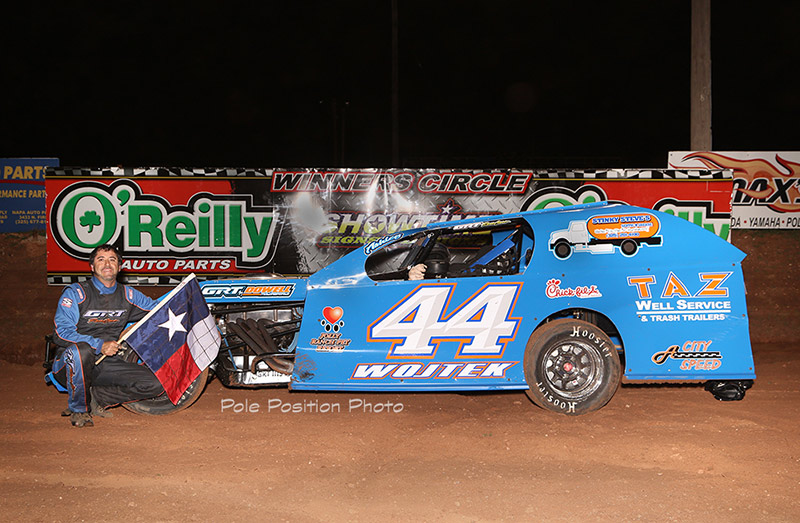 ABILENE, Texas (Feb. 19-20) – Fred Wojtek broke the ice with his career first Ice Breaker win Friday at Abilene Speedway.
Wojtek moved from eighth to fourth for an early restart, took the lead on the fifth circuit and led to the end of the Xtreme Motor Sports IMCA Modified 20-lapper. A single caution interrupted the second half of the race as he pulled away to win by half a straightaway.
"Finally … it was a good start to the season," said Wojtek, $700 richer for his efforts. "The last two years I've been second in points here. Hopefully, this year I can get the championship."
Cody Davis, Chris Bragg, Justin Cass and Justin Shaw completed the top five.
Matt Guillaume became the Saturday Modified winner when the apparent first- and second-place cars were disqualified in post-race tech, both for illegal brake systems.
"We've had a lot of luck at the Ice Breaker and won the Stock Car race (the Ryan Bard Memorial Southern Challenge) here last fall," Guillaume said. "We were gifted this one."
Scored second through fifth were Charles Brewer, Chris Elliott, Chad Hertel and Neal DeBord.
James Skinner and Bradley Poor each took home $600 for their Scoggin-Dickey Parts Center Southern SportMod victories. While Skinner was the winner in his first-ever visit to Abilene, Poor took the top spot on the podium for the fourth time.
Much of the excitement on Friday came early on as the pole starter spun and the third-starting Skinner bounced off an infield tire.
When the green flag returned, Skinner led all 20 laps while Poor and Matt Muller tried to stay close.
"I kind of ran my line and kept on trucking to the end," he said. "I had clean air pretty much the whole race."
Poor was in the right place at the right time on Saturday, running second when leader Shane Priddy lost the handle. He drove around Priddy and led the last handful of laps.
"A lot of lucky things happened," said Poor, also an Ice Breaker winner in 2007, 2011 and last February. "I probably had a third place car. It definitely wasn't the fastest car out there but sometimes it's better to be lucky than good."
David Sanford was the runner-up and Cory Williams captured third on Saturday.
David Phillips was a double winner in the IMCA Sunoco Stock Car division.
His $400 win on Fri­day came from the inside row five start with Aaron Corley and Eric Jones in tow. Phillip drew a rare pole on Saturday and checked out on everybody Saturday, with Jason Batt a distant second and Billy Wade third.
"The track was pretty good for me in the middle on Friday. That's where I passed the most cars," said Phillips, who was in the lead halfway through the 20-lapper and negotiated lapped traffic late in the contest. "The bottom was the preferred line on Saturday. I moved up to the middle entering (turns) three and four."
He won once previously at the Ice Breaker, in 2012.
Adam Armstrong posted a pair of $250 wins in the IMCA Sunoco Hobby Stocks features. His Friday checkers were his career 81st in the division but came unlike any of the preceding 80.
Armstrong led every circuit despite spinning into the infield following a dustup with a lapped car. He got back on the track without missing a beat, winning ahead of Gerald Spalding Jr. and Michael Maraschick.
"That was definitely a first for me," Armstrong said following the caution-slowed contest. "The track was really good both nights. It was smooth and slick. You could run low or you could run all the way at the top."
He won from the outside row three starting spot on Saturday. Armstrong gained the lead on the second lap and beat Cory Adam and Ger­ald Spalding Sr. across the stripe.
Both wins came in a Jetstrong Chassis he designed and built. Armstrong added the 2016 hardware to Ice Breaker to trophies from 2011, 2012, 2014 and 2015. 
Feb. 19 Feature Results
Modifieds – 1. Fred Wojtek; 2. Cory Davis; 3. Chris Bragg; 4. Justin Cass; 5. Justin Shaw; 6. Matt Guillaume; 7. David Davis; 8. Charles Brewer; 9. Mark Patterson; 10. Vince Ogle; 11. Danny Hogue; 12. Beau Davis; 13. Caleb Stone; 14. Jimmy Tidwell; 15. Josh McGaha; 16. Tommy Fain; 17. Neal DeBord; 18. Jason Batt; 19. Donald Lang; 20. Kelly Allen.
Stock Cars – 1. David Phillips; 2. Aaron Corley; 3. Eric Jones; 4. Dan Mackenthun; 5. Billy Wade; 6. Jordan Lathram; 7. Cary White; 8. Jason Adcock; 9. Randy Killen; 10. Ja­son Batt; 11. Joe O'Bryan; 12. Gregory Gutt; 13. Hunter Russell; 14. Jody York; 15. Willie Free; 16. Mart Wampler; 17. Westin Abbey; 18. Aaron Patterson; 19. Michael Tennison; 20. Brandon Hertel.
Southern SportMods – 1. James Skinner; 2. Bradley Poor; 3. Matt Mueller; 4. Cory Williams; 5. Jeffry Abbey; 6. Dustin Robinson; 7. Shane Priddy; 8. Travis Johnson; 9. Dakota Moore; 10. Terry Owen; 11. Billie Bivens; 12. Bret Bush; 13. Johnny Brazell; 14. Lodi Mitchell; 15. Nathan Arms; 16. David Sanford; 17. Kyle Single­ton; 18. Carson Burnett; 19. Tyler Fain; 20. Kyle Wisdom.
Hobby Stocks – 1. Adam Armstrong; 2. Gerald Spalding Jr.; 3. Michael Maraschick; 4. Wesley Warren; 5. Clint Day; 6. Ryan Wilkerson; 7. Gerald Spalding Sr.; 8. Jeremy Oliver; 9. Wesley Mayer; 10. Michaela Scott; 11. Christian Hunt; 12. Tommy Phillips; 13. Na­than Whalley; 14. Ed Daley; 15. Cory Adams; 16. Travis McLemore; 17. Shawn Wright; 18. Colby Dello; 19. Mike Watkins.
Feb. 20 Feature Results
Modifieds – 1. Guillaume; 2. Brewer; 3. Chris Elliott; 4. Chad Hertel; 5. DeBord; 6. Bragg; 7. Wojtek; 8. Hogue; 9. Stone; 10. Shaw; 11. Joe Spillman; 12. Tidwell; 13. Matthew Ratzlaff; 14. Beau Davis; 15. McGaha; 16. Fain; 17. Patterson; 18. Robert Liese Jr.
Stock Cars – 1. Phillips; 2. Batt; 3. Wade; 4. York; 5. Hertel; 6. O'Bryan; 7. Jim Thorp; 8. White; 9. Adcock; 10. Russell; 11. Mackenthun; 12. Mike Easterwood; 13. Jack Miles; 14. Corley; 15. Abbey; 16. Jones; 17. Lathram; 18. Will Poston; 19. Alex Bannowsky; 20. Wampler.
Southern SportMods – 1. Poor; 2. Sanford; 3. Williams; 4. Abbey; 5. Gary Underwood; 6. Owen; 7. Wisdom; 8. Mitchell; 9. Arms; 10. Brandon Spanjer; 11. Bush; 12. Bivens; 13. Priddy; 14. Danny Rister; 15. Johnson; 16. Robinson; 17. Travis Graves; 18. Moore; 19. Mueller; 20. Michael Bowen.
Hobby Stocks – 1. Armstrong; 2. Adams; 3. Gerald Spalding Sr.; 4. Wilkerson; 5. Aaron Nor­man; 6. Oliver; 7. Warren; 8. Mayer; 9. McLemore; 10. Gerald Spalding Jr.; 11. Day; 12. Scott; 13. Hunt; 14. Dello; 15. Watkins; 16. Phillips; 17. Maraschick; 18. Ed Daley; 19. Wright.