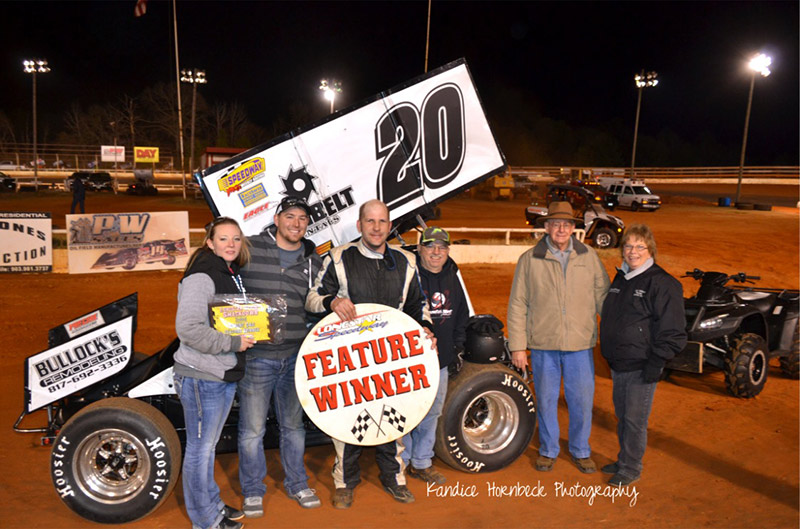 By Darin Short
KILGORE, Texas (Feb. 15) – Running in lapped traffic much of the way kept Saturday's Sprint Smackdown at Lone Star Speedway a challenge for Chad Wilson.
That contact with the backstretch wall at midway made the season-opening event for IMCA EMI RaceSaver Sprint Cars even more interesting for the defending national champion.
Wilson started from the 25-lapper from the pole, lost the lead briefly to Marcus Thomas and then rallied to take the $1,200 checkers, winning the Smackdown for the second straight year.
"Getting this win was a really good way for us to start the season," he said. "We got into lapped traffic really quick early in the race but it was easy to pass the first 12 laps. After the caution it wasn't as easy. The track started to take rubber and it was a lot harder to get through lapped traf­fic."
The only caution of the contest came on the 15th circuit. Wilson had already worked his way back to the front at that point, despite a nasty brush with the wall coming out of turn two.
"I'd slid up, got into the wall and damaged my right rear wheel shortly before Marcus passed me," he said. "I thought the tire would go flat with how hard I hit the stupid thing."
His margin of victory over Thomas was two car lengths.
Junior Jenkins braved the higher line in his flawless run to third while 18th starting Tim Crawley was fourth.
Josh Hawkins rounded out the top five. Logan Scherb had raced all the way to second before a late spin, then wheeled his way all the way back to sixth.
Feature results – 1. Chad Wilson; 2. Marcus Thomas; 3. Junior Jenkins; 4. Tim Crawley; 5. Josh Hawkins; 6. Logan Scherb; 7. Bryan Debrick; 8. Dale Weston; 9. Weldon Buford; 10. Tucker Doughty; 11. Dustin Woods; 12. Robert Vetter; 13. Larry Howrey; 14. Martin Edwards; 15. Regan Hawkins; 16. Neil McCarl; 17. Ian Looper; 18. Butch David; 19. Steve Holland; 20. Alan Myers; 21. Tommy Hall; 22. Claud Estes Jr.; 23. D.J. Estes; 24. Josh McCord.