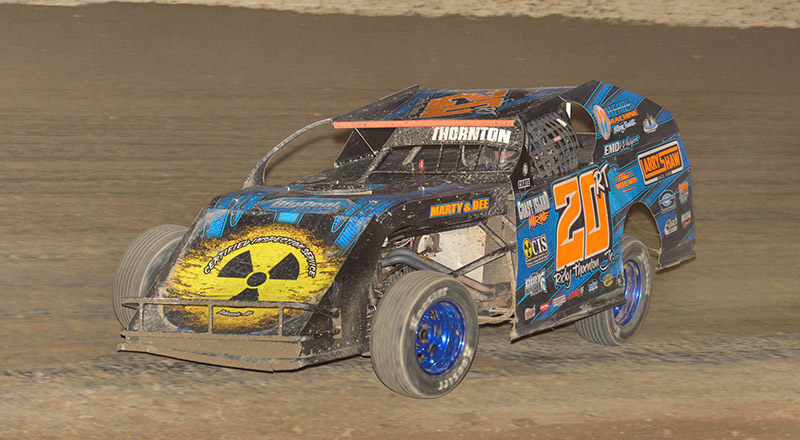 SOMERTON, Ariz. (Feb. 12-13) – The Ricky Thornton Jr. express rolled on Saturday at Cocopah Speedway.
Thornton raced from 13th starting to win the final Winter Nationals feature for Xtreme Motor Sports IMCA Modifieds.
Runner-up was Mike Jergens. Lance Mari, Ryan McDaniel and 21st starting Hunter Marriott rounded out the top five.
The $3,000 win was Thornton's fifth of the season, all of them coming at Fast Shafts All-Star Invita­tional ballot qualifying events. He's now won 83 times in his IMCA career, tied for 66th on the all-time list for the Modified division.
Total car counts topped 100 both Friday and Saturday, with 60-plus Modifieds from 14 states and Canada entered each night.
After starting Winter Nationals with back-to-back third-place finishes, Nebraska's Justin Zeitner won a second straight Modified main event, and another $1,000, on Friday.
Zeitner started from the pole and led all 25 laps of a caution-free contest. Dylan Smith, himself no stranger to victory lane at Cocopah, was second while Thornton was third.
Cody Laney and Ryan Gaylord were scored next as the top five finishing positions were filled by drivers from different states.
"I had to protect the bottom. Dylan and Ricky were right there if I messed up," said Zeitner, who ran in lapped traffic before taking the checkers. "When I left home I had the goal of making the show every night and we've drawn pretty good since we got here. I'm going to keep riding the wave we're on."
Andrew Altenburg beat Manny Baldiviez and Greg Wichman to the stripe in the Friday Stock Car feature. Joe White was the winner on Saturday, in front of Jimmy Davy and Baldiviez.
Scott Shaw, Jim Robinson and Brent Wofford were the Hobby Stock top three on Friday. Robin­son topped the Saturday show ahead of Aaron Norman while Wofford repeated his third place run.
Bakersfield, Calif., drivers filled the Northern SportMod podium on Friday, with Wayne Dotson winning in front of Gary Dutton and Nick Spainhoward. Levi Kiefer, another Bakersfield hotshoe, was the Saturday winner. Spainhoward was second and Chris Toth took third.
Feb. 12 Feature Results
Modifieds – 1. Justin Zeitner, LaVista, Neb.; 2. Dylan Smith, Osceola, Neb.; 3. Ricky Thornton Jr., Chandler; 4. Cody Laney, Torrance, Calif.; 5. Ryan Gaylord, Lakewood, Colo.; 6. Ethan Dot­son, Bakersfield, Calif.; 7. Hunter Marriott, Brookfield, Mo.; 8. Tim Ward, Chandler; 9. Mike Jergens, Plover, Iowa; 10. R.C. Whitwell, Tucson; 11. Lance Mari, Imperial, Calif.; 12. Chaz Baca, Apache Junction; 13. Paul Stone, Winton; 14. Jason Noll, Peoria; 15. Travis Peery, Williston, N.D.; 16. Nick Deal, Walnut, Iowa; 17. Jake Holland, Reno, Nev.; 18. David Murray Jr., Oberlin, Kan; 19. Ryan McDaniel, Olivehurst, Calif.; 20. Russell Allen, Brawley, Calif.; 21. William Gould, Calera, Okla.; 22. Aaron Spangler, Dove Creek, Colo.; 23. Brian Mullen, Seymour, Wis.; 24. Ja­son Wolla, Ray, N.D.
Stock Cars – 1. Andrew Altenburg, Truman, Minn.; 2. Manny Baldiviez, Yuma; 3. Greg Wichman, Bon­duel, Wis.; 4. Rob Krull, Shiocton, Wis.; 5. Joe White, Oconto Falls, Wis.; 6. Joe Haines, Yuma; 7. Jody York, Lubbock, Texas; 8. Steve Kihle, Williston, N.D.; 9. Tony Hill, Cortez, Colo.; 10. Aaron Corley, Meadow, Texas; 11. Jimmy Davy, Yuma; 12. Thomas Daffern, Brawley, Calif.; 13. Joey Teague, Brawley, Calif.; 14. Steven Daffern, Brawley, Calif.; 15. Race Fisher, Dove Creek, Colo.; 16. Joey Essary, Joey.
Hobby Stocks – 1. Scott Shaw, Red Deer, Alb.; 2. Jim Robinson, Yuma; 3. Brent Wofford, Yuma; 4. Bob Horton, Yuma; 5. Jason Beshears, Yuma; 6. Aaron Norman, Carlsbad, N.M.; 7. Francisco Cordova, Somerton; 8. Harvey Quinn, Yuma; 9. Craig Ebers, Yuma.
Northern SportMods – 1. Wayne Dotson, Bakersfield, Calif.; 2. Gary Dutton, Bakersfield, Calif.; 3. Nick Spainhoward, Bakersfield, Calif.; 4. Adolfo Noriega, Yuma; 5. Thomas Harrison, Somer­ton; 6. Chris Toth, Holtville, Calif.; 7. Timmy Reese, Yuma; 8. Kyle Smith, Yuma; 9. Schannon Mohamed, Brawley, Calif.; 10. Dennis Gates, Claypool; 11. Cody Daffern, Brawley, Calif.; 12. Ron Pegues, Brawley, Calif.; 13. Sean Callens, Brawley, Calif.; 14. Corey Clayton, El Centro, Calif.; 15. James Dupre, Yuma; 16. Levi Kiefer, Bakersfield, Calif.; 17. Austin Frye, Taft, Calif.; 18. Co­rey Hemphill, Yuma; 19. Joshua Cordova, Somerton; 20. Miles Morris, Yuma.
Feb. 13 Feature Results
Modifieds – 1. Thornton; 2. Jergens; 3. Mari; 4. McDaniel; 5. Marriott; 6. Laney; 7. Noll; 8. Deal; 9. Zeitner; 10. Gaylord; 11. Nick O'Neil, Tucson; 12. Mullen; 13. Murray; 14. Holland; 15. Allen; 16. Austin Kuehl, Cave Creek; 17. Jerry Phillips, Galva, Kan.; 18. Troy Heupel, Williston, N.D.; 19. Spangler; 20. Danny Lauer, Nipomo, Calif.; 21. Wolla; 22. Dotson; 23. Rusty Corneliusen, Dickin­son, N.D.; 24. Gould.
Stock Cars – 1. White; 2. Davy; 3. Baldiviez; 4. Wichman; 5. York; 6. Hill; 7. Krull; 8. Haines; 9. Steven Daffern; 10. Corley; 11. Kihle; 12 Altenburg; 13. Thomas Daffern; 14. Fisher.
Hobby Stocks – 1. Robinson; 2. Norman; 3. Wofford; 4. Beshears; 5. Cordova; 6. Shaw; 7. Quinn; 8. Horton.
Northern SportMods – 1. Kiefer; 2. Spainhoward; 3. Toth; 4. Dotson; 5. Dutton; 6. Morris; 7. Reese; 8. Noriega; 9. Smith; 10. Cordova; 11. Harrison; 12. Clayton; 13. Pegues; 14. Daffern; 15. Gates.