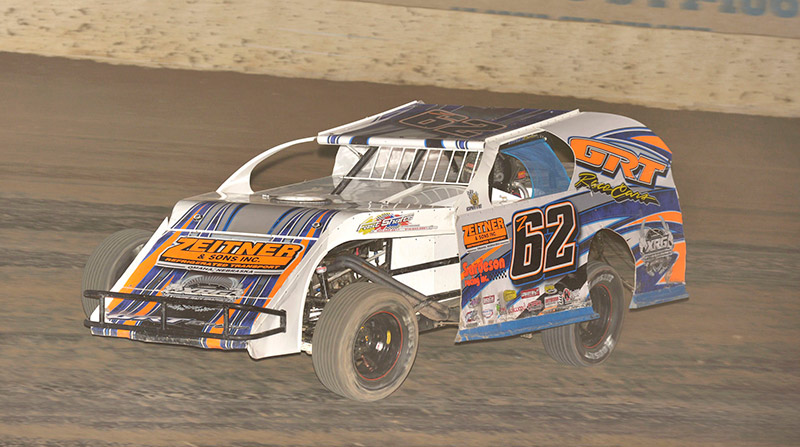 SOMERTON, Ariz. (Feb. 9) ­– Nebraskan Justin Zeitner was the Xtreme Motor Sports IMCA Modi­fied main event winner at Cocopah Speedway's midweek Winter Nationals show.
Zeitner captured the $1,000 checkers from his outside row one start Tuesday night, taking the lead on the first of 25 circuits and staying in front through a series of cautions.
The first-time feature winner and new Fast Shafts All-Star ballot qualifier took the checkers ahead of Tim Ward, Nick Deal, Tony Wedelstadt and R.C. Whit­well.
"I got a pretty good jump at the start and it was smooth sailing," said Zeitner, who won in the GRT ride that was displayed on Manufacturers' Row at last September's IMCA Speedway Motors Super Nationals fueled by Casey's. "It's feels pretty good to have won that race and it's pretty cool to be on the All-Star ballot."
"I'm proud of what I did but it was more for the people back home," he continued. "I've got a lot of people behind me and it was neat to see all the posts on Facebook."
Total car count for round three of Winter Nationals was nearly 90 with 49 Modifieds entered from 13 states and Canada. Ten states were represented in the feature.
Pole starter Jon Courchaine was the IMCA Sunoco Stock Car winner, with eighth starting Andrew Altenburg and Greg Wichman in tow.
Levi Kiefer raced from seventh starting to win the Karl Chevrolet Northern SportMod feature. Aus­tin Frye was second and Chris Toth third.
Bob Horton collected his second IMCA Sunoco Hobby Stock win in three Winter Nationals starts. Scott Shaw and Jason Beshears rounded out the top three.
All four divisions return to Friday and Saturday, Feb. 12 and 13 cards at Cocopah. Modifieds vie for another $1,000 top check on Friday and for $3,000 on Saturday.
Feature Results
Modifieds – 1. Justin Zeitner; 2. Tim Ward; 3. Nick Deal; 4. Tony Wedelstadt; 5. R.C. Whitwell; 6. Mike Jergens; 7. Ethan Dotson; 8. Brett Simala; 9. Shawn Strand; 10. Lance Mari; 11. Brian Mul­len; 12. Dylan Smith; 13. Johnny Sheets; 14. Scott Sluka; 15. Steve McCollough; 16. Jerry Phil­lips; 17. Marlyn Seidler; 18. Anthony Roth; 19. Bobby Horton; 20. Hunter Marriott; 21. Paul Stone; 22. Ricky Thornton Jr.; 23. Brian Schultz; 24. David Murray Jr.
Stock Cars – 1. Jon Courchaine; 2. Andrew Altenburg; 3. Greg Wichman; 4. Tony Hill; 5. Race Fisher; 6. Manny Baldiviez; 7. Jimmy Davy; 8. Jody York; 9. Steven Kihle; 10. Steven Daffern; 11. Joe Haines; 12. Rick Hibbard; 13. Thomas Daffern; 14. Rob Krull; 15. Joey Essary; 16. Aaron Corley.
Northern SportMods – 1. Levi Kiefer; 2. Austin Frye; 3. Chris Toth; 4. Timmy Reese; 5. Kyle Smith; 6. Gary Dutton; 7. Miles Morris; 8. Corey Clayton; 9. Adolfo Noreiga; 10. Thomas Harrison; 11. Dennis Gates; 12. Crystal Hemphill; 13. James Dupre; 14. Wayne Dotson; 15. Joshua Cor­dova.
Hobby Stocks – 1. Bob Horton; 2. Scott Shaw; 3. Jason Beshears; 4. Aaron Norman; 5. Harvey Quinn; 6. Leonard Manos; 7. Brent Wofford; 8. Francisco Cordova; 9. Jim Robinson.