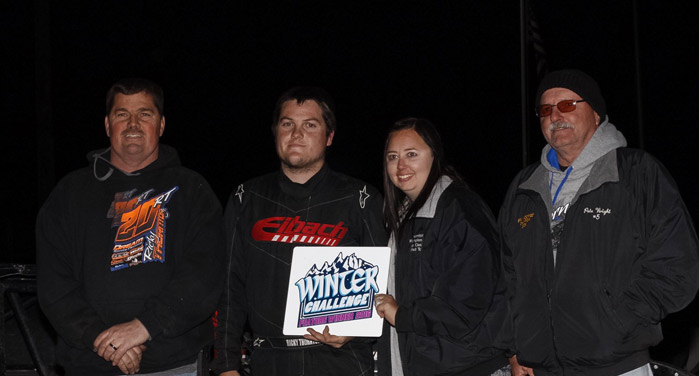 By Lonnie Wheatley
PEORIA, Ariz. (Jan. 29) – Ricky Thornton Jr. maintained the hottest of Winter Challenge 2016 hands on Friday night, posting his third $1,250 Xtreme Motor Sports IMCA Modified triumph in four rounds of competition atop the 1/3-mile Canyon Speedway Park clay oval.
Racing from the front row, Thornton set the pace all the way for the second race in a row. Round Two winner Hunter Marriott tried to chase down Thornton to match up the score at two apiece but had to settle for second.
Joey Moriarty, 16th starting Tim Ward and 18th starting Brian Schultz rounded out the top five in the 25-lapper.
Feature results­– 1. Ricky Thornton Jr.; 2. Hunter Marriott; 3. Joey Moriarty; 4. Tim Ward; 5. Brian Schultz; 6. Paul Stone; 7. Jason Noll; 8. Ryan Gaylord; 9. Curt Lund; 10. Zack Madrid; 11. Josh Rogotzke; 12. Guy Norton; 13. Jesse Rogotzke; 14. Chaz Baca Jr.; 15. Steve Stultz; 16. Mike Martin; 17. Brent Schlafmann; 18. Garth Dushanek; 19. Justin Miller; 20. Lance Mari; 21. Robert Sawyer II; 22. Anthony Roth; 23. Bubba Stafford; 24. Mark Stewart.