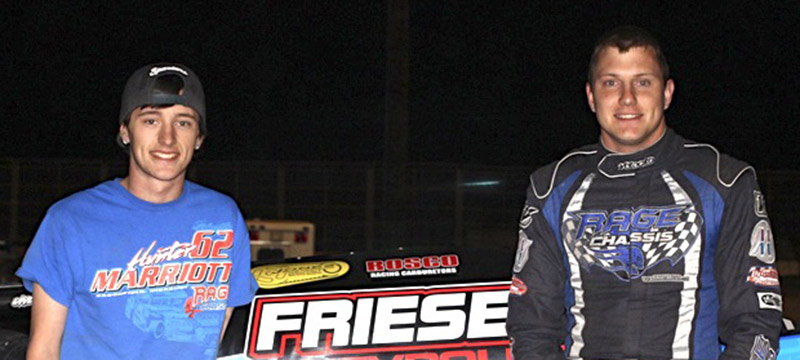 By Lonnie Wheatley
PEORIA, Ariz. (Jan. 30) – Hunter Marriott brought the curtains down on Canyon Speedway Park's Winter Challenge with an impressive drive to victory lane in Saturday night's fifth and final event for Xtreme Motor Sports IMCA Modifieds.
Marriott worked past Ryan Gaylord for the lead five laps into the $1,250 to win main event and then fought off Ricky Thornton Jr. the rest of the way to take his second Winter Challenge victory.
"It has been fun racing with Ricky out here," Marriott commented in victory lane.  "He pushes us so hard here, if it weren't for him I don't that we would have to work as hard as we have this week."
Marriott made a masterful move through a gaggle of lapped cars a handful of laps before the check­ered flag to secure the win with Thornton settling for second. Paul Stone, Gaylord and An­thony Roth rounded out the top five.
Canyon Speedway Park fires back to life with the 28th annual Desert Classic on Feb. 26-27. Top prize for the IMCA Modifieds is $5,000.
Feature results ­– 1. Hunter Marriott; 2. Ricky Thornton Jr.; 3. Paul Stone; 4. Ryan Gaylord; 5. Anthony Roth; 6. Tim Ward; 7. Jason Noll; 8. Curt Lund; 9. Robert Sawyer; 10. Joey Moriarty; 11. Chaz Baca Jr.; 12. Brent Schlafmann; 13. Lance Mari; 14. Josh Rogotzke; 15. Guy Norton; 16. Mark Stewart; 17. Zack Madrid; 18. Garth Dushanek; 19. Nate Warren; 20. Jesse Rogotzke; 21. Bubba Stafford; 22. Steve Stultz; 23. Justin Miller; 24. Chase Alvez.