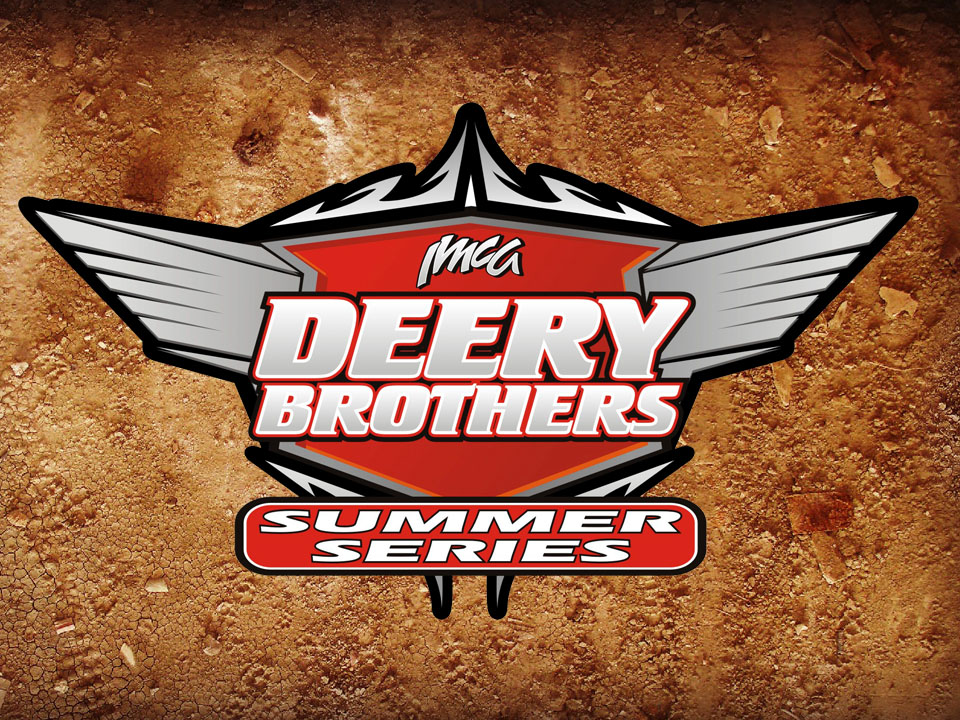 VINTON, Iowa – The motto for the 2016 Deery Brothers Summer Series is More Money For More Drivers More Often.
Beginning with the $5,000 to win opening night show on Friday, April 8 at Davenport Speedway, the 30th annual tour for IMCA Late Models totes a new payout structure for each of its 17 main events, a new non-qualifier feature at races with at least 32 entries and a point fund payout half­way through the season.
The top check of the tour is $7,500, to be presented on night two of the Sept. 2-3 Yankee Dirt Track Classic at Farley Speedway. Winners also go home with bigger shares of the purse from races Thursday, Sept. 8 during the IMCA Speedway Motors Super Nationals fueled by Casey's at Boone Speedway and the Friday and Saturday, Sept. 23-24 Liberty 100 Weekend finale at West Liberty Raceway.
"We are really excited about the upcoming Deery Brothers Summer Series. It is our 25th season of partnership with the Deery Brothers Automotive Group and what a great way to start that off but to be back in Davenport with a $5,000 to win show," IMCA Marketing Director Kevin Yoder said. "To close out with the $7,500 to win Yankee in Farley, potentially $3,500 to win at Super Nationals in Boone and $4,000 at the Liberty 100, the table is set for some outstanding events from start to finish in 2016."
Other main events will pay $2,000 to win with pay increased for drivers finishing in the fourth to 23rd positions.
"We based that on feedback from drivers," explained Yoder. "The purse was restructured to pay more money to more drivers in more finishing positions."
Main event qualifiers with perfect attendance will again be eligible for $250 cash drawings cour­tesy of Sunoco Race Fuels.
Those drivers will be eligible for another $250 from Sunoco if they win any of the last eight events. If a driver who is not eligible for the bonus wins, that $250 would be rolled over to the next show.
Malvern Trust and Savings Bank antes up $500 of the purse for non-qualifier Dash for Cash fea­tures. Those 10-lap races will be held just prior to main events.
The winner earns $300 – the same amount paid to the last-place driver in the main – and 24 points, with $250 and 23 points for second, $200 and 22 points for third and $150 and 21 points for fourth.
All other non-qualifiers get $100 and 20 points. There were no other changes in the series' point structure or procedures.
The $18,650 series point fund has been divided in half, with $9,325 paid out based on standings after the ninth event, which would be Wednesday, July 6 at Independence Motor Speedway bar­ring any rainouts and/or reschedulings. The other half would be paid at the national awards ban­quet in November.
Amounts to be paid out each time are $2,500 for first, $1,750 for second, $1,125 for third, $875 for fourth, $750 for fifth, $625 for sixth, $500 for seventh, $450 for eighth, $400 for ninth and $350 for 10th.
All drivers with season-long perfect attendance are guaranteed $350 regardless of their standing in the final points. Both payouts will be pro-rated for drivers with less than perfect attendance.
Entry fee for each Deery event will be $50. Maximum pit pass fee will be $30.
Justin Kay of Wheatland is the two-time defending series champion. Darrel DeFrance of Mar­shalltown has competed at every event in series history, a streak that now reaches 451 races.
"We've got some great sponsorship programs in place again this year. Casey's General Stores and Ideal Ready Mix are back on board with their high profile redraw and Ironman Challenge pro­grams and the addition of The Official Bank of Dirt Track Racing in Malvern is really something new that racers and fans will enjoy," Yoder said. "We can't wait for the snow to melt so we can get back on the track."
2016 Deery Brothers Summer Series Schedule
Friday, April 8 – Davenport Speedway. Saturday, April 9 – West Liberty Raceway. Friday, April 15 – Farley Speedway. Saturday, April 16 – Hamilton County Speedway, Webster City.
Sunday, May 1 – Quad City Speedway, East Moline, Ill. Monday, May 30 – Boone Speedway.
Tuesday, June 7 – Marshalltown Speedway. Tuesday, June 14 – West Liberty Raceway.
Wednesday, July 6 – Independence Motor Speedway. Thursday, July 7 – Kossuth County Speedway, Algona. Sunday, July 10 – Dubuque Speedway. Friday, July 29 – Iowa State Fair­grounds Speedway, Des Moines.
Tuesday, Aug. 2 – Cedar County Raceway, Tipton.
Friday, Sept. 2 – Farley Speedway. Saturday, Sept. 3 – Farley Speedway. Thursday, Sept. 8 – Boone Speedway. Friday and Saturday, Sept. 23 and 24 – West Liberty Raceway.