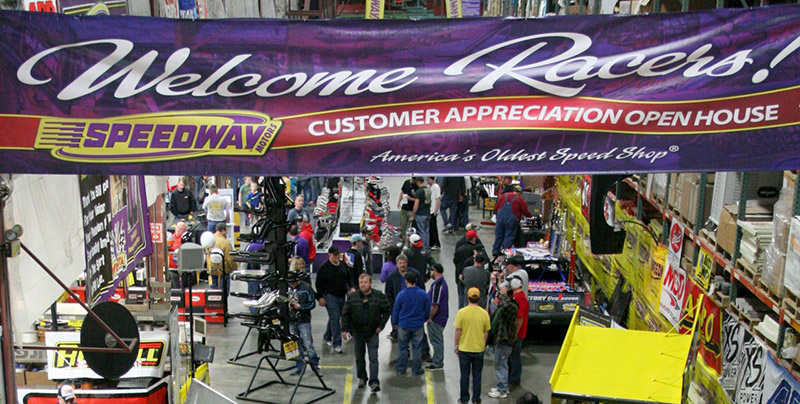 By Damon Lee
LINCOLN, Neb. ­– Speedway Motors is helping racers get a head start on the 2016 season with its fourth annual Racer Appreciation Day on Saturday, Feb. 6, from 1-6 p.m.
In just four years, Speedway Motors' Racer Appreciation Day has become a must-attend event for racers of all types from around the Midwest. The annual event combines a festive, open-house atmosphere with special discounted pricing that draws thousands to Speedway's Lincoln, Neb., corporate campus.
More than just a sale, Racer Appreciation Day transforms a portion of the massive Speedway Motors warehouse into a showroom where hundreds of new and exclusive parts are on display for racers to see, with knowledgeable tech staff available to answer questions.
There's also a wide selection of helmets and safety gear on hand, plus dressing rooms so racers can try on new suits to find the best fit. Speedway's suspension services department is offering four free dyno sessions for shocks, springs or torsion bars, and there will be an expanded garage sale area with a great selection of closeout parts and drastically discounted deals.
To top it all off, guests will be treated to free food and refreshments, hundreds of chances to win great raffle prizes, plus free access to the incredible Smith Collection Museum of American Speed.
"Racer Appreciation Day is a tremendous way for Speedway Motors to show our support for local racers and to let them experience our expert, personalized service firsthand," said Clay Smith, president of Speedway Motors. "We can think of no better way to help kick off a new racing season."
For details on Speedway Motors' 2016 Racer Appreciation Day, plus information on pre-ordering discounted parts, visit Speedwaymotors.com/Info/RAD.
Speedway Motors is America's Oldest Speed Shop® and has made racing safe, fun and affordable for 64 years. Call today toll free at 800 979-0122.