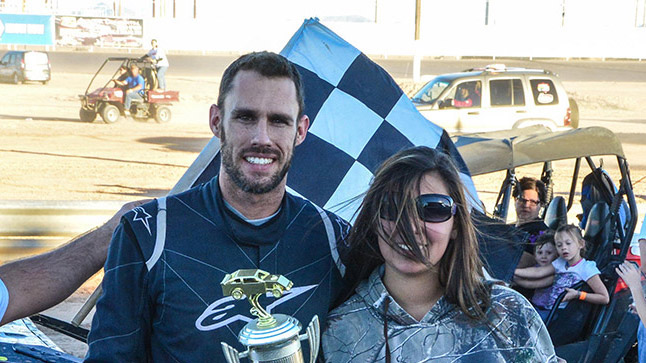 CASA GRANDE, Ariz. (Nov. 21-22) – R.C. Whitwell put on a passing clinic Saturday at Central Arizona Speedway.
The lesson he taught on Sunday was working lapped traffic.
A night after racing from 24th starting to fourth, Whitwell was the flag-to flag leader in the 30-lap, $3,000 to win Desert Thunder Nationals main event for Xtreme Motor Sports IMCA Modifieds.
"I just stayed focused on the lapped cars. I was pretty surprised when I saw the checkers," admitted the new Fast Shafts All-Star Invitational ballot qualifier. "There weren't any cautions and I got into heavy lapped traffic by midway. The race went by pretty fast."
Jeff Taylor cut into Whitwell's advantage in the later circuits and finished five car lengths back. Opening night winner Ricky Thornton Jr., Jason Noll and Lance Mari completed the top five.
Whitwell was driving a Mike Wedelstadt-owned car and finished second to the Wisconsin traveler in his Sunday heat race.
"Redrawing the pole was really key," he said. "I was fortunate to start on the front and have a good car."
Thornton, already on the All-Star ballot, won from inside the front row on Saturday. His $1,000 victory came in front of Todd Shute, Noll, Whitwell and Chaz Baca.
Whitwell didn't complete a lap after breaking early in his heat, then raced from 11th to secure the final transfer spot from his "B" feature.
He did most of his passing in the main event on the bottom line but ran out of laps to catch the speedy Thornton.
More than 50 Modifieds from 11 states were entered in the final IMCA sanctioned special of 2015.
Feature Results
Nov. 21 ­– 1. Ricky Thornton Jr., Chandler; 2. Todd Shute, Des Moines, Iowa; 3. Jason Noll, Peoria; 4. R.C. Whitwell, Tucson, Ariz.; 5. Chaz Baca, Mesa; 6. Spencer Wilson, Minot, N.D.; 7. Shawn Strand, Mandan, N.D.; 8. Don Earven, Globe; 9. Mike Wedelstadt, Fremont, Wis.; 10. Tyler Mecl, Queen Creek; 11. Lance Mari, Imperial, Calif.; 12. Dustin Andersen, Omaha, Neb.; 13. Jeremy Thornton, Tucson, Ariz.; 14. Brad Whitfield, Casa Grande; 15. Mike Martin, Gilbert; 16. Zachary Madrid, Phoenix; 17. John Morris Jr., Queen Creek; 18. Don Hagan, Carefree; 19. Gary Goodrich Jr., Tucson; 20. Tim Ward, Chandler; 21. Eric Center, Mesa; 22. Jeff Taylor, Cave City, Ark.; 23. Mike Stroble, Surprise; 24. Jim Perkins, Williams; 25. Zane DeVilbiss, Farmington, N.M.
Nov. 22 ­– 1. Whitwell; 2. Taylor; 3. Ricky Thornton; 4. Noll; 5. Mari; 6. Center; 7. Wedelstadt; 8. Shute; 9. Wilson; 10. Ward; 11. Baca; 12. Dusin Andersen; 13. Jeremy Thornton; 14. Strand; 15. Brian Schult6z, Casa Grande; 16. DeVilbiss; 17. Chad Andersen, Fort Calhoun, Neb.; 18. Morris; 19. Whitfield; 20. Madrid; 21. Brent Schlafman, Bismarck, N.D.; 22. Chris Caldwell, Avondale; 23. Nick Gann, San Tan; 24. Christy Barnett, El Paso, Texas; 25. Earven.