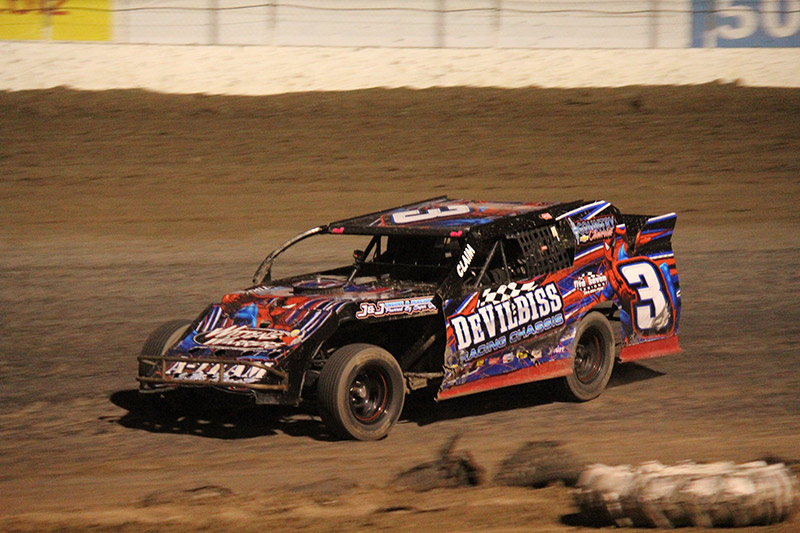 AZTEC, N.M. – Winning the Scoggin-Dickey Parts Center Southern SportMod national championship was the goal Jesse Baldwin set at the start of the season.
Halfway through the year, his goal became just figuring out why he wasn't winning races any more.
"We were plagued with all kinds of problems and it always seemed like they happened while we were leading," said Baldwin, who won 13 of his first 20 starts before seeing a stretch of bad luck that started on July 4 stretch into August. "We put the car up on jack stands and rebuilt it."
Suggestions from a two-time IMCA Modified national champion went into that project.
"Zane DeVilbiss gave me some advice on what changes to make," Baldwin explained. "We practiced at Aztec Speedway, tried some different things and ended up changing our springs, shocks, setup and ride height, and my car got pretty good."
All those changes led to 11 feature wins – including six in a row to end the 2015 campaign – in Baldwin's final 14 starts. He took the top spot in the national point standings from Jeffrey Abbey with just two weekends left in the point season.
"Our goal at the beginning of the season was to win the national championship. Halfway through we looked around and wondered why everybody else had so many points on us," Baldwin said. "We buckled down, raced hard and it all worked out good for us."
His long path to the Southern SportMod division started in local bomber and dwarf car classes. Baldwin piloted a Stock Car, mini-sprint and Modified before moving into a SportMod in 2012.
He had half a dozen sanctioned wins last year, finding considerable success in a new DeVilbiss Chassis.
Along with the national crown, Baldwin won track championships in three states – at his hometown Aztec Speedway in New Mexico, Desert Thunder Raceway in Utah and Montezuma County Fairgrounds Speedway in Colorado, as well as the Allstar Performance Colorado State title this season.
Baldwin counted six wins in 10 Border States Racing Series starts and paced points for that tour as well.
"I always wanted to win the national championship but it was absolutely not anything I thought I could do before this year," he said. "I had never even been a track champion before this season but we set a goal and we reached it."
Baldwin is also the first New Mexico driver, and the first non-Texan, to win the national Southern SportMod crown since it was first awarded in 2005.
"It wasn't easy to take away from those boys," he said.
Starts-43                                                     Wins-24                                                        Additional Top Fives-14
HIS CREW: Wife Erica, son J.J., parents Richard and Debbie, brothers B and Ricky, uncle Dwayne Dixon, Jay Hanks, Bub and Mandy Hughes, and Zane and Nick DeVilbiss.
HIS SPONSORS: DeVilbiss Racing Chassis, Quality Tire, A Team Auto Parts, Freedom Well Service, Freedom Entertainment and Shocked by Zippy, all of Farmington; John Hanks and J & J Engine and Mark Shark Racing, both of Aztec; Eddie Tabor and Rhino Rear Ends of Mission, Texas; Goofy Tools Tire Machines o Phoenix, Ariz.; Jeff Moore and Five1Seven Designs of Whitney, Texas; Brandon Buhler and TCC Carbs of Walker, La.; and EngineQuest of Las Vegas, Nev.