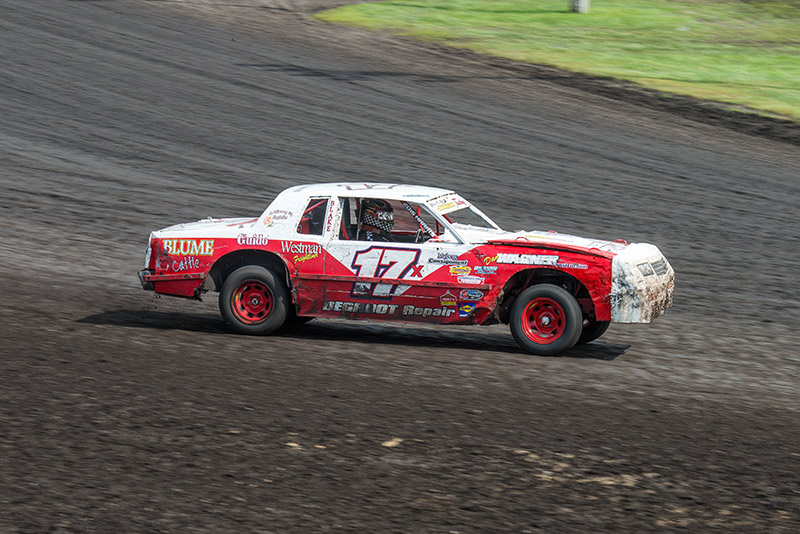 READING, Minn. ­ – With a month to go in the 2015 point season, Justin Luinenburg sat down and penciled out that he still had a pretty good chance at winning the IMCA Sunoco Hobby Stock national championship.
Those calculations proved correct.
Luinenburg topped six features in his stretch run and became the first Minnesota driver to capture the title in the 25 years the division has crowned a national champion.
"We had decided at the start of the year that we were going to run a lot, but we weren't going to run for national points," explained the Reading racer. "Things really didn't start falling into place until the last seven or eight nights, then we raced much as we could."
"We got to where we needed three or four more wins to do it and fortunately they came for us," he continued. "Finishing races was important and I can't say enough about maintenance. Another thing that really helped us this year is that we ran a 2015 Terminator and as the season went on, we learned more about the car."
Luinenburg finished with 23 wins in 55 starts. He'll also accept the Big Daddy Race Cars Northern Region and Fairmont Raceway, Jackson Speedway and Redwood Speedway track championship plaques during the national awards banquet late this month.
"Everything was surreal," said Luinenburg, the winner of 11 features each of the last two years plus two track titles in 2013. "I was happy to win the national championship but couldn't believe it until we got the official phone call from IMCA."
Luinenburg had started racing in a local sportsman class, making his on-track debut in his brother's backup car on a night when their parents just happened to be out of town.
His IMCA rookie season was in 1999. Luinenburg has seen steady success driving for Jeff DeGroot the past four seasons.
After winning two of his first 16 starts this year, Luinenburg added five more W's by the end of June. He made six visits to victory lane in both July and August, then won four of six September starts to clinch the national championship.
Shannon Anderson, his closest competition for the crown and a five-time national king, was among the first to call and offer his congratulations.
"We ended the season by winning the Jackson Nationals for the third time and that was cool," Luinenburg. "Being the first driver from Minnesota to win the national Hobby Stock championship is pretty cool, too."
Starts-55 … Wins-23 … Additional Top Fives-16
HIS CREW: Wife Tracie, son Blake, daughter AnnaLee, Trent DeGroot, car owner Jeff DeGroot, Steve DeGroot, Ryan Moberg, Matt Feldman and Evan Eggers.
HIS SPONSORS: Denny and David DeGroot, DeGroot Repair, Roll The Dice, J & J Auto Wash, Slininger Trucking, J.R. Yeske Trucking, Dan Wagner Construction, Blume Cattle, Painted by Mike, Southwest Hearing Technologies Inc., D.B. Express, Schaap Sanitation, Mike's Mini Excavating, Graham and Bogie, all of Worthington; Fossen Brothers of Kimball; Widboom Motorsports of Slayton; Bruns Racing Products of Danube; Steve John Trucking of Browerville; S & L Transportation of Carver; Tom Melcher and Lucas Oil of Big Stone; Orrie of Mora; NTI Trucking, Steve Hill, Bud and Cockroach all of Minneapolis; Waymore Transportation of Fridley; Redline Racing Parts of Heron Lake; Westman Freightliner of Fairmont; Tony Randall of Lake Crystal; Moberg Consignment of Lakefield; Fisher Trucking of Gibbon; Lynx Transmission of Casper, Wyo.; Cliff Berry of Barron, Wis.; Doug Alf of Princeton, Wis.; Nite Flite Express of Baldwin, Wis.; Jim Young of Sioux Falls, S.D.; Dean Dexter Trucking of Elkton, S.D.; Terminator Chassis of Boone, Iowa; Guido of Canyon Lake, Texas;  D & A Trucking of Spencer, Iowa; Bosma Enterprises of Ocheyedan, Iowa; and Supreme Lawn & Landscape of Ankeny, Iowa.