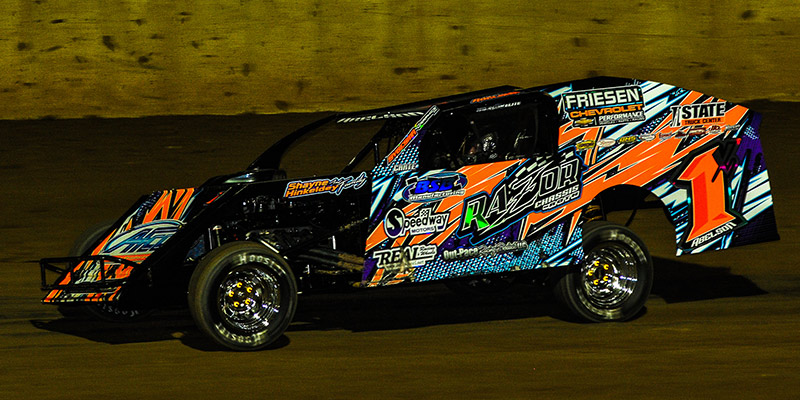 SIOUX CITY, Iowa – Chris Abelson got to celebrate his birthday the way few other IMCA drivers have.
The Sioux City, Iowa, driver blew out the 44 candles on his cake on the final day of the point sea­son before getting the call congratulating him for winning the 2015 Xtreme Motor Sports IMCA Modified national championship.
"I could sit back and relax. I was kind of glad the season was over," admitted Abelson, also the winner of 32 features, three local track titles and a second straight Belleville Motorsports North Central Region crown. "After we got done racing (at September Fest in Beatrice) we came home and waited to hear something official."
That waiting process is something Abelson is already familiar with. He was the Karl Chevrolet Northern SportMod national champion eight years ago and joins just a handful of drivers to have earned national crowns in more than one division.
"I think the national championship just kind of happened in the Northern SportMod. It wasn't some­thing we were trying for," Abelson said. "We were seventh nationally in 2013 and fourth last year so this is something we've been trying to do the last three years in a Modified."
He's the first Iowa driver since Ron Pope in 1993 to win the national IMCA Modified title and other than getting pit help from son and SportMod competitor Kaleb Kennedy at Raceway Park, Abelson was largely a one-man show again this year.
His travels paid off with track championships at Crawford County Speedway, Raceway Park and Shelby County Speedway.
"I spend a lot of time in the shop," Abelson said. "With the bonus point system, you have to go to the right tracks and you need 19 other cars to come out so you get the full bonus points. Denison and Harlan had enough cars to make that happen for me that year."
Abelson's 100th career win in the division came on Aug. 2 at Raceway Park while his 12 wins at Shelby County included the Tiny Lund Memorial.
His collection of checkers included seven victories at Crawford County, six at Raceway Park, four at Buena Vista Raceway and three late in the season in as many starts at Marshalltown Speed­way.
A streak of seven straight wins between Aug. 9 and Aug. 29 came to an end when the lights went out at Jefferson and all drivers qualified for the feature were given last-place points.
"We had finished the season at Denison. I like Marshalltown so I started going there," Abelson said. ""I had some luck and won three nights in a row. It was fun to go there, start in the sixth row and be able to win."
"Marshalltown was also the track where we got our 30th 40-point win of the season," he added, "so that was special."
Starts-58 … Wins-32 … Additional Top Fives-14
HIS CREW: Kaleb Kennedy.
HIS SPONSORS: Afco Racing Products of Boonville, Ind.; Razor Chassis of Platte Center, Neb.; Friesen Chevrolet of Sutton, Neb.; Speedway Motors of Lincoln, Neb.; Sybesma Graphics of Sanborn; Shayne Hin­keldey and family of Ida Grove; and Jason Felix and I-State Truck Center, both of Sioux City.